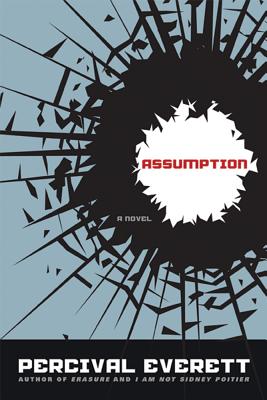 Assumption
A Novel
Paperback

* Individual store prices may vary.
Description
A baffling triptych of murder mysteries by the author of I Am Not Sidney Poitier

Ogden Walker, deputy sheriff of a small New Mexico town, is on the trail of an old woman's murderer. But at the crime scene, his are the only footprints leading up to and away from her door. Something is amiss, and even his mother knows it. As other cases pile up, Ogden gives chase, pursuing flimsy leads for even flimsier reasons. His hunt leads him from the seamier side of Denver to a hippie commune as he seeks the puzzling solution.

In Assumption, his follow-up to the wickedly funny I Am Not Sidney Poitier, Percival Everett is in top form as he once again upends our expectations about characters, plot, race, and meaning. A wild ride to the heart of a baffling mystery, Assumption is a literary thriller like no other.
Praise For Assumption: A Novel…
"Half zen koan, half Jim Thompson, and 100% Percival Everett, the twined mysteries of Assumption provide all the lively satisfactions of 'genre' fiction, while describing yet another arc in the trajectory of Everett's brilliant and protean career. In these spare, funny, and violent studies of the nature of identity and truth, Everett shows again that he is a learned student of the art of fiction, in addition to being one of its most able practitioners." —Christopher Sorrentino

"Everett ranges widely in his sometimes realistic, sometimes hallucinogenic fiction, drawing on a deep understanding of literary tradition. . . to examine social issues in limpid, muscular prose. . . . I'd encourage anyone with a taste in good, thought-provoking writing to investigate." —Barbara Hoffert, Prepub Alert, Library Journal

"Everett, who has put his uniquely wacky spin on genres from Greek myths to westerns, does the same for crime fiction in his effective follow-up to I Am Not Sidney Poitier. . . . [A] shocking tale." —Publishers Weekly

"The most sidesplitting dialogue this side of Catch-22. . . . Not only is the novel smart and without a trace of pretentiousness, it shows Everett as a novelist at the height of his narrative and satirical powers." —Publishers Weekly on I Am Not Sidney Poitier

"The writing is so sharp it will make you wince and laugh at the same time. . . . Everett's storytelling can't be oversold; this is superbly written, crisp and quick-paced, punctuated with pools of simply gorgeous prose. Above all, it's damn funny." —Bookslut on I Am Not Sidney Poitier
Graywolf Press, 9781555975982, 272pp.
Publication Date: October 25, 2011
About the Author
Percival Everett is the author of more than twenty books. He is the recipient of the Hurston/Wright Legacy Award and the PEN Center USA Award for Fiction. He teaches at the University of Southern California and lives outside Los Angeles.