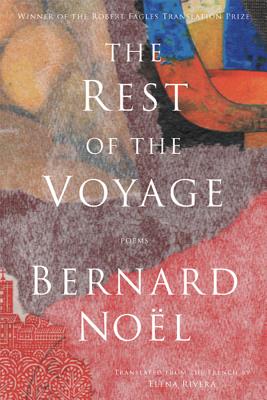 The Rest of the Voyage
Poems
Paperback

* Individual store prices may vary.
Description
Winner of the Robert Fagles Prize for contemporary poetry in translation
Eléna Rivera's translation of Bernard Noël's The Rest of the Voyage is at once original and remarkably faithful—indeed, its originality lies in the care and music the translator has brought to her commitment to follow Noël's forms as closely as possible. Rivera succeeds beautifully in setting the rhythms of the French original into English. The succession of poems has a fluency that becomes as mesmerizing as any mode of transport, for Rivera is remarkably adept at varying the lines, landing with emphasis or muting the effect as she follows the speed and light of Noël's themes. Those themes are no less than a meditation on the traveler's encounter with landscape in the late twentieth century. Noël takes on distant shots and close-ups, moving too quickly to see particulars or so slowly that objects become abstractions, conveying the smells, tastes, and sounds of each location in wholes and parts, reflexively considering what is invisible to a visitor, and meditating on the ancient theme of the voyage of life with great vividness and freshness. Noël is one of the most distinguished living writers in France. Yet Rivera's is the first translation of his poetry into English, and her work thus remedies an unfortunate weakness in English-language letters." —Susan Stewart, from the introduction
Praise For The Rest of the Voyage: Poems…
"Bernard Noël is a cerebral, urban-realist mystic caught up by the extraordinary in everyday language as it passes by, carried in things themselves. He captures the instant of wonder, filled with longing, lust, and above all necessity, grounding it in earthy satisfaction." —New Pages
"[Rivera's] introduction is essential for understanding the decisions that make for the extraordinary beauty of this difficult work. Rivera has not elided its complexities; instead, she has passed the work's challenged on to the reader. Put simply, the book is about the soundless and irreparable damage of time's glacier-like passage over human monuments of faith and bad taste. " —Booklist
"At last, the uncanny brilliance of Bernard Noël in a striking English translation attentive to the rhythms, Noël's impulsive catlike jabs, and sound patterns of the French. In Eléna Rivera's translation, Noël's poems evoke place as the event of the present in all its palimpsestic fullness. Knowing that time is where 'language is swept up and blown away,' Noël anchors his faith in now, in its lists, fragmented sketches and koans, in its endlessly opening doors, its libraries in ashes, and, significantly, in the body itself, which we discover, he writes, as a form of the incompleteness of the present. With unstoppable energy, its poems saturated in acetylcholine, The Rest of the Voyage lights up our ongoing moment in the blurred panorama of our lives." —Forrest Gander
Graywolf Press, 9781555976002, 128pp.
Publication Date: October 25, 2011
About the Author
Bernard Noël is a poet, novelist, historian, and art critic. He received the Prix National de Poésie, France's highest literary prize, in 1992.

Director of Postgraduate Studies and Curriculum Development, Design School, University of Technology Sydney, Australia.

Director of Postgraduate Studies and Curriculum Development, Design School, University of Technology Sydney, Australia.
or
Not Currently Available for Direct Purchase