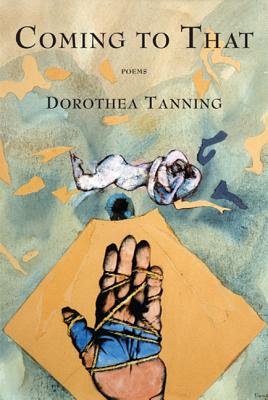 Coming to That
Poems
Paperback

* Individual store prices may vary.
Description
Still later, when I was more in touch with
the world, they told me, "You have a future."
I thought that over. Even if I believed them,
what did my little future, whatever that was,
have to do with the real thing, whatever that is?
—from "Waiting"
In this second daring collection, Coming to That, the centenarian painter and poet Dorothea Tanning illuminates our understanding of creativity, the impulse to make, and the longevity of art. Her unique wit and candor radiate through every poem, every line, and her inquisitive mind is everywhere alive and restless. As she writes in one poem, "If Art would only talk it would, at last, reveal / itself for what it is, what we all burn to know."
Praise For Coming to That: Poems…
"[Coming to That] is playful and unrestrained, each poem containing a spontaneous logic of its own. . . . Tanning's poems take the reader on unexpected journeys that stray far from their beginnings, moving with the momentum of sheer joy and restless artistic energy. Pulsing underneath are larger questions, sometimes almost bittersweet, sometimes daunting." —Publishers Weekly (starred review)
"Tanning's poems are beautifully created, filled with rich rhythms and imagery. . . . Often ironic and often filled with wisdom and humor, a Tanning poem asks readers to believe in her artistic vision. These are poems of beginnings and choices, of marriage and aging, and of creation--poems still filled with wondering." —Library Journal
"Dorothea Tanning, who has had a long and marvelous life as a visual artist, is our most surprising new poet." —Edward Hirsch, The Washington Post Book World
"Dorothea Tanning's verbal wizardry is a constant surprise, an abiding delight." —J. D. McClatchy
Graywolf Press, 9781555976019, 72pp.
Publication Date: September 13, 2011
About the Author
Dorothea Tanning (1910-2012) lived an extraordinary life as an artist and writer. She published two books of poetry, A Table of Content and Coming to That; two memoirs, Birthday and Between Lives: An Artist and Her World; and a novel, Chasm. In 2012, she died at the age of 101 at her home in New York City.