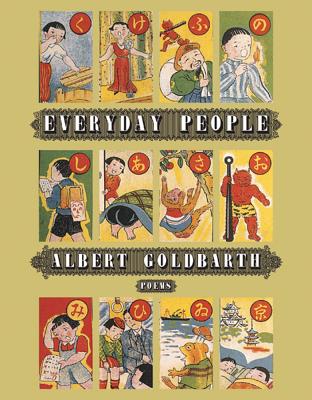 Everyday People (Paperback)
Poems
Graywolf Press, 9781555976033, 178pp.
Publication Date: January 17, 2012
* Individual store prices may vary.
Description
The not-at-all-everyday new poetry collection by Albert Goldbarth, twice winner of the National Book Critics Circle Award

I brought a book of many words
to an emptiness in my heart,
and I shook them out in there, to fill it.
In my time I wrote this very thing.
In your time you read it.
—from "What We Were Like"
Virtuoso poet Albert Goldbarth returns with a new collection that describes the wonders of everyday people—overprotective parents, online gamblers, newlyweds, Hercules, and Jesus. In Goldbarth's poetry—expansive, wild, and hilarious—he argues that our ordinary failures, heroics, joy, and grief are worth giving voice to, giving thanks for. Everyday People is an extraordinary new book by a poet who "in thirty-five years of writing has amassed a body of work as substantial and intelligent as that of anyone in his generation" (William Doreski, The Harvard Review).
About the Author
Albert Goldbarth is the author of more than twenty-five books of poetry, including To Be Read in 500 Years and The Kitchen Sink: New and Selected Poems 1972–2007. He lives in Wichita, Kansas.
Praise For Everyday People: Poems…
"Again Goldbarth directs his amazing collection of little-known facts toward the same simple truths: people fall in and out of love, grow old, die, and hope to be remembered, even as Goldbarth hopes to remember and cherish every odd quotation he incorporates from an 'astute, high-style comic strip,' from Whitney Houston, from Charles Darwin, from his friends, all treated with a sympathetic and finally optimistic gusto, 'large and excited and various and full of that / exuberance we call everyday life.'" —Publishers Weekly (starred review)
"Trust Goldbarth, with his recklessly rich, culturally acute writing, to capture everything from helicopter parents to Hercules." —Barbara Hoffert, Library Journal, PrePub Alert
"[Goldbarth] infuses his poems with an old-fashioned, childlike wonder at the marvels of our world, along with a bemused chuckle at the ways in which we so obviously fall short of our lofty goals." —The Rumpus
"[Everyday People] is a lively and detailed exploration of human relationships and an expansive examination of the interconnectivity present in the natural world. . . . Blending the antediluvian with the contemporary, Everyday People does markedly well in revealing what its author sees as the 'secret life in everything." —Time Out New York
"[Everyday People] is a book about the mundane. About seemingly uneventful lives and unspectacular dreams and unheroic deaths. The danger of such subject matter is that it can also be un-compelling to read about, but Goldbarth is a master of both the craft of poetry and the craft of storytelling. . . . The poems' 'payoffs' are [their] moments of kaleidoscopic focus, when seemingly random images suddenly click as part of one master pattern. Goldbarth approaches this wholeness through relentless accumulation, treating it as one does a horizon that ever recedes but is worth the walk." —Bookslut
"[Everyday People] throbs with Goldbarth's garrulous energy, as exuberant and unpredictable as a Barry Sanders touchdown run. . . . Everyday People is yet another example of [Goldbarth's] world-class poetry." —The Wichita Eagle
or
Not Currently Available for Direct Purchase