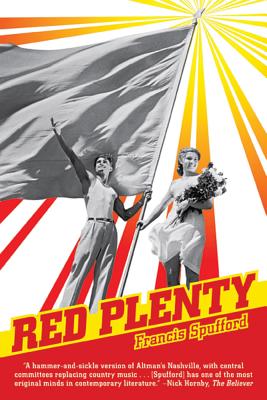 Red Plenty
Paperback

* Individual store prices may vary.
Other Editions of This Title:
Digital Audiobook (10/9/2017)
Description
"Spufford cunningly maps out a literary genre of his own . . . Freewheeling and fabulous." —The Times (London)

Strange as it may seem, the gray, oppressive USSR was founded on a fairy tale. It was built on the twentieth-century magic called "the planned economy," which was going to gush forth an abundance of good things that the lands of capitalism could never match. And just for a little while, in the heady years of the late 1950s, the magic seemed to be working. Red Plenty is about that moment in history, and how it came, and how it went away; about the brief era when, under the rash leadership of Khrushchev, the Soviet Union looked forward to a future of rich communists and envious capitalists, when Moscow would out-glitter Manhattan and every Lada would be better engineered than a Porsche. It's about the scientists who did their genuinely brilliant best to make the dream come true, to give the tyranny its happy ending.

Red Plenty is history, it's fiction, it's as ambitious as Sputnik, as uncompromising as an Aeroflot flight attendant, and as different from what you were expecting as a glass of Soviet champagne.
Praise For Red Plenty…
"A hammer-and-sickle version of Altman's Nashville, with central committees replacing country music . . . [Spufford] has one of the most original minds in contemporary literature." —Nick Hornby, The Believer

"A thrilling book that all enthusiasts of the Big State should read." —Michael Burleigh, The Sunday Telegraph
Graywolf Press, 9781555976040, 448pp.
Publication Date: February 14, 2012
About the Author
Francis Spufford is the author of several highly praised books of nonfiction, including his debut, I May Be Some Time, which won the Writers' Guild Award for Best Nonfiction Book of 1996, the Banff Mountain Book Prize, and a Somerset Maugham Award. It was followed by The Child That Books Built, Backroom Boys, Red Plenty (translated into nine languages), and Unapologetic. His first novel, Golden Hill, won the Costa First Novel Award. In 2007 he was elected a Fellow of the Royal Society of Literature. He teaches writing at Goldsmiths College and lives near Cambridge.