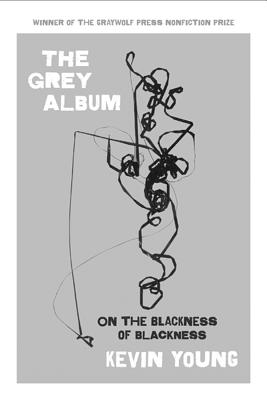 The Grey Album
On the Blackness of Blackness
Paperback

* Individual store prices may vary.
Description
*Finalist for the 2012 National Book Critics Circle Award for Criticism*
*A Publishers Weekly Top 10 Literary Criticism and Essays Pick for Spring 2012*
The Grey Album, the first work of prose by the brilliant poet Kevin Young, winner of the Graywolf Press Nonfiction Prize
Taking its title from Danger Mouse's pioneering mashup of Jay-Z's The Black Album and the Beatles' The White Album, Kevin Young's encyclopedic book combines essay, cultural criticism, and lyrical choruses to illustrate the African American tradition of lying—storytelling, telling tales, fibbing, improvising, "jazzing." What emerges is a persuasive argument for the many ways that African American culture is American culture, and for the centrality of art—and artfulness—to our daily life. Moving from gospel to soul, funk to freestyle, Young sifts through the shadows, the bootleg, the remix, the grey areas of our history, literature, and music.
Praise For The Grey Album: On the Blackness of Blackness…
"In his new work of literary and cultural criticism, The Grey Album: On the Blackness of Blackness, the accomplished poet Kevin Young unearths, orchestrates, improvises and imagines lies and more lies--in short, American history. . . . Who is the liar, who the thief, who is telling whose history, and who is keeping score? Young forces us to contemplate who controls the music." —David Shields, The New York Times Book Review, Editor's Choice
"Equal parts blues shout, church sermon, interpretive dance, TED talk, lit-crit manifesto and mixtape, the poet Kevin Young's first nonfiction book, The Grey Album: On the Blackness of Blackness, is an ambitious blast of fact and feeling, a nervy piece of performance art. . . . [Young] makes a series of sly arguments for black art's centrality in American culture writ large." —New York Times
"In his first prose book, an expansive and radiantly interpretive exploration of 'black creativity,' [Kevin Young] proves to be an exceptionally fluent, evocative, deep-diving, and bracing critic. . . . Young reads, listens, and observes with acute, questing attention, following 'underground railroads of meaning' and tracing artistic lineages and bursts of fresh invention. As intricate and ingenious as his critiques are, Young is confiding, poignant, appreciative, witty, and poetic." —Booklist (starred review)
"[An] elegant and informative study. . . . Young moves through slave narratives and spirituals and beatniks and funk in a multifaceted yet coherent work comprising history, analysis, and theory. Young offers fresh, incisive assessments of myriad writers and musicians, performers all of the storytelling and counterfeiting conventions and traditions." —Publishers Weekly
"The pleasures in The Grey Album . . . are not just those of learning erudite details of black American history, but also those of hearing the impassioned impressions of a poet diving deep into his own personal history. Young entertains as much as he teaches and broadens our understanding of the unifying threads of America's unique cultural traditions." —Shelf Awareness
"The mind of poet Kevin Young's career has shimmered with the breadth of African-American culture, a place to explore, to dig deep and find riches to condense, jewels to polish. . . . Young's subjects range from W.E.B. DuBois to Notorious B.I.G. to Sojourner Truth to James Baldwin to James Brown to Colson Whitehead to Alice Walker to Wu-Tang Clan to Louis Armstrong. [On] any given page of The Grey Album. . . . Young draws together these disparate artists in the common tradition and form of storying." —Creative Loafing Atlanta
"This is a narrative of surprises--a book of secrets, too, though many of those secrets, as we discover, are cunningly hidden in plain sight (or in plain speech). The Grey Album investigates, even as it also performs, an American covert history--the stories behind any official or familiar story--as well as some emblematic escapes from and into American history. Veering across many vernaculars, from literature into music, theory into autobiography, Kevin Young writes cultural criticism of the most audacious, skillful, and ultimately touching sort." —Robert Polito, judge's statement for the Graywolf Nonfiction Prize
"Kevin Young's The Grey Album: On the Blackness of Blackness is a page-turning dynamo. Here's a surge that nudges the reader into a bluesy terrain; its panoramic wit and critical certainty cut through the hokum and reveal a timbre of endurance. The Grey Album resonates like a spasm band, generating waves of intimate discourse on black music, literature, entertainment, culture, folklore, and American history. The collection of essays is propelled by a kinetic passion that's heroic, tessellating on the page into its postmodern shape. This poet-critic has created an unforgettable, robust trove of insights and lyrical gestures for us to query and embrace." —Yusef Komunyakaa
"This work is significant for smart readers." —Barbara Hoffert, Prepub Alert, Library Journal
Graywolf Press, 9781555976071, 476pp.
Publication Date: March 13, 2012
About the Author
Kevin Young is the author of seven collections of poetry, including Ardency and Jelly Roll: A Blues, a finalist for the National Book Award. He is a curator and the Atticus Haygood Professor at Emory University.
or
Not Currently Available for Direct Purchase