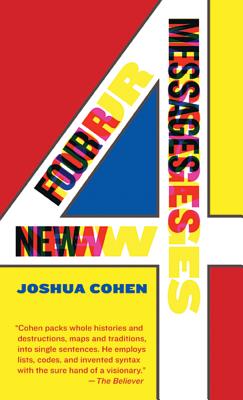 Four New Messages
Paperback

* Individual store prices may vary.
Description
A quartet of audacious fictions that capture the pathos and absurdity of life in the age of the internet

*A New York Times Book Review Editors' Choice*
* One of Flavorwire's "50 Books That Define the Past Five Years in Literature"

A spectacularly talented young writer has returned from the present with Four New Messages, urgent and visionary dispatches that seek to save art, sex, and even alienation from corporatism and technology run rampant.

In "Emission," a hapless drug dealer in Princeton is humiliated when a cruel co-ed exposes him exposing himself on a blog gone viral. "McDonald's" tells of a frustrated pharmaceutical copywriter whose imaginative flights fail to bring solace because of a certain word he cannot put down on paper. In "The College Borough" a father visiting NYU with his daughter remembers a former writing teacher, a New Yorker exiled to the Midwest who refuses to read his students' stories, asking them instead to build a replica of the Flatiron Building. "Sent" begins mythically in the woods of Russia, but in a few virtuosic pages plunges into the present, where an aspiring journalist finds himself in a village that shelters all the women who've starred in all the internet porn he's ever enjoyed.

Highbrow and low-down, these four intensely felt stories explain what happens when the virtual begins to colonize the real -- they harness the torrential power and verbal dexterity that have established Cohen as one of America's most brilliant younger writers.
Praise For Four New Messages…
"Cohen, a key member of the United States' under-40 writers' club (along with Nell Freudenberger and Jonathan Safran Foer), is a rare talent who makes highbrow writing fun and accessible." —Marie Claire

"Powerfully strange. . . . Mr. Cohen's stories are about a lot of things: sex, family, disappointment, literary frustration. . . . But in his new collection, Four New Messages, he nestles these subjects inside a more expansive obsession: how the series of tubes we call the Web has recast, often in sick ways, his contemporaries' sense of who and where and why they are. . . . [T]o sum this up in Web terms, he'll make you want to be an angel investor in his stuff. What's a book but a public offering? You'll want to be in on the ground floor." —Dwight Garner, The New York Times

"[Cohen has] manifold talents at digging under and around absurdity. . . . Language--not elision--is the primary material of Cohen's oeuvre, and his method of negotiating his way toward meaning is like powering straight through a thick wall of words. . . . The reward is an off-kilter precision, one that feels both untainted and unique." —Rachel Kushner, The New York Times Book Review

"Smart and well conceived." —The Nation

"All these stories are replete with clever turns of phrase and memorable lines. . . . Like [David Foster] Wallace, Cohen is clearly concerned with the depersonalizing effects of technology, broken people doing depraved things, and how the two intersect in tragic (and, sometimes, hilarious) ways. The franticness with which he writes about these themes is, at times, Wallace-esque--sentences screaming across the page turbulently, always seemingly one wrong turn from flying apart altogether." —Boston Globe

"Another exhilarating spectacle from a virtuosic wordsmith." —Star Tribune (Minneapolis)

"The four novellas included are certainly new--I've never read anything remotely like them--and they're certainly messages, urgent ones addressed to the porn-numb but as yet un-lobotomized members of the iGeneration. Cohen calls out in pimped-out prose that shimmies like a lowride Cutlass. I would advise you all to listen." —Adam Wilson, Salon, "Salon's Ultimate Book Guide"

"In Mr. Cohen's hands, a meme is a matter of life and death, because he goes from the reality we all know--the link, the click--to the one we tend to forget: the human. . . . Mr. Cohen is ambitious. He is mapping terra incognita." —New York Observer

"Immoderately brilliant. . . . Throughout, Cohen uses his gifts extravagantly, but there are no lazy formulations, no banal phrases that he doesn't either parody or somehow subvert, and by so doing create a new angle of perception that demands close rereading. . . . Four New Messages might seem an ambitious title in an era when true literary innovation is rare, but Joshua Cohen exceeds expectations in ways that are gratifying in the present and promising for the future." —Bookforum

"There is ample evidence that Joshua Cohen is one of the greatest literary minds of his generation. . . . If anything is finally going to get people to admit that he's the new Thomas Pynchon (sans the whole recluse thing) the Graywolf Press published book will be it." —Flavorpill

"Cohen's comically dense ruminations don't so much as come to a boil as spill over with tales of pornography, hyperviolent video games, consumerism, and depression." —Interview

"Joshua Cohen has more than four new messages to deliver in this volatile book, all quite urgent. These stories seize us with their brash humor and intellectual reach. But are they startling warning flares or diabolical soul traps? Read them and weep, roar, shudder." —Sam Lipsyte
Graywolf Press, 9781555976187, 208pp.
Publication Date: August 7, 2012
About the Author
Joshua Cohen was born in 1980 in New Jersey. He is the author of several books, including A Heaven of Others and Witz. His nonfiction has appeared in Bookforum, The Forward, Harper's and other publications. He lives in New York City.
or
Not Currently Available for Direct Purchase