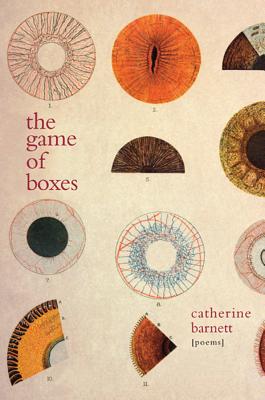 The Game of Boxes
Poems
Paperback

* Individual store prices may vary.
Description
*Winner of the 2012 James Laughlin Award*


The second collection by Catherine Barnett, whose "poems are scrupulously restrained and beautifully made" (Edward Hirsch, The Washington Post)

Everyone asks us what we're afraid of
but children aren't supposed to say.
We could put loneliness on the list.
We could put the list on the list, its infinity.
We could put infinity down.
--from "Fields of No One to Ask"


In Catherine Barnett's The Game of Boxes, love stutters its way in and out of both family and erotic bonds. Whittled down to song and fragments of story, these poems teeter at the edge of dread. A gang of unchaperoned children, grappling with blame and forgiveness, speak with tenderness and disdain about "the mothers" and "the fathers," absent figures they seek in "the faces of clouds" and in the cars that pass by. Other poems investigate the force of maternal love and its at-times misguided ferocities. The final poem, a long sequence of nocturnes, eschews almost everything but the ghostly erotic. These are bodies at the edge of experience, watchful and defamiliarized.
Praise For The Game of Boxes: Poems…
"Though the poems in the long-awaited second collection from Barnett are only a handful of lines each, they are deceptively sophisticated. . . . Barnett's emotions are so potent they become something you could choke on: 'He's a lozenge of smut,' she writes, with the acute, straightforward vulnerability that makes these poems brave." —Publishers Weekly, starred review

"[Barnett] negotiates the varied paths of love and, with a wry eye, looks for the meaning of life lurking in every corner. . . . Barnett plays the game of Hangman backwards, removing everything but the essential and surprising us with rhyme, turn of phrase and idea and image. . . . Highly recommended." —Library Journal

"Short and tight, all of Barnett's poems are purposeful--and often powerful. The Game of Boxes is a book the reader will want to return to after the first perusal, as the carefully chosen language, imagery, and intent of each poem may open up more broadly with subsequent glances." —Shelf Awareness for Readers

"These utterly clear lyrics start in the quotidian and then unpredictably take a sudden half-turn into another world--mythological, metaphorical, fantastic--and in so doing assume a crystalline other dimension. They refresh, clarify, and invigorate the mind--a pleasure to read." —Lydia Davis

"If death could be undone by love--that deathless human wish--if death could be undone by formidable mindfulness and immaculate craft, these poems would revive the dead." —Linda Gregerson

"These heart-breaking poems of an all too human life stay as absolute as the determined craft which made them. There is finally neither irony nor simple despair in what they record. Rather, it is the far deeper response of witness, of recognizing what must be acknowledged and of having the courage and the care to say so." —Robert Creeley
Graywolf Press, 9781555976200, 88pp.
Publication Date: August 7, 2012
About the Author
Catherine Barnett is the author of a previous poetry book, Into Perfect Spheres Such Holes Are Pierced. She has received a Whiting Writer's Award and a Guggenheim Fellowship. She lives in New York City.
or
Not Currently Available for Direct Purchase