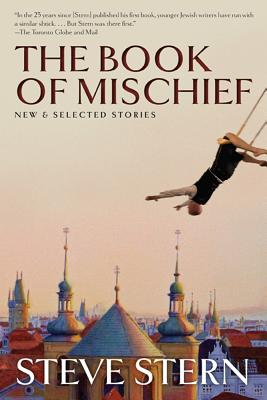 The Book of Mischief (Hardcover)
New and Selected Stories
Graywolf Press, 9781555976217, 384pp.
Publication Date: September 4, 2012
* Individual store prices may vary.
Description
"In the 25 years since [Stern] published his first book, younger Jewish writers have run with a similar shtick . . . But Stern was there first." —The Toronto Globe and Mail

The Book of Mischief triumphantly showcases twenty-five years of outstanding work by one of our true masters of the short story. Steve Stern's stories take us from the unlikely old Jewish quarter of the Pinch in Memphis to a turn-of-thecentury immigrant community in New York; from the market towns of Eastern Europe to a down-at-the-heels Catskills resort. Along the way we meet a motley assortment of characters: Mendy Dreyfus, whose bungee jump goes uncannily awry; Elijah the prophet turned voyeur; and the misfit Zelik Rifkin, who discovers the tree of dreams. Perhaps it's no surprise that Kafka's cockroach also makes an appearance in these pages, animated as they are by instances of bewildering transformation. The earthbound take flight, the meek turn incendiary, the powerless find unwonted fame. Weaving his particular brand of mischief from the wondrous and the macabre, Stern transforms us all through the power of his brilliant imagination.
About the Author
Steve Stern, winner of the National Jewish Book Award, is the author of several previous novels and story collections, including The Frozen Rabbi and The Wedding Jester. He teaches at Skidmore College in upstate New York.
Praise For The Book of Mischief: New and Selected Stories…
"Stern's stories are suffused with nostalgia for this lost world. . . . Nothing goes unobserved." —The New York Times Book Review
"[Stern is] a dazzling stylist. . . . The soulful stories in The Book of Mischief deserve to be found." —Dallas Morning News
"Filled with pathos and humor. . . . At its most poignant, Stern's writing . . . peels away at the membranes that divide the present from the past." —The New Republic
"A magisterial collection. . . . Stern's universe is a funny one, but he's honest enough to notice that sometimes we're the punch line." —Cleveland Plain Dealer
"Stern's prose fuses the magical and the mundane, with an offhandedness that makes the normal seem odd, and the truly odd seem matter of fact. . . . mesmerizing." —Bookslut
or
Not Currently Available for Direct Purchase