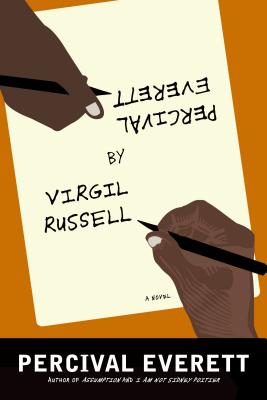 Percival Everett by Virgil Russell
A Novel
Paperback

* Individual store prices may vary.
Description
"Anything we take for granted, Mr. Everett means to show us, may turn out to be a lie." —Wall Street Journal

* Finalist for the Los Angeles Times Book Prize * Finalist for the PEN / Faulkner Award for Fiction *

A story inside a story inside a story. A man visits his aging father in a nursing home, where his father writes the novel he imagines his son would write. Or is it the novel that the son imagines his father would imagine, if he were to imagine the kind of novel the son would write?

Let's simplify: a woman seeks an apprenticeship with a painter, claiming to be his long-lost daughter. A contractor-for-hire named Murphy can't distinguish between the two brothers who employ him. And in Murphy's troubled dreams, Nat Turner imagines the life of William Styron. These narratives twist together with anecdotes from the nursing home, each building on the other until they crest in a wild, outlandish excursion of the inmates led by the father. Anchoring these shifting plotlines is a running commentary between father and son that sheds doubt on the truthfulness of each story. Because, after all, what narrator can we ever trust?

Not only is Percival Everett by Virgil Russell a powerful, compassionate meditation on old age and its humiliations, it is an ingenious culmination of Everett's recurring preoccupations. All of his prior work, his metaphysical and philosophical inquiries, his investigations into the nature of narrative, have led to this masterful book. Percival Everett has never been more cunning, more brilliant and subversive, than he is in this, his most important and elusive novel to date.
Praise For Percival Everett by Virgil Russell: A Novel…
"[A] stark, shattering novel. . . . The splintered stories keep their urgency even as they lose their drift. The note of sadness struck in the dedication swells and echoes through the wreckage of narrative, reaching a pitch of extraordinary anguish. This meta-fiction is deeply moving." —The Wall Street Journal

"A potent and thoughtful exploration of the bonds between fathers and children." —The Washington Post

"Everett is one of the most gifted and versatile of contemporary writers. . . . His work takes hold of us and won't let go." —Alan Cheuse, NPR.org

"Though funny, the novel also possesses a terrible and still sadness, concerning as it does not only William Styron and Nat Turner but also aging and death, the tragic hatred of racists, the depth of solitude at life's end. . . . The book, though it's frequently philosophical, is not in the least boring. Dear reader, how that impressed me! For there are times when philosophy can be less than action-packed. This is not one of them. Therefore, I heartily commend this book to you. It's like a carnival ride, but not the kind where you vomit. . . . Percival Everett numbers among his very best." —Lydia Millet, Los Angeles Times

"Funny, insightful, and unpredictable. . . . Everett is a master of his trade." —Time Out Chicago

"Possessed by a loopy, madcap energy. . . . [Everett] demonstrates that a literary work can be cerebral, emotionally affecting, and highly readable at the same time. The novel also turns out to be relentlessly funny." —Paste Magazine

"In a more perfect world the novelist Percival Everett would dominate the bestseller list to such a degree that they would need to give him his own category, Harry Potter style. . . . The man is practically A Goddamn National Treasure. " —Alex Balk, The Awl

"Combines the philosophical puzzling of Beckett with the oddball discursiveness of Brautigan, and has the playfulness of both." —PWxyz, "PW Best Books of 2013"

"Witty [and] perceptive . . . Everett's writing is dazzling throughout." —PopMatters

"[Contains] scenes of great emotional authenticity. . . . Everett's metafictional reflections on identity will further solidify his critical reputation." —Shelf Awareness

"Everett gives us a work of fiction that grapples with grief, the fragility of human life, death, relationships, loneliness, and yearning for purpose. . . We are left breathless, with heartache and with the understanding we are all made of stories, nothing but products of our diverging and converging plot lines that eventually will come to an inexorable point." —ZYZZYVA

"[Percival Everett is] so humanely adept at getting to the heart of the human condition. . . . Everett has created much more than an exercise in unreliable narration, an exploration of the nature of language and the rationales we create to keep ourselves going as we grow old. By the conclusion, every sentence, indeed every word, has come to seem like a valuable key, not just to this puzzle of a novel, but to the meaning of existence." —Publishers Weekly

"[Percival Everett by Virgil Russell is] an innovative exploration of the outer limits of narrative ambiguity, and it's also a deeply felt book about a father and a son. . . . An intriguing and intricate puzzle of a novel." —Booklist

"The heart of storytelling and the heart of a complicated man beat together in this extraordinary meditation on love, language, and the irrevocable action of time. Who tells whose story when and why and how do we know when it's over? For Everett, it's never over, and it's never enough, and it's the very best thing we've got. A novel of surpassing intelligence, grief, and tenderness." —Stacey D'Erasmo, author of The Sky Below

"Within [a] narrative labyrinth, the novel is much more than an academic exercise . . . as it searches for the possibility of meaning in life as well as narrative and meditates on the process of aging and the inevitability of death." —Kirkus Reviews
Graywolf Press, 9781555976347, 256pp.
Publication Date: February 5, 2013
About the Author
Percival Everett is the author of more than twenty books. He is the recipient of the Hurston/Wright Legacy Award and the PEN Center USA Award for Fiction. He teaches at the University of Southern California and lives outside Los Angeles.
or
Not Currently Available for Direct Purchase