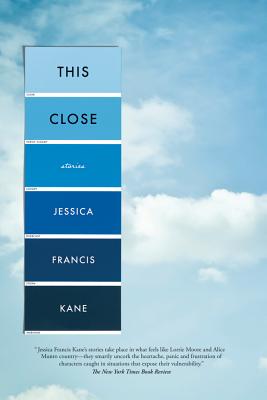 This Close (Paperback)
Stories
Graywolf Press, 9781555976361, 200pp.
Publication Date: March 5, 2013
* Individual store prices may vary.
Description
This Close, a graceful, moving new collection by the author of The Report
*An NPR and Flavorwire Best Book of the Year *
How close can we come to love, success, happiness, forgiveness?
An older woman, irritated with her wealthy young neighbor's yard "improvements," offers a corner of her lawn to a Croatian immigrant who wants a vegetable garden. A recent college graduate living in New York City finds himself in a strangely entangled friendship with his dry cleaner and her son. A daughter accompanies her father to Israel, where, seeing a new side of him away from her mother, she makes an unusual bargain.
Through thirteen stories, some stand-alone, others woven with linked characters, Kane questions the tensions between friendship and neighborliness, home and travel, family and ambition. In writing filled with wit and humor and incredible poignancy, she deftly reveals the everyday patterns that, over time, can swerve a life off course.
About the Author
Jessica Francis Kane's first novel, The Report, was a Barnes & Noble Discover selection and a finalist for both the Center for Fiction's 2010 Flaherty-Dunnan First Novel Prize and the Indie Booksellers' Choice Award. She is a contributor to The Morning News and lives in New York City.
Praise For This Close: Stories…
"Kane explores the anxieties and preoccupations of her characters with such empathy that you worry about them as you might about a troubled friend. . . . We know these people. We recognize their all-too-human flaws. They are our family, our friends and neighbors. They are us, at our most vulnerable." —Jane Ciabattari, NPR, "Best Books of 2013"
"This Close serves up quietly nervy stories of everyday life subject to swift psychological rifts." —ELLE
"How close can we come to achieving love, success, and forgiveness? . . . You'll be thinking about how your life parallels the story plots long after you've finished reading." —Marie Claire
"Quiet and clear, Kane's stories eschew the flashy for the profound." —The Washington Post
"The stories in Jessica Francis Kane's This Close are full of wisdom and light. Her characters felt as intimate and real to me as life. Her prose is so generous and knowing it shimmers. I'll return to this beautiful book again and again." —Cheryl Strayed, author of Wild and Tiny Beautiful Things
"Kane shows such tenderness toward these spiky, exhausted, forlorn, uncertain people that she allows us to sympathize with their all-too-human flaws. We know these people. They are our family, our friends and neighbors. They are us, at our most vulnerable." —NPR
"[Kane's] characters are grappling with the tension between how they expected life to be as opposed to how it's actually turning out. The final and best story, 'Local Birds,' could be slipped into James Salter's collection Dusk without raising much suspicion: both writers share the ability to render an incredible amount of resonance from the merest of human incidents." —The Daily Beast
"Smart, subtly heartbreaking. . . . This Close is about the way that people evolve over time; the numerous faces any individual wears over the course of his or her life, and the near-impossibility of truly knowing anyone on account of it." —The Millions
"Kane beautifully illuminates . . . the space between what might have been and what regrettably often comes to pass. . . . This Close capture[s] so richly the joy and ache of living." —Star Tribune (Minneapolis)
"An unfinished sentence tells you a marriage is over. An unanswered question reveals the emotional voice at the heart of a family. . . . This Close is rich with such moments." —The Rumpus
"Kane writes with a wonderful clarity. The characters may feel uncomfortable or unclear about their relationships with one another, but the reader never does. . . . Because the writing has a lovely transparency, the stories may give the impression of being simple: they're not. They're skillfully wrought pieces by a writer who knows exactly what she's doing." —The Nervous Breakdown
"The power of these stories comes from subtle accumulations, of details that seem to echo life, of occasionally jarring discontinuities. . . . Kane proves as skilled with snappy dialogue and decisive actions as she is with those things left unsaid and undone--and for all the regrets that that can create." —Vol. 1 Brooklyn
"Kane's second collection of stories (after The Report) is steeped in family and community anxiety and often dazzles. . . Kane inhabits the psyche of those at risk, with terrific results." —Publishers Weekly
"Readers of Kane's well-received debut novel, The Report, will recognize her steady hand and welcome another opportunity to experience her carefully crafted work. Intriguing, delicate, graceful, and deeply moving, this is a collection to be read and pondered over. It will draw readers into worlds both foreign and familiar while turning the everyday into something extraordinary." —Booklist
"Kane's second collection shows the author's talent for dissecting the subtle dynamics of family life. . . . The stories in [This Close] have an appeal reminiscent of Chekhov's plays." —Library Journal
"[This Close] offers twelve lucid, elegant and immersive stories about interpersonal strains and tensions among lovers, neighbors, children and their parents. . . . [The stories] are subtle, persuasive and psychologically complex." —Kirkus Reviews
"This Close is timeless, humane, vulnerable, and compulsively readable. Jessica Francis Kane has a fierce, keen eye and a gentle, sure touch. I devoured this collection. More, please..." —Jennifer Gilmore, author of Something Red and Golden Country
"Jessica Francis Kane distills lives into moments, helping us to better understand the world within a few pages' time. Luckily for us, her devoted readers, there are twelve stories in this crystalline collection, some of them circling back to the same characters, all of them deepening our appreciation for this amazing writer. Kane's prose is precise, searing, and unafraid, and days after finishing the book, I still don't want to let This Close out of my sight." —Emma Straub, author of Laura Lamont's Life in Pictures
"It is with great precision and skill, as well as a truckload of clear-eyed compassion, that Jessica Francis Kane reveals her characters' most vulnerable natures, as they find themselves 'this close' to being able to move on from some blow that life has dealt them. These stories feel earned, like wisdom, subtle and ferocious at once." —Pam Houston, author of Contents May Have Shifted
"The stories in This Close perform the real-life magic act of conveying both the seemingly fated and the seemingly chance nature of events. Diamond-sharp in observation, Kane also evokes and embraces the big picture, the how-life-feels part of being a human being. I read it in one sitting; and then I wished I had savored it for weeks." —Robin Black, author of If I Loved You, I Would Tell You This
"Jessica Francis Kane explores the bonds and rivalries between everyday people with the elegant precision and generosity of a true master. The stories in This Close are beautiful, startling, and wise." —Seth Fried, author of The Great Frustration
or
Not Currently Available for Direct Purchase