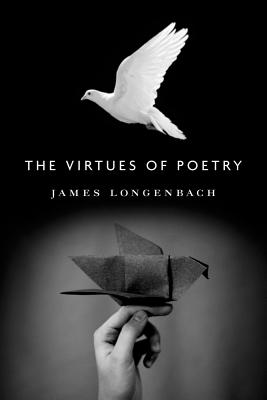 The Virtues of Poetry
Paperback

* Individual store prices may vary.
Description
An illuminating look at the many forms of poetry's essential excellence by James Longenbach, a writer with "an ear as subtle and assured as any American poet now writing" (John Koethe)

"This book proposes some of the virtues to which the next poem might aspire: boldness, change, compression, dilation, doubt, excess, inevitability, intimacy, otherness, particularity, restraint, shyness, surprise, and worldliness. The word 'virtue' came to English from Latin, via Old French, and while it has acquired a moral valence, the word in its earliest uses gestured toward a magical or transcendental power, a power that might be embodied by any particular substance or act. With vices I am not concerned. Unlike the short-term history of taste, which is fueled by reprimand or correction, the history of art moves from achievement to achievement. Contemporary embodiments of poetry's virtues abound, and only our devotion to a long history of excellence allows us to recognize them." –from James Longenbach's preface
The Virtues of Poetry is a resplendent and ultimately moving work of twelve interconnected essays, each of which describes the way in which a particular excellence is enacted in poetry. Longenbach closely reads poems by Shakespeare, Donne, Blake, Keats, Dickinson, Yeats, Pound, Bishop, and Ashbery (among others), sometimes exploring the ways in which these writers transmuted the material of their lives into art, and always emphasizing that the notions of excellence we derive from art are fluid, never fixed. Provocative, funny, and astute, The Virtues of Poetry is indispensable for readers, teachers, and writers. Longenbach reminds us that poetry delivers meaning in exacting ways, and that it is through its precision that we experience this art's lasting virtues.
Praise For The Virtues of Poetry…
"[Longenbach] slices open poems with such grace, care and erudition that they aren't lessened by the dissection. . . . Predicated on the simple and elegant thesis that good poetry transcends trends, the book points to paired poetic 'virtues' like excess and restraint or compression and dilation, and then shows how they work in harmony to make poetry sing." —NPR
"How can we ask our poets both for careful technique and for wild surprise? How can we even talk about poetry in general--how it works, what makes it good, how to read it--if the best poems stand apart from all rules, all programs? . . . Never too academic, Longenbach introduces not just great writers, but ways to think about them, ways to see how their works confront death, pursue self-doubt, and overcome their own initial limits." —Publishers Weekly, starred review
"[The Virtues of Poetry is a] rewarding guide that can help us all more fully read poetry and appreciate its intricacies and its 'virtues.'" —Shelf Awareness for Readers
"[Longenbach is] interested, among other things, in the moment of takeoff, that moment when language ceases to be simply a vehicle for meaning and in a poem becomes something more like us: alive, always moving from discovery to discovery and anchored by an infinite, unplumbable hope. . . . These essays are, by turns, beautiful, witty and wise and in the end they'll (hopefully) leave you better equipped to experience and enjoy great poems." —Star Tribune (Minneapolis)
"Longenbach's own great stylistic virtue is lucidity; his writing educates without obfuscating or condescending. . . . Above all, Longenbach keeps faith with the mystery at the heart of poems as well as the intellect's attempts to pierce it." —Cleveland Plain Dealer
"Like a man who takes clocks apart for the sheer joy of showing us the marvelous ways in which they work, James Longenbach displays a great talent for insightful close reading, a process through which he reveals the inner workings of a poem in ways that augment rather than diminish our wonder in reading it. . . . One of the chief virtues of [Longenbach's] new book is its inclusiveness. This is a book for both the serious poet and the serious critic, for both the initiate and the fully initiated, for both the adamantly classicist and the thoroughly modern." —World Literature Today
"[The Virtues of Poetry] is a lovely, lilting ode to poetry. . . . This book teaches us, in the best way possible, how to read poetry, and it brings poems and poets alive in the process. . . . The Virtues of Poetry is like the primer on poetry you never had but always wanted." —Pleiades
"These 12 essays . . . each unpack a poetic virtue--but not the ones your English teacher taught you to expect. . . . Longenbach's readings are wonderfully idiosyncratic." —Zocalo Public Square
"[The Virtues of Poetry is] criticism at its best." —Washington Independent Review of Books
"Virtues of Poetry offers an eminently enjoyable reading experience. Longenbach is a brilliant essayist and exquisite craftsman of prose. . . . For any lover of poetry and poetry's heros and heroines, for anyone interested in further sensitizing their response to language, the book's a quick snack. . . . Longenbach is upping the ante and setting the standard for smart, palatable criticism." —Sycamore Review
Graywolf Press, 9781555976378, 192pp.
Publication Date: March 5, 2013
About the Author
James Longenbach is a poet and critic. He is the author of The Art of the Poetic Line and several other critical works, as well as four collections of poetry, including The Iron Key. He is Joseph Henry Gilmore Professor of English at the University of Rochester.
or
Not Currently Available for Direct Purchase