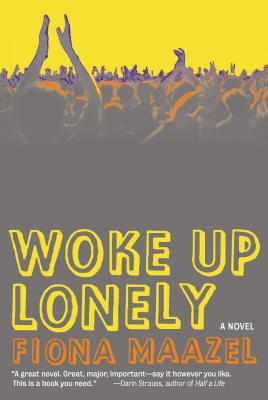 Woke Up Lonely
A Novel
Hardcover

* Individual store prices may vary.
Other Editions of This Title:
Paperback (4/1/2014)
Compact Disc (4/2/2013)
MP3 CD (4/2/2013)
Description
The dizzying new novel by Fiona Maazel, a National Book Foundation "5 Under 35"

* A New York Times Book Review Notable Book of the Year * A New York Times Book Review Editors' Choice * A Kansas City Star, VICE, and Largehearted Boy Best Book of the Year * One of Book Riot's "Seven Funniest Novels of 2013" *

* One of the Millions's Most Anticipated Books of 2013 * An April IndieNext Pick*

Thurlow Dan is the founder of the Helix, a cult that promises to cure loneliness in the twenty-first century. With its communes and speed-dating, mixers and confession sessions, the Helix has become a national phenomenon—and attracted the attention of governments worldwide. But Thurlow, camped out in his Cincinnati headquarters, is lonely—for his ex-wife, Esme, and their daughter, whom he hasn't seen in ten years.

Esme, for her part, is a covert agent who has spent her life spying on Thurlow, mostly to protect him from the law. Now, with her superiors demanding results, she recruits four misfits to botch a reconnaissance mission in Cincinnati. But when Thurlow takes them hostage, he ignites a siege of the Helix House that will change all their lives forever.

With fiery, exuberant prose, Fiona Maazel takes us on a wild ride through North Korea's guarded interior and a city of vice beneath Cincinnati, a ride that twists and turns as it delves into an unsettled, off-kilter America. Woke Up Lonely is an original and deeply funny novel that explores our very human impulse to seek and repel intimacy with the people who matter to us most.
Praise For Woke Up Lonely: A Novel…
"Maazel's new novel sounds like an AM radio dial spinning between the spooky midnight frequency of 'V.' and the bizarro breakfast show humor of 'White Noise,' . . . Intricately imagined and timely. . . . Maazel is an entertaining writer with a dry, droll sense of humor . . . She's insightful about how and why we build up instead of tear down the walls between us." —The New York Times Book Review

"Brilliantly imagine[d]." —Vanity Fair

"[A] fun farce." —Cosmopolitan

"Maazel's insights are as sound as her imagination is wild." —Oprah.com, Book of the Week

"It's as if a Paul Thomas Anderson movie (The Master, There Will Be Blood) married a David Foster Wallace novel and had a baby. Which is to say, this story is weird, thrilling, and inimitable." —Marie Claire

"Woke Up Lonely is by turns hilarious and heartbreaking, filled with swerves and contradictions. . . . Poignant and unpredictable." —Jane Ciabattari, NPR

"The talented Maazel has plenty of imagination." —USA Today

"Among the many sterling novels coming out this April . . . Woke Up Lonely [has] stood out." —Salon

"[Maazel] has a real talent for taking these existential millstones of modern life--fear of death, failure, being alone, everything--and filtering them into morbidly funny, troublingly familiar forms. . . . Woke Up Lonely easily refutes the idea that the novel is a staid, obsolete form of writing. The stakes in Maazel's book are at least as real as any work of nonfiction, and it's a good deal more fun to read than any manifesto." —The Daily Beast

"Woke Up Lonely is another wunderkammer, a deeply felt and wildly original novel that repays the attention it demands, and once read won't be soon forgotten." —Justin Taylor, Bookforum

"Fizzy and intoxicating." —Kansas City Star

"Woke Up Lonely is a vibrant, engaging, and endlessly inventive exploration of loneliness, and is easily one of the year's finest novels." —Largehearted Boy

"There's nothing better than a really good cult novel--especially a wonderfully written, brutally satiric one." —Flavorwire, "10 New Must-Reads for April"

"Considering (among other things) solitude in the digital era, Maazel's rhythmic prose carries the twisty tale with confidence." —Time Out New York

"Sweeping, achingly honest . . . Woke Up Lonely is both a mirror and magic looking glass, reflecting who we are and who we have the potential to become." —Los Angeles Review of Books

"Maazel takes a cue from Kurt Vonnegut by creating a novel that blends the plot of a dramatic thriller with wacky humor and bits of science fiction." —BUST Magazine

"At turns satiric and heartfelt, Maazel's novel brims with energy and life." —Manuel Gonzales, Publishers Weekly "Signature Review"

"[A] rollicking ride of a novel. . . . successful at every level." —Kirkus Reviews

"I may have bruised my ribs from laughing. Woke Up Lonely is a funhouse hall of mirrors whose dark (and hilarious) distortions reveal some almost unbearable truths about what it means to be lonely in America today." —Karen Russell, author of Swamplandia!

"A great novel. Great, major, important--say it however you like. This is a book you need." —Darin Strauss, author of Half a Life

"Woke Up Lonely is the novel equivalent of a sonic boom--it builds, it explodes, it leaves your ears, mind, and soul ringing for days." —Heidi Julavits, author of The Vanishers

"No one does loneliness, self-abasement, and dread like Fiona Maazel. And maybe no one other than George Saunders illuminates with as much sadness and comic brio the grotesqueness of the extent to which we fall short of who we imagine ourselves to be." —Jim Shepard, author of You Think That's Bad

"Fiona Maazel's imagination is so wild . . . that you feel like you've woken up into one of those rare novels as real as life. Hooray for such a talent!" —Rivka Galchen, author of Atmospheric Disturbances

"Ignore Fiona Maazel at your peril. Woke Up Lonely is just as pithy, whimsical, and brilliant as her first novel, Last Last Chance. She writes about loneliness in a way that makes you feel less lonely: a wild, hilarious ride that highlights Maazel's uncanny knack for avoiding the obvious." —Wesley Stace, author of Charles Jessold, Considered as a Murderer
Graywolf Press, 9781555976385, 336pp.
Publication Date: April 2, 2013
About the Author
Fiona Maazel is the author of Last Last Chance and Woke Up Lonely. She is a winner of the Bard Prize for Fiction and a National Book Foundation 5 Under 35 honoree. She teaches at Brooklyn College, Columbia, New York University, and Princeton. She lives in Brooklyn.
or
Not Currently Available for Direct Purchase