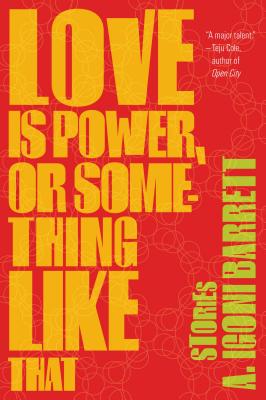 Love Is Power, or Something Like That
Stories
Paperback

* Individual store prices may vary.
Description
Vivid, powerful stories of contemporary Nigeria, from a talented young author
* An NPR, Flavorwire, and Largehearted Boy Best Book of the Year * One of the Millions's Most Anticipated Books of 2013 *

When it comes to love, things are not always what they seem. In contemporary Lagos, a young boy may pose as a woman online, and a maid may be suspected of sleeping with her employer and yet still become a young wife's confidante. Men and women can be objects of fantasy, the subject of beery soliloquies. They can be trophies or status symbols. Or they can be overwhelming in their need.
In the wide-ranging stories in Love Is Power, or Something Like That, A. Igoni Barrett roams the streets with people from all stations of life. A man with acute halitosis navigates the chaos of the Lagos bus system. A minor policeman, full of the authority and corruption of his uniform, beats his wife. A family's fortunes fall from love and wealth to infidelity and poverty as poor choices unfurl over three generations. With humor and tenderness, Barrett introduces us to an utterly modern Nigeria, where desire is a means to an end, and love is a power as real as money.
Praise For Love Is Power, or Something Like That: Stories…
"[Love Is Power, or Something Like That] is so much more than its lyrical language, delicious detail and author's love of English. . . . His prose may shock and startle; but with anguish, violence and cruelty comes compassion. Barrett artfully captures humanity in these nine tales. . . . A scrumptious read." —NPR, "Best Books of 2013"
"Thoroughly lively. . . . Barrett's stories don't deliver pretty truths. The contemporary globalized culture of every day Africa he gives us . . . [is] utterly convincing." —Alan Cheuse, NPR, All Things Considered
"[Love Is Power, or Something Like That] pulses with an indomitable life force that is, by turns, tender and fierce. . . . [Barrett] captures lives full of yearning, striving, setbacks, and moments of joy. He's a compassionate if unflinching writer." —Jan Gardner, The Boston Globe
"A nervy and engrossing collection. . . . Barrett has a distinctive voice and vividly captures the restless energy of Lagos, one of the worldÕs fastest-growing cities." —Chicago Tribune
"The violent, furtive and tender lives Barrett follows in this story collection provide moments of empathy amid wrenching drama and subtle comedy. . . . The resulting collection satisfies on numerous levels." —Time Out New York
"Barrett's powerful collection brings you tumbling around contemporary Nigeria and the minds of the many characters within. Chaotic and compassionate without being sentimental, Barrett's stories cut deep, and then linger there chatting." —Flavorwire, "10 New Must Reads for May"
"The nine short stories in A. Igoni Barrett's important Love Is Power, or Something Like That are excellent. . . . [Barrett] has a way of transforming suffering, and its handmaiden abjection, into a thorny kind of power." —Bookslut
"Love, life, revenge, survival, and compassion all figure in this bighearted, daring collection of stories from a gifted Nigerian writer. . . . Barrett shares as much with Raymond Carver or Amy Hempel as Chinua Achebe. . . . Electrifying tales of vibrant urban nights and acrid, desperate days." —Kirkus Reviews, starred review
"While most of the nine stories in [Love Is Power, or Something Like That] have Nigeria as their backdrop, the emotional turbulence they capture should strike any reader as universal." —Publishers Weekly
"Barrett's confident debut . . . offers vibrant tales of modern-day Nigeria. . . . [His] varied characters provide nuanced perspectives on love and kinship amid the chaos and reality of everyday life." —Booklist
"Love Is Power, or Something Like That crackles with the chaotic energy of modern Nigeria." —Roxane Gay, The Outlet: the Blog of Electric Literature
"Barrett's artful, unsparing, and unsentimental stories confirm the arrival of a major talent. The reader is plunged right into the dangerous and exciting heart of contemporary Nigerian life, and would rather be nowhere else." —Teju Cole, author of Open City
"Brilliant, unforgettable, violent, compassionate. The range of people Barrett makes us care about takes the breath away: wife-beaters, rapists, drop-drunk mothers, yearning evangelicals, coddled international businessmen, depressed policemen wielding cow-legs against the innocent. Whole lives contain less relentless, exquisite detail than this." —Carolyn Cooke, author of Daughters of the Revolution
"A beautiful writer. In this collection A. Igoni Barrett captures both the quotidian and the elevated with a gaze that is as relentless as it is sympathetic. Here's a writer to watch." —Helon Habila, author of Oil on Water
"Here is a singular voice in African writing: urbane, unapologetic, as harsh as the truth, as tender as love, an old subject that A. Igoni Barrett refreshes by beaming the searing and precise light of his language into the darkest corners of its territory. A masterful accomplishment." —Doreen Baingana, author of Tropical Fish
"A. Igoni Barrett has a big heart. His portrait of modern-day Nigeria, like the country itself, is a bewitching juxtaposition of the grotesque and uplifting, rotten and humane. He makes us wince in sympathy for his characters, struggling to give their lives meaning in the toughest of cities, even while--in many of these stories--we fervently hope never to cross paths with them." —Michela Wrong, author of It's Our Turn to Eat: The Story of a Kenyan Whistleblower
"Love Is Power, or Something Like That left me in tears. A. Igoni Barrett is the most exciting writer producing right now. He has an incredible range, a unique voice, and has the power, the move." —Binyavanga Wainaina, author of One Day I Will Write About This Place
Graywolf Press, 9781555976408, 176pp.
Publication Date: May 7, 2013
About the Author
A. Igoni Barrett is a winner of the 2005 BBC World Service short-story competition, the recipient of a Chinua Achebe Center Fellowship, a Norman Mailer Center Fellowship, and a Rockefeller Foundation Bellagio Center Residency. He lives in Nigeria.
or
Not Currently Available for Direct Purchase