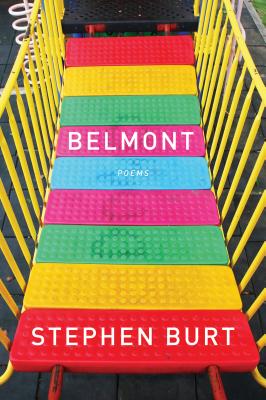 Belmont (Paperback)
Poems
Graywolf Press, 9781555976446, 88pp.
Publication Date: June 11, 2013
* Individual store prices may vary.
Description
The new poetry collection by Stephen Burt, "one of the most gifted poets of his generation" (Frank Bidart)
*An NPR Best Book of 2013 * A Publishers Weekly Top 10 Poetry Book of Spring 2013 *
Our skills are finally in demand.
If you mock us, Pan,
In whom we also believe, do it
As gently as you can.
—from "The People on the Bus"
In Belmont, Stephen Burt maps out the joys and the limits of the life he has chosen, the life that chose him, examining and reimagining parenthood, marriage, adulthood, and suburbia alongside a brace of wild or pretty alternatives: the impossible life of a girl raised by cats, the disappointed lives of would-be rock stars, and the real life to which he returns, with his family, in the town that gives the book its name, driving home in an ode-worthy silver Subaru. Can a life be invented the way a poem can? What does it mean for a precocious child, or a responsible grown-up, to depict the world we want? With wit, beauty, tenderness, and virtuosity, these poems define the precarious end of extended adolescence, and then ask what stands beyond.
About the Author
Stephen Burt is the author of three poetry collections and several critical books, including Close Calls with Nonsense, a finalist for the National Book Critics Circle Award. He teaches at Harvard University and lives in Belmont, Massachusetts.
Praise For Belmont: Poems…
"The collection is dominated by virtuosic turns and eclectic imaginings made all the more charming by Burt's constant self-reflexive address to the reader as co-conspirator and part of his larger we." —New York Times Book Review
"In this, his third and best book, [Burt] is moved to song by the challenges, whimsies and ecstasies of fatherhood and suburban life. These poems are all kinds of tender; they're funny, too. Most of all, they're made wise by a father's careful attention to all his children know." —NPR, "Best Books of 2013"
"Joy is new each time it happens--and it happens a lot in these poems of Stephen Burt's Belmont. . . . This is a world in which authority figures pull strings but are mostly irrelevant: Burt dismantles all cultural, psychological and literary idee recue pertaining to childhood, identity, gender." —Los Angeles Times
"These poems, which are often wryly humorous, express great tenderness for American domestic life. . . . They also capture the limitations and disappointments that accompany the arrival of adulthood." —Page-Turner, the blog of the New Yorker, "Books to Watch Out for"
"Stephen Burt has long been regarded among the most important critics now writing, but this year marks his emergence as one of his generation's most interesting poets." —NPR, "A 2013 Poetry Preview"
"Stephen Burt's Belmont is a celebration of the ordinary: walks in the park, breakfast cereal, the Subaru, the Swingline stapler. It's a book about being a father in the suburbs, and thus a book about growing up, written from the perspective of someone who has and who has discovered that there is life, and happiness to be had on the other side. . . . [A] sobering and mature collection." —San Francisco Chronicle
"I expected Belmont's craft and wit and intellect. What I did not expect was Burt's occasionally lovely and deeply considered strangenesses: shadowy places I needed to dig at, moments in his poems when the gates surrounding more manicured language are left ajar--unfastened, beckoning. . . . The core of this book is restless; it seeks." —Open Letters Monthly
"Belmont is lyrical yet contemporary, a fascinating exploration of everyday life." —Largehearted Boy
"[Belmont] explores themes of adulthood, parenthood, and personhood with tenderness, intelligence, and wonder. . . . This collection, full of heart and humor, demonstrates Burt's impressive range and formal deftness." —Publishers Weekly, starred review
"Burt possesses a keenly empathetic imagination that allows him to inhabit and speak for his subjects. . . . Grounded in the physical world, the poems recognize and enshrine the wonder of consciousness itself and follow wherever it might lead." —Library Journal
"Breezily contemporary in feel, yet deeply lyrical in quality and effect. . . . Belmont is an outstanding collection at once thoughtful and witty, meditative but rapid-fire, a domestically rooted yet lyrically urbane accounting of modern life as interpreted by one of the gifted critical intellects of our time." —New York Journal of Books
"To change the ordinary lives we mortals live, Stephen Burt simply dings it with his poetry/philosophy wand. . . . He shows contemporary life glittered with soul searching--the literary will solving its thought problems." —Washington Independent Review of Books