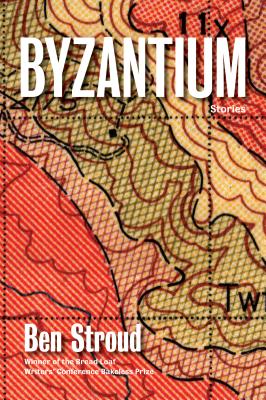 Byzantium (Paperback)
Stories
Graywolf Press, 9781555976460, 206pp.
Publication Date: July 23, 2013
* Individual store prices may vary.
Description
Winner of the Bakeless Prize for Fiction, an imaginative debut that ranges from Havana to Berlin
* A Kansas City Star Best Book of the Year * One of Publishers Weekly's "Best Summer Books"*
Ancient cities and fallen empires come to life in this masterful collection. In the Byzantine court, a noble with a crippled hand is called upon to ensure that a holy man poses no threat to the throne. On an island in Lake Michigan, a religious community crumbles after an ardent convert digs a little too deep. And the black detective Jackson Hieronymus Burke rises to fame and falls from favor in two stories that recount his origins in Havana and the height of his success in Kaiser Wilhelm's Germany. Ben Stroud's historical reimaginings twist together with contemporary stories to reveal startling truths about human nature across the centuries. In his able hands, Byzantium makes us believe that these are accounts we haven't heard yet. As the chronicler of Burke's exploits muses, "After all, where does history exist, except in our imagination? Does that make it any less true?"
About the Author
Ben Stroud's stories have appeared in Harper's, One Story, Electric Literature, and Boston Review, among other magazines, and have been anthologized in New Stories from the South and Best American Mystery Stories. A native of Texas, he now lives in Ohio and teaches creative writing at the University of Toledo.
Praise For Byzantium: Stories…
Praise for Byzantium:
"The title story in Ben Stroud's
Byzantium
is not only the best in the book, it's the best story by a new writer I've read in years." —Alan Cheuse, NPR,
All Things Considered
"[Stroud] evinces a sharp yet sympathetic eye for human failure. In
Byzantium
, Stroud extends this same eye to personal and social subjects across millennia, telling stories that range from the violent political intrigue of the titular city to the half-hearted adultery committed by a Ph.D. student in modern-day Berlin." —
Harper's Magazine
"Fans of David Mitchell's
The Ten Thousand Autumns of Jacob de Zoet
will delight in Stroud's sensitive approach to historical fiction. . . . Without a doubt,
Byzantium
signals the arrival of an incredible talent." —
The Daily Beast
"Stroud seems less interested in history per se than in telling stories of intrigue and adventure. . . . What follows is a thoroughly enjoyable journey." —
San Francisco Chronicle
"Stroud's imaginative story collection . . . [leap-frogs] from Berlin to Havana to ancient cities and fallen empires." —
Chicago Tribune
"[Stroud] sticks close to the sensory details that are crucial to bringing fiction to life in a readers mind. . . .
Byzantium
, however, offers both flavor and sustenance, and will leave readers eager to learn where Stroud's vivid historical imagination will carry him next." —
The Dallas Morning News
"[
Byzantium
] is proof, if ever it were needed, that the short story can hold its own alongside the novel. . . . Stroud's stylistic prowess and panoramic range can be jaw-dropping. . . . Stroud's fecund imagination and his ability to tell tales smack of tremendous writerly promise." —
Star Tribune
"[
Byzantium
] is a delight. . . . Among his inspirations, Stroud names the short story writer Jim Shepard, but it's not hard to find traces of Poe, Dostoevski, and Calvino as well. . . . Here's looking forward to whatever this writer does next." —
Cleveland Plain Dealer
"Stroud can switch hit with ease, going deep with detailed and understated Steven Millhauser pastiches or just hitting away and moving us with tales of youth, love and the everyday. . . . Dazzling inventive takes on the short story mark this Bakeless Prize-winning collection from a very promising young writer." —
Shelf Awareness for Readers
"Stroud writes convincingly in any time or mode, juggling heavily plotted stories of historical fiction that are cinematic in their sense of adventure and more traditional literary stories admirable for their restraint and close examination of intrapersonal conflicts. . . . This is an exciting and essential collection, unlike anything in recent memory, and a decidedly impressive debut." —
Publishers Weekly
, starred review
"Stroud's command over both contemporary and historical narratives is reminiscent of Jim Shepard's, though his sure and robust voice proves him to be a deeply compelling and original new storyteller." —
Booklist
"Byzantium is both a collection of exciting stories, and of extraordinary journeys. Ben Stroud is a smart, versatile, sure-handed tour guide, whether he's taking the reader to Germany, Havana, or Constantinople. In each story he builds a vivid, seamless world, and brings it memorably to life. This is an astonishing, transporting book." —Caitlin Horrocks, author of This Is Not Your City
"Ben Stroud is a tremendous talent. The ten exquisitely wrought tales in
Byzantium
stretch through the ages and across the globe. From ancient Constantinople, to Havana in the height of the slave trade, to modern-day Wiesbaden, each story unfolds in unexpected ways, with great humor and skill, and then, when you least expect it, strikes at your heart." —Hannah Tinti, author of
The Good Thief
"Let us praise the full-blooded sweep and majesty of Stroud's imagination. Let us celebrate a writer of great bravery and artistry and deep feeling . . . Stroud's Calvino-like deconstruction of narrative . . . turns the unlikely ingredients into a marvel of story-telling . . . Stroud is a magician." —Randall Keenan, Bakeless Prize judge, from the Introduction
or
Not Currently Available for Direct Purchase