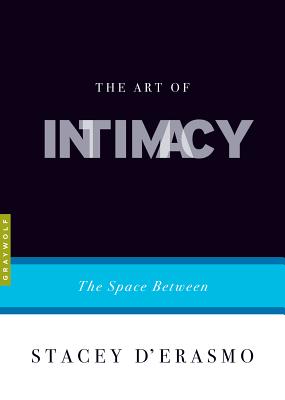 The Art of Intimacy
The Space Between (Art of...)
Paperback

* Individual store prices may vary.
Description
The first work of nonfiction by Stacey D'Erasmo, author of the New York Times Notable Books Tea and The Sky Below

"What is the nature of intimacy, of what happens in the space between us? And how do we, as writers, catch or reflect it on the page?" Stacey D'Erasmo's insightful and illuminating study examines the craft and the contradictions of creating relationships not only between two lovers but also between friends, family members, acquaintances, and enemies in fiction. She argues for a more honest, more complex portrait of the true nature of the connections and missed connections among characters and, fascinatingly, between the writer and the reader. D'Erasmo takes us deep into the structure and grammar of these intimacies as they have been portrayed by such writers as Joan Didion, Toni Morrison, D. H. Lawrence, Virginia Woolf, and William Maxwell, and also by visual artists and filmmakers. She asks whether writing about intimacy is like staring straight into the sun, but it is her own brilliance that dazzles in the piercing and original book, The Art of Intimacy.
Praise For The Art of Intimacy: The Space Between (Art of...)…
"D'Erasmo manages to teach, model, and argue many essential truths about intimacy within the slim volume, making The Art of Intimacy a perfect go-to resource for any writer, teacher, or thoughtful reader who wants line-level references to apt 20th- and 21st- century literature that represent intimacy in its kaleidoscopic diversity." —Los Angeles Review of Books
"D'Erasmo digs deep into the nuances of literature in order to find the hidden glue that links lovers, family, friends and enemies to each other and to the reader. . . . Readers and writers will gain a deeper appreciation for the lyric need for that which is left unsaid, like the pause in a piece of music which defines the notes around it." —Shelf Awareness
"A profound meditation on the relationships between fictional characters, the possibility and meaning of intimacy in fiction, and most vitally, an exploration by a master writer of how authors create relationships between readers and their stories. . . . An invaluable text for the writing classroom. . . . Buy this indispensable book." —The Rumpus
"Provides powerful insight . . . as D'Erasmo proved throughout, intimacy is often the result of what isn't said, of what needn't be said, of a closeness the readers feel but don't see." —Los Angeles Review
"The word intimacy evokes images of love, but the book also delves into the darker side of the subject: obsession. . . . D'Erasmo provides a lucid and provocative examination of the ill-defined concept of intimacy." —Publishers Weekly
Graywolf Press, 9781555976477, 144pp.
Publication Date: July 9, 2013
About the Author
Stacey D'Erasmo is the author of The Sky Below, a New York Times Notable Book and a Los Angeles Times Favorite Book of the Year; A Seahorse Year; and Tea, a New York Times Notable Book. She teaches at Columbia University.