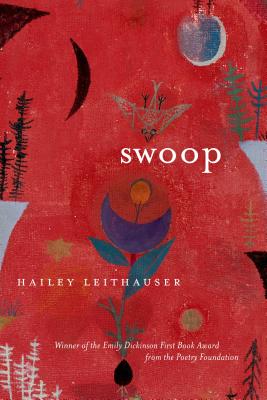 Swoop
Poems
Paperback

* Individual store prices may vary.
Description
Winner of the Emily Dickinson First Book Award from the Poetry Foundation

O ludicrous swoon, O blind hind-sight,
O torching of bridges and blood boiled white,
O sparrow, and arrow, and hell below,
O, she says, because she loves to say O.
—from "O, She Says"
Swoop is a sonically audacious first book, a ringing up and down the musical scales. Hailey Leithauser's resplendent array of forms—from traditional verse to more fragmented, onrushing experiments—takes the reader to the heights of lyricism. In these poems, sharp objects speak for themselves, sex is taken up alfresco (among other things), an enigmatic question is posed from To Have and Have Not, and the song of a mockingbird drives us out of bed. A paean to excess, Swoop is a virtuosic and exhilarating debut.
Praise For Swoop: Poems…
"Poets do not come much lighter than Hailey Leithauser, whose first book is nearly Baroque . . . in its playfulness, its confections of wordplay. . . . Delightful." —Boston Review
"Always clever, fun and alert to the history of its flexible forms, this debut at its best is a lot more than fun: it's a frantic argument in favor of obvious beauty, of ornament, and of elaborate jokes, as barriers against something like despair." —Publishers Weekly
"Quite simply, poetry lovers will find reading any of [Leithauser's] poems without smiling an impossible feat. Depending on the subject of the poem in question, the smile may be joyful, subtle or even a bit wicked--regardless, the talent and craft exhibited here is cause for sheer glee. . . . Here's hoping this confident and deft collection will be the first of many from a powerful wordsmith." —Shelf Awareness
"Every poem feels necessary, because there's nothing haphazard about Swoop. Each one of Leithauser's formal poems is so meticulously crafted that the book as a whole should feel like a stiffly brocaded coat--but instead, it's airy and light. . . . Leithauser has style to spare, but also substance." —Los Angeles Review of Books
"There is evident lineage in Swoop to Marianne Moore. . . . Leithauser's poems should be read aloud--the insistent rhymind and repetition demand it. . . . Wide in scope and playfully serious in tone, [Swoop is] excessive in the best way possible." —NewPages
"Leithauser is frolic and bubbles, whimsy and chance. She owns rhyme and meter and and strings them on a bouncing string. And she is smart. Every line is a surprise. How many poets do we know like that?" —Washington Independent Review of Books
" [Swoop] understands the physical nature of words and sounds. [Leithauser's] poems bounce along several registers, surprising us with their diction and resulting music. . . . We are seduced by the sound of the poems, and their physicality inhabits us, wins us over. . . . Swoop stands out as one of the most interesting books of the past year because it breathes life." —32 Poems
"Swoop is a book of dazzling invention. Its poems are ingeniously playful, formally adventurous, and filled with limitless pleasures for the ear, the intellect, and the imagination. Pound may have asked poets to' purify the language of the tribe,' but Leithauser goes further. She makes English fresher and chocks it full with beguiling new facets." —Stephen Young, The Poetry Foundation
"Possessed of an unnatural ability with the language, preternatural grace in form, and an extraordinary capacity to be dead serious with killer humor, [Leithauser] is a glittering poet who found her voice in maturity." —Women's Voices For Change
"Marianne Moore wrote that an essential poetry component is gusto. Hailey Leithauser's poems make the brain buzz with infectious rhyme and lusty rhythms. It's hard to sit still while reading them, so truly are they bursting with gusto. This poet catches the glorious din of the world, the gorgeous, full-bore orchestra of thought melodies, vowel-and-consonant romps, trills of perception, diction collisions. It's original, invigorating, inebriating work. Part of the delight in reading Leithauser is that meaning is never a casualty of the music, but intensified by it. What a pleasure to read these poems and 'drown in word nectar.'" —Amy Gerstler, author of Dearest Creature
Graywolf Press, 9781555976576, 80pp.
Publication Date: October 1, 2013
About the Author
Hailey Leithauser's poems have appeared in Best American Poetry, The Gettysburg Review, and Poetry, and she has received numerous awards, including the Discovery/The Nation Prize. She lives in the Maryland suburbs near Washington, DC.
or
Not Currently Available for Direct Purchase