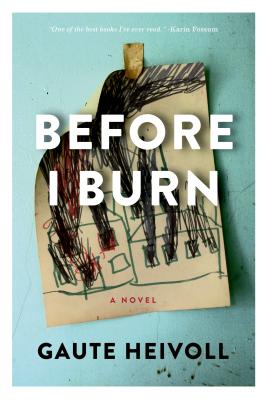 Before I Burn
A Novel
Hardcover

* Individual store prices may vary.
Description
An international literary sensation about an arsonist on the loose in rural Norway and the young man haunted by the story
In 1970s Norway, an arsonist targets a small town for one long, terrifying month. One by one, buildings go up in flames. Suspicion spreads among the neighbors as they wonder if one of their own is responsible. But as the heat and panic rise, new life finds a way to emerge. Amid the chaos, only a day before the last house is set afire, the community comes together for the christening of a young boy named Gaute Heivoll. As he grows up, stories about the time of fear and fire become deeply engrained in his young mind until, as an adult, he begins to retell the story. At the novel's apex the lives of Heivoll's friends and neighbors mix with his own life, and the identity of the arsonist and his motivations are slowly revealed. Based on the true account of Norway's most dramatic arson case, Before I Burn is a powerful, gripping breakout novel from an exceptionally talented author.
Praise For Before I Burn: A Novel…
"The book captivates despite revealing the identity of the fire starter early on. It succeeds as a dual character study: of the criminal as he goes about his wicked work, and of the narrator as he tries to make sense of a hazy but vital piece of his hometown's history." —The New York Times
"Meticulously imagined, eerie and atmospheric." —Wall Street Journal
"A semi-autobiographical novel that's poetic, gripping, and at times even profound. . . . Heivoll's writing is terrifically sensory." —NPR, All Things Considered
"[Before I Burn's] power is not in who did it or even why, but in the brutal clarity of Heivoll's unhurried and mesmerizing sentences, pushing through a chilly landscape like the steady shining of blue headlights." —Harper's Magazine
"A ferociously readable double-stranded novel. . . . Before I Burn is an uncomfortably creepy, frequently heartbreaking investigation written by one good young man into the lives of three good young men." —Shelf Awareness
"Fantastic. . . . Stunning on a number of levels--from the structure to the story to the writing itself--Before I Burn stays with readers long after the last page is turned, the way the smell of fire lingers long after the blaze has been extinguished." —Cedar Rapids Gazette
"A masterful novel of levels and depths, beautifully written and stunningly realized." —New York Journal of Books
"A thrilling story. . . . Before I Burn is a great psychological thriller, bringing you into the heart and the minds of the citizens of this small Norwegian town, leaving you looking differently at the people behind the crimes and the writers behind the stories." —Corduroy Books
"Heivoll has given us a mirror of our own responses to memory--whether we deliberately repress or invite it in to become a part of our deep selves. . . . 'Who is it we see when we see ourselves?' This is, indeed, the question that will linger after you read his novel." —BookBrowse
"A thrilling and poetic novel. In this dark and powerful examination of two mens obsessions, Hevioll's introspection and attention to detail are unparalleled. Fans of In Cold Blood and The Devil in the White City will appreciate the chilling true-crime angle, while Heivoll's dazzling prose will quickly enchant those unfamiliar with this Scandinavian writer. An absorbing story of compulsion, obsession, and the power of desire." —Booklist, starred review
"Reads like a top-tier crime story. . . . The deadpan irony of the dialogue and fetishistic, but sympathetic, descriptions of the crimes are chilly and resonant, playing out provocatively against the first-person narrative. . . . A compulsively readable novel about identity and the increasingly blurred line between art and reality." —Publishers Weekly, starred review
"A highly complex meditation on the human condition and our collective predisposition to insanity. . . . Closer in tone to Francois Traffaut's Shoot the Piano Player or a Tom Waits song/story than an airport mystery novel." —Kirkus Reviews
"One of the best books I have ever read." —Karin Fossum, author of the Inspector Sejer crime series
"Gaute Heivoll is one of the finest voices of his generation. Before I Burn is a glowing depiction of the darkness in an isolated human being's mind." —Karl Ove Knausgaard, author of My Struggle
"Thanks to Heivoll's adroit and sensitive handling of his themes, this semi-autobiographical account of old crimes is elevated and transformed into a great novel." —The Glasgow Herald
"Heivoll has written in this novel about identifiable people, though sometimes changing their names--and this high-risk strategy has been enormously worth the risk. It is existence itself--its mental and physical pains, its blood-lust offset by the many beauties of natural forms and natural affections--that is the writer's subject, not the nailing of particularities to persons." —The Independent (London)
Graywolf Press, 9781555976613, 336pp.
Publication Date: January 7, 2014
About the Author
Don Bartlett has translated dozens of books of various genres, including several novels and short story collections by Jo Nesbø and It's Fine by Me by Per Petterson. He lives in Norfolk, England.
Coverage from NPR
or
Not Currently Available for Direct Purchase