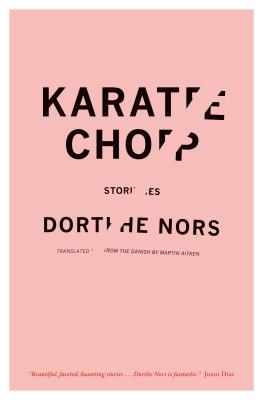 Karate Chop: Stories (Paperback)
Stories
Graywolf Press, 9781555976651, 89pp.
Publication Date: February 4, 2014
Description
The first book in English by an acclaimed Danish writer: "beautiful, faceted, haunting stories . . . [from] a rising star" (Junot Díaz)

Karate Chop, Dorthe Nors's acclaimed story collection, is the debut book in the collaboration between Graywolf Press and A Public Space. These fifteen compact stories are meticulously observed glimpses of everyday life that expose the ominous lurking under the ordinary. While his wife sleeps, a husband prowls the Internet, obsessed with female serial killers; a bureaucrat tries to reinvent himself, exposing goodness as artifice when he converts to Buddhism in search of power; a woman sits on the edge of the bed where her lover lies, attempting to locate a motive for his violence within her own self-doubt. Shifting between moments of violence (real and imagined) and mundane contemporary life, these stories encompass the complexity of human emotions, our capacity for cruelty as well as compassion. Not so much minimalist as stealthy, Karate Chop delivers its blows with an understatement that shows a master at work.
About the Author
Dorthe Nors is the author of five novels and the recipient of the Danish Arts Agency's Three Year Grant for "her unusual and extraordinary talent." Her stories have appeared in Agni, A Public Space, Boston Review, Ecotone, and Fence.
Praise For Karate Chop: Stories…
Praise for Karate Chop:  "Unsettling and poetic. . . . Some pieces, like one about a four-pound tomato, are oddly beautiful; others are brilliantly disturbing." —The New York Times Book Review "The short-stories in Danish sensation Dorthe Nors's slim, potent collection, Karate Chop . . . evoke the weirdness and wonder of relating in the digital age." —Vogue "The intricately crafted stories in Karate Chop, from popular Danish writer Dorthe Nors, focus on ordinary occurrences . . . and then twist them into brilliantly slanted cautionary tales about desire, romance, deception, and dread." —ELLE "In this slim collection of stories, the Danish Nors examines everyday issues with intensity and force." —Marie Claire "Spare and sublime. Author Dorthe Nors knows how to capture the smallest moments and sculpt them into the unforgettable." —Oprah.com "Dorthe Nors illuminates an ominous world of disconnected people trying to make sense of their dislocation. . . . Nors' affectless, matter-of-fact storytelling—crisply translated from the original Danish by Martin Aitken—is the perfect complement to the low-wattage desperation and inertia her characters feel." —Los Angeles Times "Nors's prose is direct . . . a series of uncluttered and voice-driven sentences that achieve their rhythm through careful juxtaposition and build. . . . One hopes Nors's novels are translated into English soon, and that they show as much promise as her short stories." —Chicago Tribune"Not dissimilar to the melancholic interior scenes painted by Vilhelm Hammershi, numerous films by Thomas Vinterberg, and even the churning sounds of composer Niels Gade, these stories look underneath deceptively quiet surfaces, finding undercurrents that may never fully express themselves but repetitively hint at their constant presence. . . . Peppered with themes of memory, violence, loss, and separation, these pages quietly announce a confident and valuable new voice in translated fiction." —The Daily Beast
"
Karate Chop
is a collection of brittle, blackly comic, and quietly explosive stories that provide snapshots of modern Danish life and home at daring angles to highlight the quirks, agonies, and vulnerabilities of the human condition." —
Star Tribune
"The stories in
Karate Chop
are as tremendous as they are brief. . . . With each story weighing in at a mere four or five pages, Nors doesn't waste any time delivering a knockout." —
Shelf Awareness for Readers
, starred review"Exceptional. . . . Nors is adroit at offering powerful summation at the precise moment with a single cutting phrase or an unexpected observation. These brief stories provide universal insight into an everyday, modern existence." —
The Rumpus
"Precisely crafted and melancholy stories. . . .
Karate Chop
displays admirable willingness to take on difficult stories, and Dorthe Nors tells these difficult stories very well." —
New York Journal of Books
"These very short works . . . are as sharp-edged, destructive, and intentionally made as the title suggests. Nowhere here is a word out of place. Imagine Grace Paley with more than a little of Mary Gaitskill's keen eye for the despair and violence of sex, mixed with an otherness that's unsettlingly odd and vivid." —
Publishers Weekly,
starred review "These stores are swift and unexpected and bruising. . . . In the span of two pages, [Nors] is able to both build and unmake a character, achieving the same complexity that other writers require entire novels to establish. . . . [Everyone should] indulge in the subversive delight of [
Karate Chop
]." —
Booklist
 "Arresting. . . . These amuse-bouches are a fine introduction to [Nors's] work." —
Kirkus Reviews
 "Dorthe Nors is a writer of moments—quiet, raw portraits of existential mediation, at times dyspeptic, but never unsympathetic." —Justin Alvarez, Paris Review Daily "Beautiful, faceted, haunting stories. . . . Dorthe Nors is fantastic. . . . a rising star of Danish letters." —Junot Diaz, author of
This Is How You Lose Her
 "Readers of Nors's stories are reminded of the thrills and dangers of living: never are we far from the dark undercurrent—nor exempt from the demands—of routine existence. Memories, laughter, a gesture: everything casts a shadow, meaningful or mysterious. These stories prove that no loss is too small, and each moment counts." —Yiyun Li, author of
Gold Boy, Emerald Girl
 "This collection is a marvel—droll, compassionate, and just really smart. It takes only one story—and really just a paragraph—to note the excellence of this work in its unsentimental and forthright account of people slogging through their lives." —Fiona Maazel, author of
Woke Up Lonely
Advertisement