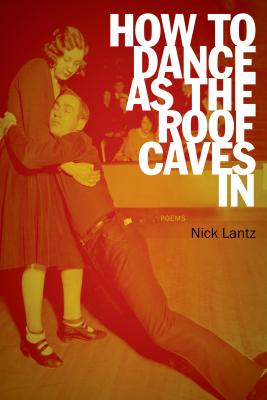 How to Dance as the Roof Caves In (Paperback)
Poems
Graywolf Press, 9781555976705, 96pp.
Publication Date: March 4, 2014
* Individual store prices may vary.
Description
"Nick Lantz writes with elegant simplicity. Most poets take a lifetime to learn as much." —Linda Gregerson

I say I love and I love and I love. However, the window
will not close. However, the hawk searches
for its nest after a storm. However, the discarded
nail longs to hide its nakedness inside the tire.
—from "Fork with Two Tines Pushed Together"
How to Dance as the Roof Caves In examines America as it faces a recession of collective mood and collective wealth. In a central sequence, the "housing bubble" reaches its bursting point when, with hilarious and biting outcomes, real estate developers hire a married couple and other down-and-out "extras" to stage a fake community to lure prospective investors. In these marvelous poems, Nick Lantz describes the changing American landscape with great imagination and sharp wit.
About the Author
Nick Lantz is the author of a second collection, The Lightning That Strikes the Neighbors' House, which won the Felix Pollak Prize in Poetry. He lives in Madison, Wisconsin.
Praise For How to Dance as the Roof Caves In: Poems…
"Satirical and darkly comic. . . . Lantz doesn't obfuscate; urgently employing direct expression, his poems 'let the path of a bird circling / a field describe the dome.'" —Publishers Weekly
"Lantz's lyrics are by turns blunt and delicate, confrontational and full of lamentation." —Booklist
"Lantz's tactic is to show us the ludicrous in our daily life machines. His brain is a great piece of software and the data base is satire. This is theater of the absurd--bold, individual, ambitious, nimble, slightly cynical--a solid identity, sustained page after page. For consumers of poetry, you can't find a better buy." —Washington Independent Review of Books
"Nick Lantz is a dark satirist, a subversive eye trained on the wasted lawns of suburbia and a cunning ear attuned to the frighteningly funny bits of language that assail us in mass media. At the same time, he is a heart-breaker, a poet who'd risk it all for love. As my aunt used to say at suppertime, get in here and get yourself some of this." —D. A. Powell
"An unsettling Jeremiad leveled at today's America. . . . Nick Lantz has taken his place among the central poets of his generation." —David Wojahn
"When the power players of deception and economic manipulation jack us around in a housing bubble, and we require someone to out those sonsabitches, and wax acerbic toward the hustlers, and wax empathetic toward the victimized and the confused . . . who ya gonna call? Who ya gonna hire to illuminate our absurdity with a blaze of the absurdist? Nick Lantz, I hope, whose long sequence 'How to Stage a Community' dissects our culture's fakeitude and on-the-makeitude with a wicked stropped-keen blade and an unsettlingly complex vision. But I don't mean that this is a book of nothing but public concerns. Everywhere, an inventively lyric, inward imagination is at work. . . . As we blurbers say: If Rilke and The Daily Show had a love child...." —Albert Goldbarth
Coverage from NPR