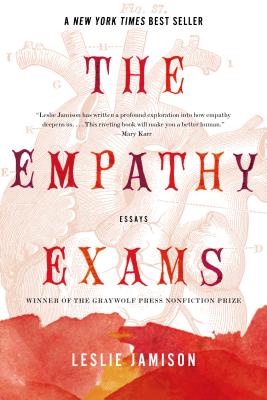 The Empathy Exams
Essays
Paperback

* Individual store prices may vary.
Other Editions of This Title:
MP3 CD (9/15/2015)
Compact Disc (5/4/2021)
Description
From personal loss to phantom diseases, The Empathy Exams is a bold and brilliant collection, winner of the Graywolf Press Nonfiction Prize

A Publishers Weekly Top Ten Essay Collection of Spring 2014

Beginning with her experience as a medical actor who was paid to act out symptoms for medical students to diagnose, Leslie Jamison's visceral and revealing essays ask essential questions about our basic understanding of others: How should we care about each other? How can we feel another's pain, especially when pain can be assumed, distorted, or performed? Is empathy a tool by which to test or even grade each other? By confronting pain—real and imagined, her own and others'—Jamison uncovers a personal and cultural urgency to feel. She draws from her own experiences of illness and bodily injury to engage in an exploration that extends far beyond her life, spanning wide-ranging territory—from poverty tourism to phantom diseases, street violence to reality television, illness to incarceration—in its search for a kind of sight shaped by humility and grace.
Praise For The Empathy Exams: Essays…
"Extraordinary. . . . she calls to mind writers as disparate as Joan Didion and John Jeremiah Sullivan as she interrogates the palpitations of not just her own trippy heart but of all of ours. . . . Her cerebral, witty, multichambered essays tend to swing around to one topic in particular: what we mean when we say we feel someone else's pain. . . . I'm not sure I'm capable of recommending a book because it might make you a better person. But watching the philosopher in Ms. Jamison grapple with empathy is a heart-expanding exercise." —Dwight Garner, The New York Times

"Extraordinary and exacting. . . . This capacity for critical thinking, for a kind of cool skepticism that never gives way to the chilly blandishments of irony, is very rare. It's not surprising that Jamison is drawing comparisons to Sontag. . . . There is a glory to this kind of writing that derives as much from its ethical generosity, the palpable sense of stretch and reach, as it does from the lovely vividness of the language itself. . . . It's hard to imagine a stronger, more thoughtful voice emerging this year." —The New York Times Book Review

"Jamison writes with sober precision and unusual vulnerability, with a tendency to circle back and reexamine, to deconstruct and anticipate the limits of her own perspective, and a willingness to make her own medical and psychological history the objects of her examinations. Her insights are often piercing and poetic." —The New Yorker, "Books to Watch Out For"

"This quirky, insightful collection dazzles." —People

"If reading a book about [pain] sounds . . . painful, rest assured that Jamison writes with such originality and humor, and delivers such scalpel-sharp insights, that it's more like a rush of pleasure. . . . To articulate suffering with so much clarity, and so little judgement, is to turn pain into art." —Entertainment Weekly, Grade: A-

"A virtuosic manifesto of human pain. . . . Jamison stitches together the intellectual and the emotional with the finesse of a crackerjack surgeon. . . . The result is a soaring performance on the humanizing effects of empathy." —NPR

"Extraordinary. . . . Much of the intellectual charge of Jamison's writing comes from the sense that she is always looking for ways to examine her own reactions to things; no sooner has she come to some judgment or insight than she begins searching for a way to overturn it, or to deepen its complications. She flinches, and then she explores that flinch with a steady gaze. . . . [A] beautiful and punishing book." —Slate

"A brilliant collection. . . . We're in a new golden age of the essay . . . and in The Empathy Exams Leslie Jamison has announced herself as its rising star." —The Boston Globe

"Remarkable. . . . [Jamison] combines the intellectual rigor of a philosopher, the imagination of a novelist and a reporter's keen eye for detail in these essays, which seamlessly blend reportage, cultural criticism, theory and memoir." —Los Angeles Times

"A stunning collection. . . . a profound investigation of empathy's potential and its limits." —Cosmopolitan, "10 Books by Women You Have to Read This Spring"

"[Jamison] writes consistently with passion and panache; her sentences are elegantly formed, her voice on the page intimate and insistent. Always intelligent, self-questioning, willing to experiment with form, daring to engage with the weird and thrust herself into danger spots, a patient researcher and voracious processor of literature and critical theory, she is the complete package: state-of-the-art nonfiction." —Phillip Lopate, San Francisco Chronicle

"[Jamison] writes with intellectual precision and a deep emotional engagement. . . . The Empathy Exams is a gracefully powerful attempt by a tremendously talented young writer to articulate the ways in which we might all work to become better versions of ourselves." —Star Tribune

"Jamison is determined to tell us what she sees and thinks without condescension or compromise, and as a consequence her act of witnessing is moving, stimulating, and disturbing in equal measure. . . . Jamison is always interesting, often gripping." —Bookforum

"The Empathy Exams is a work of tremendous pleasure and tremendous pain. Leslie Jamison is so intelligent, so compassionate, and so fiercely, prodigiously brave. This is the essay at its creative, philosophical best." —Eleanor Catton, author of The Luminaries, winner of the 2013 Man Booker Prize

"Leslie Jamison threads her fine mind through the needle of emotion, sewing our desire for feeling to our fear of feeling. Her essays pierce both pain and sweetness." —Eula Biss

"Leslie Jamison has written a profound exploration into how empathy deepens us, yet how we unwittingly sabotage our own capacities for it. We care because we are porous, she says. Pain is at once actual and constructed, feelings are made based on how you speak them. This riveting book will make you a better writer, a better human." —Mary Karr

"The Empathy Exams is a necessary book, a brilliant antidote to the noise of our time. Intellectually rigorous, it's also plainly personal, honest and intimate, clear-eyed about its confusions. It's about the self as something other than a bundle of symptoms, it's about female pain and the suffering of solitary souls everywhere, it's an exploration of empathy and the poverty of our imaginations, it's ultimately about the limits of language and the liberating possibilities of a whole new narrative. . . . The Empathy Exams earns its place on the shelf alongside Sontag." —Charles D'Ambrosio

"These essays--risky, brilliant, and full of heart--ricochet between what it is to be alive and to be a creature wondering what it is to be alive. Jamison's words, torqued to a perfect balance, shine brightly, allowing both fury and wonder to open inside us." —Nick Flynn

"Leslie Jamison positions herself in one fraught subject position after the next: tourist in the suffering of others, guilt-ridden person of privilege, keenly intelligent observer distrustful of pure cleverness, reclaimer and critic of female suffering, to name but a few. She does so in order to probe her endlessly important and difficult subject--empathy, for the self and for others--a subject this whirling collection of essays turns over rock after rock to explore. Its perambulations are wide-ranging; its attentiveness to self and others, careful and searching; its open heart, true." —Maggie Nelson

"Leslie Jamison writes with her whole heart and an unconfined intelligence, a combination that gives The Empathy Exams--an inquiry into modern ways and problems of feeling--a persuasive, often thrilling authority. These essays reach out for the world, seeking the extraordinary, the bizarre, the alone, the unfeeling, and finding always what is human." —Michelle Orange

"Brilliant. At times steel-cold or chili-hot, [Jamison] picks her way through a society that has lost its way, a voyeur of voyeurism. Here now comes the post-Sontag, post-modern American essay." —Ed Vulliamy, author of Amexica: War Along the Borderline

"When we chance upon a work and a writer who summons and dares the full tilt of all her volatile resources, intellectual and emotional, personal and historical, the effect is, well, disorienting, astonishing. We crash into wonder, as she says, and the span of topics Jamison tosses up is correspondingly smashing and wondrous: medical actors, sentimentality, violence, plastic surgery, guilt, diseases, the Barkley Marathons, stylish 'ex-votos' for exemplary artists, incarceration, wounds, scars, fear, yearning, community, and the mutations of physical pain." —Robert Polito, from his Afterword
Graywolf Press, 9781555976712, 256pp.
Publication Date: April 1, 2014
About the Author
Leslie Jamison is the author of a novel, The Gin Closet, which was a finalist for the Los Angeles Times Art Seidenbaum Award for First Fiction. Her essays have appeared in Believer, Harper's Magazine, Oxford American, and Tin House. She lives in New Haven, Connecticut.
Coverage from NPR