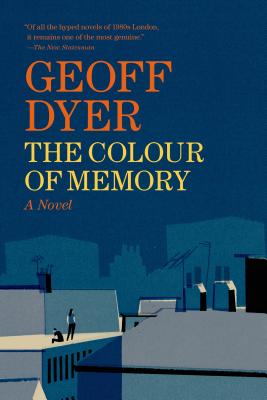 The Colour of Memory (Paperback)
Graywolf Press, 9781555976774, 292pp.
Publication Date: May 20, 2014
Description
The first novel, in revised form, from "possibly the best living writer in Britain" ("The Daily Telegraph")

In "The Colour of Memory," six friends plot a nomadic course through their mid-twenties as they scratch out an existence in near-destitute conditions in 1980s South London. They while away their hours drinking cheap beer, landing jobs and quickly squandering them, smoking weed, dodging muggings, listening to Coltrane, finding and losing a facsimile of love, collecting unemployment, and discussing politics in the way of the besotted young as if they were employed only by the lives they chose.
In his vivid evocation of council flats and pubs, of a life lived in the teeth of romantic ideals, Geoff Dyer provides a shockingly relevant snapshot of a different Lost Generation.
About the Author
Geoff Dyer is the author of Jeff in Venice, Death in Varanasi and three previous novels, as well as nine nonfiction books. He won a National Book Critics Circle Award in 2012 for Otherwise Known as the Human Condition. He lives in London.
Praise For The Colour of Memory…
Praise for The Colour of Memory:
"Like its subjects, the book is sharp and witty. . . . [Dyer] fans will enjoy reading about the characters' obsessions (such as jazz, film, and photography), as well as Dyer's thoughtful and absorbing digressions." —Publishers Weekly"Of all the hyped novels of 1980s London, it remains one of the most genuine." —New Statesman
 
"Dyer writes crisp, Martin Amis–inflected prose, full of acute perceptions and neat phrases . . . The book abounds in colourful descriptions of familiar aspects of London life." —The Times Literary Supplement  "The great thing about [The Colour of Memory] is its tone, which is neither snide nor wistful, but sharply contemplative, with the typical (and typically pleasing) Dyer humor underlying it all." —The Threepenny Review 
 
Praise for Geoff Dyer:
 
"What I find most remarkable about Dyer [is] his tone. Its simplicity, its classlessness, its accessibility and yet its erudition—the combination is a trick few British writers ever pull off . . . [Dyer's humor is] what separates him from Berger and Lawrence and Sontag." —Zadie Smith, Harper's Magazine
Advertisement