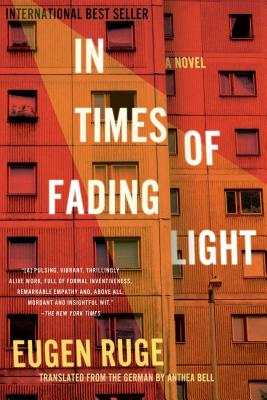 In Times of Fading Light (Paperback)
A Novel
Graywolf Press, 9781555976798, 344pp.
Publication Date: October 21, 2014
Other Editions of This Title:
Digital Audiobook (6/10/2013)
CD-Audio (6/11/2013)
Hardcover (6/11/2013)
* Individual store prices may vary.
About the Author
Eugen Ruge won the 2011 German Book Prize for In Times of Fading Light, his debut novel, which became a bestseller in Germany and has been translated into twenty languages. Anthea Bell is a prizewinning translator.
Praise For In Times of Fading Light: A Novel…
"Mr. Ruge's novel is a pulsing, vibrant, thrillingly alive work, full of formal inventiveness, remarkable empathy and, above all, mordant and insightful wit. . . . You can see that from the ruins of the former Eastern bloc something has emerged with the power to survive and outlast the world from which it came: the art represented by Mr. Ruge's book, which has torn down the wall between Russian epic and the Great American Novel." —The New York Times
"An important, highly accomplished debut novel. . . . After reading and rereading we realize how carefully Ruge has placed each part of the puzzle; this splendid, beautifully translated novel becomes richer as it acquires a logic of its own. . . . We must be even more grateful for Ruge's vision and talent . . . out of that gloomy bleak place and time, he has given us such a unique and evocative novel." —The Boston Globe
"Not many writers publish their first novel in their late 50s, and even fewer still publish one as impressive and internationally well received as this one. . . . Powerful . . . Ruge has managed to weave the personal into the political in a book that functions as an ethnography of a lost time as much as it does a novel." —San Francisco Chronicle
"The strength of this often funny, sometimes moving novel is its unwavering psychological realism. . . . With real skill, Ruge shows us historical change through a variety of viewpoints." —The Barnes and Noble Review
"Impressive. . . . a shrewd and very knowing novel, slippery with the truth and packed tight with compressed tension, and written by a talented new voice." —Star Tribune (Minneapolis)
"Though Ruge portrays all of his characters--from senile party stalwart Wilhelm to Russian transplant Irina to straying professor Kurt--with great tenderness, his story is at its core a depiction of a family's dissolution, the consequence of intergenerational conflict and bleak historical circumstances. There isn't any nostalgia here, just a deeply plaintive examination of personal and political tragedy." —Booklist, starred review
"[An] evocative family chronicle . . . full-bodied storytelling with an enlightening sense of modern history." —Publishers Weekly
"In Times of Fading Light is a generational saga like no other--an East German perspective on half a century of history. As the dreamlike details of each interior life unfold, we become intimate with characters who are scarcely intimate with themselves. We get to see their scorns, hopes, and habits of denial, as the ground beneath them shifts. A haunting and eye-opening book." —Joan Silber, author of Ideas of Heaven and Fools
"Ruge takes full advantage of the varying viewpoints to display, impressively, the density of family life." —Kirkus Reviews
"A novel full of the wisdom of experience." —Die Zeit
"Ruge's characters have a fully rounded existence beyond their own period. Perhaps for that very reason, he tells us more about the GDR and the difficulties of life there than all the books analyzing its ideologies and the harsh reality. The time is ripe for this clear, humorous, and understanding look at the subject." —Die Tageszeitung
"Outstanding . . . A fascinating inside view of the GDR." —Frankfurter Allgemeine Zeitung
"The real miracle of this novel . . . lies in how he does each of his characters justice, in precise, unpretentious language, based entirely on observations and the importance of things, smells, [and] gestures. There is no reason to mourn the GDR as a state, but there are a lot of reasons to tell the story of successful or wasted lives with fine black humor." —Die Welt
or
Not Currently Available for Direct Purchase