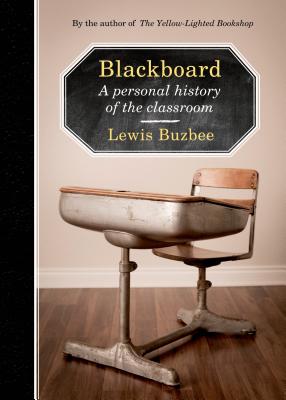 Blackboard
A Personal History of the Classroom
Hardcover

* Individual store prices may vary.
Other Editions of This Title:
Compact Disc (9/2/2014)
MP3 CD (9/2/2014)
Description
A captivating meditation on education from the author of The Yellow-Lighted Bookshop

In Blackboard, Lewis Buzbee looks back over a lifetime of experiences in schools and classrooms, from kindergarten to college and beyond. He offers fascinating histories of the key ideas informing educational practice over the centuries, which have shaped everything from class size to the layout of desks and chairs. Buzbee deftly weaves his own biography into this overview, approaching his subject as a student, a father, and a teacher. In so doing, he offers a moving personal testament to how he, "an average student" in danger of flunking out of high school, became the first in his family to graduate from college. He credits his success to the well-funded California public school system and bemoans the terrible price that state is paying as a result of funding being cut from today's budgets. For Buzbee, the blackboard is a precious window into the wider world, which we ignore at our peril.
"Both anecdotal and eloquent, The Yellow-Lighted Bookshop is a tribute to those who crave the cozy confines of a bookshop, a place to be 'alone among others' and savor a bountiful literary buffet." —Booklist (starred review)
Praise For Blackboard: A Personal History of the Classroom…
"Buzbee's affectionate account [is] a subtle, sharply etched critique of contemporary public education. . . . Deeply affectionate toward teachers, harshly critical of budget cuts, the book offers an eloquent, important reminder (which in a perfect world would inform policy) about the nature of school." —Publishers Weekly, starred review
"Provides a bracing rejoinder to the didactic, data-driven books from policy gurus and social scientists. . . . From the layout of schools to the distinction between 'middle school' and 'junior high school,' Buzbee spreads engaging prose across the pages, providing both a reminiscence of better days and a considered examination of the assumptions we all make about what does--and does not--constitute a quality education. . . . A welcome book on the importance of education for all." —Kirkus Reviews
"To find a silver lining in even the most embarrassing, most angst-filled moments of your school years? Such a thing seemed impossible for even the most wistful of people, until I read Lewis Buzbee's Blackboard: A Personal History of the Classroom. . . . Many readers . . . will gladly follow him on his journey." —NPR
"One needn't subscribe to [Buzbee's] agenda to appreciate the lasting value of the kind of education he portrays with affection and insight in this appealing book." —Shelf Awareness
"Meandering through [Buzbee's] sunny book feels fairly hypnotic--then he hits you with the epilogue in which he gets down to the business of saying, 'Look, you and I had it good back in the day. Don't our kids deserve what we had?' . . . . I hope more voices will join in the conversation about the state of public schools. Blackboard gives us a place to start--by recalling our own experiences in school." —Kansas City Star
"Simultaneously a memoir and treatise on educational reform structured as a series of essays reflecting on the author's experiences as a student and teacher. . . . An important and humane perspective on what happens to us as individuals as we engage in education." —Inside Higher Ed, "An Education Reading List for Bill Gates"
Graywolf Press, 9781555976835, 224pp.
Publication Date: August 5, 2014
About the Author
Lewis Buzbee is a former bookseller and sales rep (for Chronicle Books), and the author of the acclaimed adult memoir, The Yellow-Lighted Bookshop, published by Graywolf Press in June 2006. A native Californian, he lives in San Francisco with his wife and daughter. He is the author of the children's books Steinbeck's Ghost, The Haunting of Charles Dickens, and Bridge of Time.
or
Not Currently Available for Direct Purchase