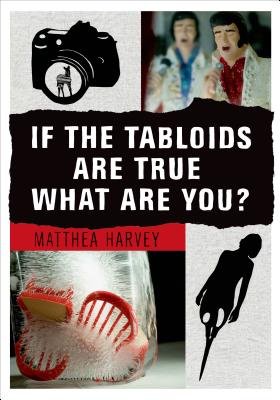 If the Tabloids Are True What Are You?
Poems and Artwork
Paperback

* Individual store prices may vary.
Description
A brilliant combination of poetry and visual artwork by Matthea Harvey, whose vision is "nothing short of blazingly original" (Time Out New York)
She didn't even know she had a name until one day she heard the human explaining to another one, "Oh that's just the backyard mermaid." "Backyard Mermaid," she murmured, as if in prayer. On days when there's no sprinkler to comb through her curls, no rain pouring in glorious torrents from the gutters, no dew in the grass for her to nuzzle with her nose, not even a mud puddle in the kiddie pool, she wonders how much longer she can bear this life. The front yard thud of the newspaper every morning. Singing songs to the unresponsive push mower in the garage. Wriggling under fence after fence to reach the house four down which has an aquarium in the back window. She wants to get lost in that sad glowing square of blue. Don't you?
—from "The Backyard Mermaid"
Prose poems introduce deeply untraditional mermaids alongside mer-tool silhouettes. A text by Ray Bradbury is erased into a melancholy meeting with a Martian. The Michelin Man is possessed by William Shakespeare. Antonio Meucci's invention of the telephone is chronicled next to embroidered images of his real and imagined patents. If the Tabloids Are True What Are You? combines Matthea Harvey's award-winning poetry with her fascinating visual artwork into a true hybrid book, an amazing and beautiful work by one of our most ingenious creative artists.
Praise For If the Tabloids Are True What Are You?: Poems and Artwork…
"True story: A teenager saw me with Matthea Harvey's new book of poems as I sat with it in a café and asked if she could look at it. . . . 'This,' swear to God she said to me, 'is the coolest book in the world.' And there you go. This is where Matthea Harvey is, reaching out to the page-flippers and the inked, without turning her back on the grown forms and the choices that make wonderful poetry so wonderful to behold. Take a picture; make one. This is where we are." —Daniel Handler, Los Angeles Times
Graywolf Press, 9781555976842, 160pp.
Publication Date: August 19, 2014
About the Author
Matthea Harvey is the author of four books of poetry, including Sad Little Breathing Machine; Modern Life, winner of the Kingsley Tufts Poetry Award and a New York Times Notable Book; and Of Lamb, an illustrated erasure.
or
Not Currently Available for Direct Purchase