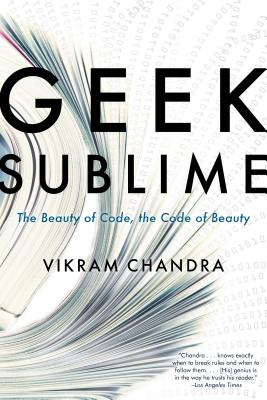 Geek Sublime
The Beauty of Code, the Code of Beauty
Paperback

* Individual store prices may vary.
Other Editions of This Title:
Digital Audiobook (2/9/2015)
MP3 CD (2/10/2015)
MP3 CD (2/10/2015)
Compact Disc (2/10/2015)
Compact Disc (2/10/2015)
Praise For Geek Sublime: The Beauty of Code, the Code of Beauty…
"An unexpected tour de force. . . . Its ambition: to look deeply, and with great subtlety, into the connections and tensions between the worlds--the cultures--of technology and art. The book becomes an exquisite meditation on aesthetics, and meanwhile it is also part memoir, the story of a young man finding his way from India to the West and back, and from literature to programming and back. . . . Programmers feel an exhilarating creative mastery, and Chandra captures it." —James Gleick, The New York Times Book Review
"Geek Sublime dwells on Chandra's gripping personal narrative . . . as well as his sometimes spiritual exploration of computer language, the ancient Vedas, and the way they share so many traits with fiction. In a sense, it's like Zen and the Art of Software Maintenance. 'The past and present speak to us in languages we refuse to hear,' he proclaims, and it's the book's most succinct statement of intent--not to mention its own well-earned profundity." —NPR
"Chandra weaves a comprehensive understanding of the history, practice and art of programming into a startling fabric. . . . It is a dazzle, from beginning to end. . . . Plenty of programmers consider themselves artists, and plenty of writers presume to declaim about programming. But very, very few can comfortably inhabit both worlds with such grace and precision. . . . There is so much to be fascinated by here." —Salon
"Chandra, brainy, delving, and spellbinding, delineates the intricacy and beauty of code. . . . As [he] illuminates links between programming and literature in bedazzling elucidations of Sanskrit, linguistics, aesthetics, and Hindu, Tantric, and Buddhist beliefs, he also conducts unique and heady inquiries into codes, ethical as well as binary. Chandra's creative and elegant meshing of thought and experience, conscience and storytelling nets both the profane and the sublime." —Booklist
Graywolf Press, 9781555976859, 272pp.
Publication Date: September 2, 2014
About the Author
Vikram Chandra is the author of three highly acclaimed works of fiction, most recently "Sacred Games," which won the 2006 Hutch Crossword Award. Chandra lives in Oakland, California and teaches at the University of California, Berkeley.