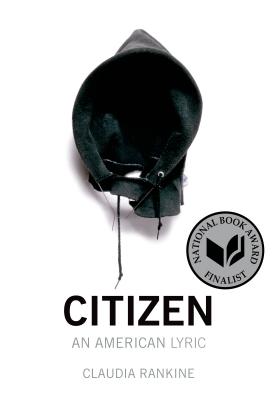 Citizen
An American Lyric
Paperback

* Individual store prices may vary.
Other Editions of This Title:
Digital Audiobook (4/20/2015)
MP3 CD (4/21/2015)
Compact Disc (4/21/2015)
Compact Disc (4/21/2015)
Description
* Finalist for the National Book Award in Poetry *
* Winner of the National Book Critics Circle Award in Poetry * Finalist for the National Book Critics Circle Award in Criticism * Winner of the NAACP Image Award * Winner of the L.A. Times Book Prize * Winner of the PEN Open Book Award *

ONE OF THE BEST BOOKS OF THE YEAR:
The New Yorker, Boston Globe, The Atlantic, BuzzFeed, NPR. Los Angeles Times, Publishers Weekly, Slate, Time Out New York, Vulture, Refinery 29, and many more . . .

A provocative meditation on race, Claudia Rankine's long-awaited follow up to her groundbreaking book Don't Let Me Be Lonely: An American Lyric.

Claudia Rankine's bold new book recounts mounting racial aggressions in ongoing encounters in twenty-first-century daily life and in the media. Some of these encounters are slights, seeming slips of the tongue, and some are intentional offensives in the classroom, at the supermarket, at home, on the tennis court with Serena Williams and the soccer field with Zinedine Zidane, online, on TV-everywhere, all the time. The accumulative stresses come to bear on a person's ability to speak, perform, and stay alive. Our addressability is tied to the state of our belonging, Rankine argues, as are our assumptions and expectations of citizenship. In essay, image, and poetry, Citizen is a powerful testament to the individual and collective effects of racism in our contemporary, often named "post-race" society.
Praise For Citizen: An American Lyric…
"[Citizen] is an especially vital book for this moment in time. . . . The realization at the end of this book sits heavily upon the heart: 'This is how you are a citizen,' Rankine writes. 'Come on. Let it go. Move on.' As Rankine's brilliant, disabusing work, always aware of its ironies, reminds us, 'moving on' is not synonymous with 'leaving behind.'" —The New Yorker

"Citizen is audacious in form. But what is perhaps especially striking about the book is that it has achieved something that eludes much modern poetry: urgency." —The New York Times

"So groundbreaking is Rankine's work that it's almost impossible to describe; suffice it to say that this is a poem that reads like an essay (or the other way around) - a piece of writing that invents a new form for itself, incorporating pictures, slogans, social commentary and the most piercing and affecting revelations to evoke the intersection of inner and outer life." —Los Angeles Times

"Rankine brilliantly pushes poetry's forms to disarm readers and circumvent our carefully constructed defense mechanisms against the hint of possibly being racist ourselves. . . . Citizen throws a Molotov cocktail at the notion that reduction of injustice is the same as freedom." —The New York Times Book Review

"Moving, stunning, and formally innovative­-in short, a masterwork." —Salon

"Part protest lyric, part art book, Citizen is a dazzling expression of the painful double consciousness of black life in America." —The Washington Post

"The book of the year is Claudia Rankine's Citizen. It would have been the book of any year.... Citizen asks us to change the way we look; we have to believe that that might lead to changing the way we live." —The New Yorker's Page-Turner

"[Citizen] is one of the best books I've ever wanted not to read. . . . Its genius . . . resides in that capacity to make so many different versions of American life proper to itself, to instruct us in the depth and variety of our participation in a narrative of race that we recount and reinstate, even when we speak as though it weren't there." —Slate

"Marrying prose, poetry, and the visual image, Citizen investigates the ways in which racism pervades daily American social and cultural life, rendering certain of its citizens politically invisible. Rankine's formally inventive book challenges our notion that citizenship is only a legal designation that the state determines by expanding that definition to include a larger understanding of civic belonging and identity, built out of cross-racial empathy, communal responsibility, and a deeply shared commitment to equality." —National Book Award Judges' Citation

"Citizen is an anatomy of American racism in the new millennium, a slender, musical book that arrives with the force of a thunderclap. . . . This work is careful, loving, restorative witness is itself an act of resistance, a proof of endurance." —Bookforum

"Accounts of racially charged interactions, insidious and flagrant, transpiring in private and in the public eye, distill the immediate emotional intensity of individual experience with tremendous precision while allowing ambiguity, ambivalence, contradiction, and exhaustion to remain in all their fraught complexity. . . . Once again Rankine inspires sympathy and outrage, but most of all a will to take a deep look at ourselves and our society." —Publishers Weekly, starred review

"A prism of personal perspectives illuminates [Rankine's] meditations on race. . . . Powerful." —Kirkus Reviews

"Claudia Rankine's Citizen comes at you like doom. It's the best note in the wrong song that is America. Its various realities--'mistaken' identity, social racism, the whole fabric of urban and suburban life--are almost too much to bear, but you bear them, because it's the truth. Citizen is Rankine's Spoon River Anthology, an epic as large and frightening and beautiful as the country and various emotional states that produced it." —Hilton Als
Graywolf Press, 9781555976903, 160pp.
Publication Date: October 7, 2014
About the Author
Claudia Rankine is the author of Citizen: An American Lyric and four previous books, including Don't Let Me Be Lonely: An American Lyric. Her work has appeared recently in the Guardian, the New York Times Book Review, the New York Times Magazine, and the Washington Post. She is a chancellor of the Academy of American Poets, the winner of the 2014 Jackson Poetry Prize, and a contributing editor of Poets & Writers. She received a MacArthur Fellowship in 2016. Rankine is the Frederick Iseman Professor of Poetry at Yale University.
1. What words, definitions, or ideas do you associate with the word "citizen"? Do these associations line up with one group of people?
2. Rankine addresses "you" throughout the book. Where do you recognize yourself in the encounters described in Citizen, if at all? What perspectives or angles of experience were you surprised to inhabit, and why?
3. Look up "lyric" in the dictionary, or do an internet search for "lyric poetry." How does Rankine's use of "lyric" in the subtitle of Citizen both adhere to and challenge these definitions and usages?
4. How do the visual images in Citizen affect your reading of the text? What does the image of Caroline Wozniacki on page 37 express that can't be expressed by words alone? Would you react differently without the image? What does the work of art on page 19 evoke in relation to the text about the experience on the therapist's doorstep?
5. On page 131, Rankine narrates the act of sitting down in an empty seat next to a man on a train, a seat others have avoided. What does this kind of close attention to the human body have to do with race and racism? How has your perception of your own body, of the way you physically occupy space, shifted after reading Citizen?
6. Citizen narrates many instances of micro-aggressions—individual acts of racism that collectively form the crushing experience of racism in America. Is racism a singular action, or is it a series of acts? What is the difference between the singular action and the accumulation of them?
7. As Citizen has been reprinted, the different editions have incorporated changes to the text, most notably the inclusion on page 134 of the names of African Americans killed since previous printings. How does this evolution align with the book's core questions and preoccupations? Are there other ways in which Citizen feels like a book that has changed in light of more recent events?
8. Many readers and critics have pointed out that Citizen defies established genre distinctions (it was even nominated for National Book Critics Circle Awards in both the Poetry and Criticism categories). Reading Citizen, did you think of it as poetry? As prose? Does it matter?
9. Citizen's discussion of Serena and Venus Williams includes the Zora Neale Hurston quote, "I feel most colored when I am thrown against a sharp white background." How does this quote encapsulate the Williams sisters' experience in the world of professional tennis? How does this quote relate to Citizen as a whole?
10.Referring again to Serena Williams, Rankine states, "Yes, and the body has memory. The physical carriage hauls more than its weight." How do sports in particular encourage spectators and officials to assume influence or even ownership over the bodies of the players? Does this have parallels to other arenas of American life?
11.How does Citizen portray and address the privileged position of white Americans? How does Rankine also show the effects of a racist system on those white Americans?
12.What associations does the image on the cover of book bring up for you? Is it surprising that the work of art it depicts, In the Hood by David Hammons, was first exhibited in 1993? How does In the Hood relate to the death of Trayvon Martin in 2012? What does this seemingly disjointed timeframe say about the deadly effects of racism in America?
13.How do you interpret the choice to use of J.M.W. Turner's painting The Slave Ship as the concluding image in Citizen? Why is it important that the detail is pictured alongside the full painting?
Coverage from NPR