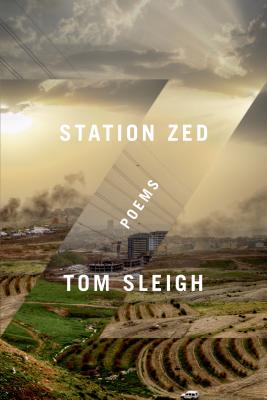 Station Zed (Paperback)
Poems
Graywolf Press, 9781555976989, 96pp.
Publication Date: January 6, 2015
* Individual store prices may vary.
Description
The AK wants to tell a different truth—
a truth ungarbled that is so obvious
no one could possibly mistake its meaning.

If you look down the cyclops-eye of the barrel
what you'll see is a boy with trousers
rolled above his ankles.

You'll see a mouth of bone moving in syllables
that have the rapid-fire clarity
of a weapon that can fire 600 rounds a minute.
—from "Oracle"
Station Zed is the terminal outpost beyond which is the unknown. It is also the poet Tom Sleigh's finest work. In this latest collection, Sleigh brings to these poems his experiences as a journalist on tours of Lebanon, Somalia, Iraq, and Libya. But these are also dispatches from places of grief, history, and poetic traditions as varied as Scottish ballads and the journeys of Basho.
About the Author
Tom Sleigh's books of poetry include Army Cats, winner of the American Academy of Arts and Letters' Updike Award, and Space Walk, winner of the Kingsley Tufts Award. He is also the author of Interview with a Ghost. He teaches at Hunter College in New York.
Praise for Tom Sleigh
"Tom Sleigh's poetry is hard-earned and well founded. I greatly admire the way it refuses to cut emotional corners and yet achieves a sense of lyric absolution." —Seamus Heaney
"Sleigh has been publishing formidable poetry for almost thirty years, and among American poets of his generation there is no one better." —David Wojahn, Tikkun

"An indispensable contemporary American poet." —The Boston Globe

"What delights me most is seeing a poet of [Sleigh's] accomplishments and his large and well-earned reputation . . . pushing into greatness." —Philip Levine, Ploughshares
Praise For Station Zed: Poems…
"[Sleigh] seamlessly and imaginatively weaves together history, mythology, and autobiography to form a collection that feels personal and prophetic. . . . Sleigh never fails to produce beautiful lines. . . . Narrative and wandering, Sleigh's poems welcome readers ready to venture into the unknown." —Publishers Weekly
"I read plenty of great poetry this year . . . but my favorite was Tom Sleigh's Station Zed, a profound, sometimes uncomfortably incisive book. Sleigh's essay for Poetry Magazine on the WWI writers Wilfred Owen and David Jones is brilliant, and this book is the proof that he lives up to theoretical challenges he poses in that essay for anybody daring to write about conflict zones. Just as good are the non-war poems. I just finished it, but have been carrying it around with me because I keep needing to go back to reread poems." —Phil Klay, author of Redeployment
"Station Zed, Tom Sleigh's ninth and best book to date...is one of the dialectics that poetry needs now if it's to lay the ground for its future. Its vital presence in Sleigh's work will make his new book one of the necessary publications of 2015." —On the Seawall
or
Not Currently Available for Direct Purchase