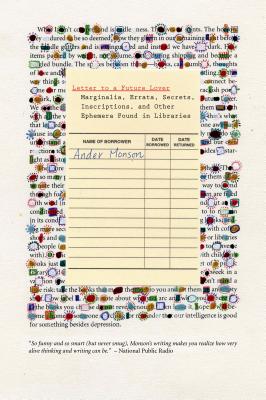 Letter to a Future Lover
Marginalia, Errata, Secrets, Inscriptions, and Other Ephemera Found in Libraries
Hardcover

* Individual store prices may vary.
Description
An exuberant, expansive cataloging of the intimate physical relationship between a reader and a book


A way to leave a trace of us, who we were or wanted to be, what we read and could imagine, what we did and what we left for you.

Readers of physical books leave traces: marginalia, slips of paper, fingerprints, highlighting, inscriptions. All books have histories, and libraries are not just collections of books and databases but a medium of long-distance communication with other writers and readers.
Letter to a Future Lover collects several dozen brief pieces written in response to library ephemera—with "library" defined broadly, ranging from university institutions to friends' shelves, from a seed library to a KGB prison library—and addressed to readers past, present, and future. Through these witty, idiosyncratic essays, Ander Monson reflects on the human need to catalog, preserve, and annotate; the private and public pleasures of reading; the nature of libraries; and how the self can be formed through reading and writing.
Praise For Letter to a Future Lover: Marginalia, Errata, Secrets, Inscriptions, and Other Ephemera Found in Libraries…
"Odd, obsessive and wildly romantic . . . [Monson's essays] ride against scheme, the strictures of genre and the assumptions of form. . . . Each entry asserts a future for old-fashioned reading, on Monson inscribes with sensual as well as metaphysical reward."—New York Times Book Review

"A breathtakingly original, thoughtful consideration of what it means to be a reader—or a writer, or a human being. . . . As an essay collection, it's magnificent; as a love letter, it's a work of overwhelming devotion and generosity. . . . [Monson's] words, as usual, are a gift—he is one of America's best living authors. . . . Letter to a Future Lover is a masterpiece, filled with compassion and brilliance."—NPR
"Monson writes with an ease and enthusiasm. . . . Letter to a Future Lover finds a million paths to the same point — 'The loss of things. A species a minute. A book a second.' — but in doing so, it also enacts the magic of the written word."—The Boston Globe
"There have been many, many books about reading, but never one like this. . . . Monson is a delightful guide to the pleasures of the page."—Melissa H. Pierson, The Barnes & Noble Review

"Letter to a Future Lover becomes an invocation from the present to a distant set of readers, the 'future lovers' of its title, reminding them, above all else, that we were here."—David Ulin, Jacket Copy
"Whether playful or strident in tone, a sense of possibility runs through these essays, united by questions of the nature of libraries. . . . Focusing on ephemera and libraries allows Monson to tackle virtually any topic, from his responses to hateful words found in a number of essays with the title "Dear Defacer" to a consideration of time in "Hold On To This Page For 24 Hours."—The Star Tribune
"[Monson is a] writer who knows the workings of language as intimately as a cleric knows his holy books. . . . Monson knows the cadences and rhythms and syntax that transform the day-to-day into the divine. . . . Every essay is a trial, a chance to engage with the world in a new way."—Los Angeles Review of Books
"Monson's vivid, mind-whirling essays add up to a dynamic and idiosyncratic celebration of libraries that expands into a delectably labyrinthine, provocative, and affecting inquiry into nothing less than how we preserve and share human experience."—Booklist, starred review
"As an eclectic writer, editor and academic, Monson defies conventional continuity to make leaps of connection, not only between paragraphs, but even within a sentence. He continues to challenge the very meaning of meaning, daring readers to come to terms with 'the book, the book about the book,' and the very concept of the library, be it public, prison, personal, seed, digital or abandoned and repurposed."—Kirkus Reviews
"Amidst much tedious hand-wringing re: the future of the book, Ander Monson not only shows us the way forward but chronicles codex's codes, singing an ode to book qua book, to marginalia and to the margins. A physically beautiful and intellectually thrilling work."—David Shields
"Ander Monson loves the world with such powerful desperation--even/especially the awful parts--and he loves, maybe even more, all our failed attempts at representation. Being inside his mind for a few hours, being in such close quarters with all that love, is perhaps the greatest pleasure of reading Letter to a Future Lover, but it is not, by a long shot, the only one."—Pam Houston, author of Contents May Have Shifted
Graywolf Press, 9781555977061, 160pp.
Publication Date: February 3, 2015
About the Author
Ander Monson is the author of Vanishing Point, a finalist for the National Book Critics Circle Award, and Neck Deep and Other Predicaments. He edits DIAGRAM and the New Michigan Press. He lives in Tucson and teaches at the University of Arizona.
or
Not Currently Available for Direct Purchase