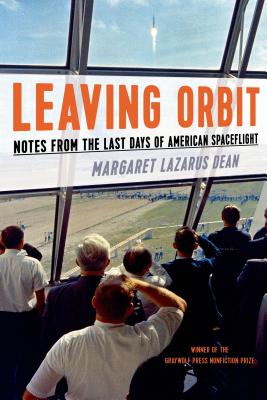 Leaving Orbit (Paperback)
Notes from the Last Days of American Spaceflight
Graywolf Press, 9781555977092, 240pp.
Publication Date: May 19, 2015
Other Editions of This Title:
MP3 CD (5/17/2016)
* Individual store prices may vary.
Description
Winner of the Graywolf Press Nonfiction Prize, a breathtaking elegy to the waning days of human spaceflight as we have known it

In the 1960s, humans took their first steps away from Earth, and for a time our possibilities in space seemed endless. But in a time of austerity and in the wake of high-profile disasters like Challenger, that dream has ended. In early 2011, Margaret Lazarus Dean traveled to Cape Canaveral for NASA's last three space shuttle launches in order to bear witness to the end of an era. With Dean as our guide to Florida's Space Coast and to the history of NASA, Leaving Orbit takes the measure of what American spaceflight has achieved while reckoning with its earlier witnesses, such as Norman Mailer, Tom Wolfe, and Oriana Fallaci. Along the way, Dean meets NASA workers, astronauts, and space fans, gathering possible answers to the question: What does it mean that a spacefaring nation won't be going to space anymore?
About the Author
Margaret Lazarus Dean is the author of The Time It Takes to Fall. She is a recipient of fellowships from the NEA and the Tennessee Arts Commission and is an associate professor of English at the University of Tennessee. She lives in Knoxville.
Praise For Leaving Orbit: Notes from the Last Days of American Spaceflight…
"Wonderfully evocative. . . . Ms. Dean writes with the passion of a lifelong lover of space exploration and an ability to communicate, with tremendous kinetic power, the glory and danger of its missions." —Michiko Kakutani, The New York Times
"Leaving Orbit is a long walk with a space enthusiast who has an eye and ear for detail, a gift for symbolism and an urgent need to understand the end of an era in American space exploration. It is a frank look back and a skeptical-but hopeful-look forward." —Houston Chronicle
"Sentimental and ferocious." —Star Tribune (Minneapolis)
"One of those books you can't put down, don't want to finish, and won't soon forget." —Kirkus Reviews, starred review
"Thoughtful and provocative. . . . Mesmerizing. . . . Dean deftly captures the thrill and discovery of American space exploration, as well as the disappointment and outrage she believes everyone should feel at its ending." —Publishers Weekly, starred review
"[Dean's] account of her visits, mixed with historical perspective on the space program, allows readers not only to visit Cape Canaveral while NASA was still sending Americans into space, but also to meet the workers and space fans for whom the sky was never the limit. With the countdown clock no longer ticking, Leaving Orbit offers a heartfelt eulogy for the dream and brief reality of American spaceflight." —Booklist
"In this eloquent farewell to NASA's space shuttle program, Margaret Lazarus Dean celebrates the extraordinary optimism that lifted humans off the Earth, dreaming of worlds far beyond. Her passion for cosmic travel is matched by her poetic vision of the past – once our future. If you lived it, you'll rejoice in the memories; if you didn't, you'll wish you'd been there. Either way, you'll beg for more." —Lynn Sherr, author of Sally Ride: America's First Woman in Space
"What is it about spaceflight that activates our hearts and asks our brains to yearn? And what does it mean that we've now (mostly) stopped? Margaret Lazarus Dean wants to know--and so she goes to talk to Buzz Aldrin, to watch the last launch of the shuttle, to talk to astronauts whose names most of us no longer recognize. Dean digs deep and does not avert her gaze. She has the heart of a storyteller, the head of an essayist, and a transcendent enthusiasm for American spaceflight. I came away from Leaving Orbit with a renewed case of space brain, my heart once more in my throat." —Ander Monson
"The heroic tale of America's first space program--when patriotic cowboys in space suits rode Apollo rockets to the moon--has been told many times, most swaggeringly by those journalistic Homers, Mailer and Wolfe. The tale of America's second space program--less heroic than the first, more tragic, its most lasting images those of the space shuttle Challenger exploding across a blue Florida sky--has been waiting for a different sort of storyteller, an elegist. Here she is. Margaret Lazarus Dean has written the space shuttle the obituary it deserves, documenting the program's final countdown in prose that makes you feel by turns wistful and wonderstruck." —Donovan Hohn, author of Moby-Duck
"Margaret Lazarus Dean is that rarest of hybrids, the dearest of hyphenates. She brings to science such exquisite sentence making, to futurism the sound anchorage of the past, to space travel the tidings of personal journey. Journalist, essayist, memoirist and storyteller--her prized text shows Americans, each and every, how we came to be the ones we are. And where we're going. This is rocket science, reliable witness, replete with poetry." —Thomas Lynch, author of The Undertaking