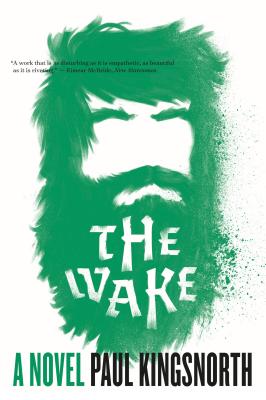 The Wake
A Novel
Paperback

* Individual store prices may vary.
Other Editions of This Title:
Digital Audiobook (2/8/2016)
MP3 CD (2/9/2016)
Compact Disc (2/9/2016)
Description
"A work that is as disturbing as it is empathetic, as beautiful as it is riveting." —Eimear McBride, New Statesman

In the aftermath of the Norman Invasion of 1066, William the Conqueror was uncompromising and brutal. English society was broken apart, its systems turned on their head. What is little known is that a fractured network of guerrilla fighters took up arms against the French occupiers.
In The Wake, a postapocalyptic novel set a thousand years in the past, Paul Kingsnorth brings this dire scenario back to us through the eyes of the unforgettable Buccmaster, a proud landowner bearing witness to the end of his world. Accompanied by a band of like-minded men, Buccmaster is determined to seek revenge on the invaders. But as the men travel across the scorched English landscape, Buccmaster becomes increasingly unhinged by the immensity of his loss, and their path forward becomes increasingly unclear.
Written in what the author describes as "a shadow tongue"—a version of Old English updated so as to be understandable to the modern reader—The Wake renders the inner life of an Anglo-Saxon man with an accuracy and immediacy rare in historical fiction. To enter Buccmaster's world is to feel powerfully the sheer strangeness of the past. A tale of lost gods and haunted visions, The Wake is both a sensational, gripping story and a major literary achievement.
Praise For The Wake: A Novel…
"The Wake is a masterpiece. My top book of the year."—Eleanor Catton, Winner of the 2013 Man Booker Prize

"A book unlike any other, brilliant in its rarity and brutal, ugly truth. . . . Kingsnorth has brought forth a remarkable narrator through whom we can see (and smell and taste) the burnt fields and bodies, the skeletal trees and smoldering fires—a world sickly similar to so many lesser visions of destruction, but given fresh and horrifying weight here by a mad experiment in language that has become a raw and powerful masterpiece."—NPR

"Like Tolkien's and Martin's books, The Wake presents the reader with an immersive experience. . . . What sharply distinguishes it is its disorienting use of high literary experiment and its insistence on uncertainty. . . . The Wake reminds us that we can't find our way out of our crisis as easily as many think."
—Bookforum

"Kingsnorth does not simply tell history: He invites the reader to inhabit it. . . . At once invigorating and terrifying. History almost a thousand years old feels intense and immediate, as close as the blood in one's veins and the memories one can't escape."—Star Tribune (Minneapolis)

"Kingsnorth's captivating first novel is thought provoking, multi-faceted and intriguingly rendered. . . . [The Wake] will satisfy motivated readers of history, ecology and the persistent pull of the old gods."—Shelf Awareness

"Powerful eloquence, a brusque beauty, that moves and convinces. More than a mere novel, The Wake is really a medieval epic poem to an English way of life that would be erased forever."—The Arts Fuse

"A work that is as disturbing as it is empathetic, as beautiful as it is riveting."—EimearMcBride, New Statesman

"The Wake is an astonishing accomplishment. . . . At first the prospect seems unreadably off-putting; within twenty pages you get the hang of it; by thirty the suddenly fluent reader is immersed entirely in the mental and geographical contours of the era. But it works the other way too: we are seeing—and feeling and hearing—the living roots of Englishness."—Geoff Dyer

"Extraordinary."—Philip Pullman

"A resonant, eloquent ballad of English identity, pride and fierce independence. It is a thrilling story. Read it out loud. It is like nothing else."—Mark Rylance

"Kingsnorth's debut novel re-creates the mysterious joy that accompanies first learning how to read. Composed in a seductive Anglo-Saxon dialect, the narrative is disorienting yet familiar and brilliantly unreliable. Buccmaster's astonishing voice will haunt readers long after they finish this bold book."—Library Journal, starred review

"A feat of linguistic speculation."—Publishers Weekly

"Kingsnorth's use of an ever so slightly streamlined version of Old English to convey Buccmaster's story, rich in ghosts and the old gods, is daring."—Kirkus Reviews

"The message of this extraordinary novel is as honest and timely as it is discomforting. Being waecend to the grim fate of your society doesn't mean you can do anything to prevent it happening."—Times Literary Supplement

"Strange and extraordinary . . . this unusual novel has power. It lingers in the imagination."—The Times (UK)


"Reading [The Wake] is to be immersed in the past and in a story in a way that I haven't really felt since childhood. . . . The most glorious experience I've had with a book in years."—The Guardian (UK)

"Earthy, rude, rough-hewn lyricism. . . . A war epic, psychological thriller, and brooding meditation on the past's foreignness all in one."—The Globe And Mail (UK)
Graywolf Press, 9781555977177, 384pp.
Publication Date: September 1, 2015
About the Author
Paul Kingsnorth is a former journalist and deputy editor of "The Ecologist" magazine who has won several awards for his poetry and essays. He is also the author of two works of nonfiction. In 2009, he cofounded the Dark Mountain Project, an international network of writers, artists, and thinkers in search of new stories for troubled times. "The Wake" is his first novel.
Coverage from NPR