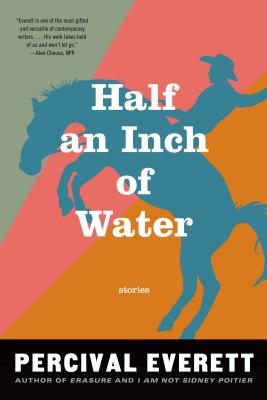 Half an Inch of Water: Stories (Paperback)
Stories
Graywolf Press, 9781555977191, 88pp.
Publication Date: September 15, 2015
Description
A new collection of stories set in the West from "one of the most gifted and versatile of contemporary writers" (NPR)

Percival Everett's long-awaited new collection of stories, his first since 2004's Damned If I Do, finds him traversing the West with characteristic restlessness. A deaf Native American girl wanders off into the desert and is found untouched in a den of rattlesnakes. A young boy copes with the death of his sister by angling for an unnaturally large trout in the creek where she drowned. An old woman rides her horse into a mountain snowstorm and sees a long-dead beloved dog.
For the plainspoken men and women of these stories fathers and daughters, sheriffs and veterinarians small events trigger sudden shifts in which the ordinary becomes unfamiliar. A harmless comment about how to ride a horse changes the course of a relationship, a snakebite gives rise to hallucinations, and the hunt for a missing man reveals his uncanny resemblance to an actor. Half an Inch of Water tears through the fabric of the everyday to examine what lies beneath the surface of these lives. In the hands of master storyteller Everett, the act of questioning leads to vistas more strange and unsettling than could ever have been expected.
About the Author
Percival Everett is Distinguished Professor of English at the University of Southern California and the author of nearly thirty books, including Percival Everett by Virgil Russell, Assumption, Erasure, I Am Not Sidney Poitier, and Glyph. He is the recipient of the Academy Award from the American Academy of Arts and Letters, the Hurston/Wright Legacy Award, the Believer Book Award, and the 2006 PEN USA Center Award for Fiction. He has fly-fished the west for more than thirty years. He lives in Los Angeles.
Coverage from NPR
Advertisement