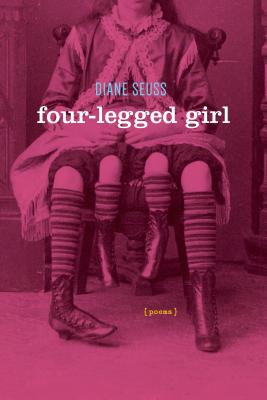 Four-Legged Girl
Poems
Paperback

* Individual store prices may vary.
Description
Finalist for the Pulitzer Prize in Poetry

"Diane Seuss writes with the intensity of a soothsayer." —Laura Kasischke

For, having imagined your body one way I found it to be another way, it was yielding,
but only as the Destroying Angel mushroom yields, its softness allied
with its poison, and your legs were not petals or tendrils as I'd believed,
but brazen, the deviant tentacles beneath the underskirt of a secret queen
—from "Oh four-legged girl, it's either you or the ossuary"

In Diane Seuss's Four-Legged Girl, her audacious, hothouse language swerves into pain and rapture, as she recounts a life lived at the edges of containment. Ghostly, sexy, and plaintive, these poems skip to the tune of a jump rope, fill a wishing well with desire and other trinkets, and they remember past lush lives in New York City, in rural Michigan, and in love. In the final poem, she sings of the four-legged girl, the body made strange to itself and to others. This collection establishes Seuss's poetic voice, as rich and emotional as any in contemporary poetry.
Praise For Four-Legged Girl: Poems…
"A richly improvisational poetry collection that leads readers through a gallery of incisive and beguiling portraits and landscapes."—Pulitzer Prize finalist citation

"In her electric new book, Diane Seuss speaks as a backwards Oracle, bringing the laser eye of aftermath to the 'archived selves': the one who 'looked up into the dark for something to bloom by,' the one tenderized and traumatized by New York City in its days of junkie glory: boyfriend stealing her blind for a fix, encounters with William Burroughs and Andy Warhol, 'a column of chalk at dead center of the gallery.' These poems feel driven by a fury for correction: romantic ideal is delusion, the charisma of the poete maudit a huckster's sham. Seuss blazes up into the dark and dirty corners of youthful folly, in poems that are visually sharp and linguistically alive; her voice is lucid, earthy, mordant, and funny. No pity, no quarter, for the old self: 'Some of us claw our way to the bottom,' Seuss writes, 'transcend downward. There at the hub / of the drain we swirl.'"—Dana Levin on Diane Seuss

"'Having noticed it, why not say it?' These words, like so many throughout this unforgettable collection, may someday be an epigraph in the book of a Diane Seuss disciple. They connote the kinetic candor of her work; the boldness of her insight, ecstasy, and melancholy. A great passion issues from the pages of Four-Legged Girl. Titles often bleed into the poems as if emulating Seuss's junctions of head and body, thinking and feeling. This book is a wise, wild, continuous gift. It will make you lean in and listen; it will make you this poet's devotee. These poems are tremendous in every way. Diane Seuss: holy smoke!"—Terrance Hayes on Diane Seuss

"These poems arrive breakneck and unfurling. They speak large and small and in between. They're full of wantings and havings and convey a sense of every moment as a wellspring for greater attachment to the world."—Bob Hicok on Diane Seuss

"Diane Seuss is one of the country's most imaginative and significant poets."—Quraysh Ali Lansana on Diane Seuss

"For all its considerable invention, wit, tonal complexity, and vivid imagery--not to mention its economy and concentration--Diane Seuss's work is never content to settle for craft. There is an insistently human connection to experience in each of her poems."—Stuart Dybek on Diane Seuss

"I love everything about these poems. The sound and flurry of them. Their acute, irresistible female intelligence. Their associative, sometimes hallucinatory swoops. Their infectious, irrepressible, sensual momentum. Their hypersensitive reverence for blazing detail you can't shake off. Seuss's ability to 'read' the inanimate objects that populate and rule our lives, in all their hushed, eloquent complexity, is breathtaking. Every line in every poem is bright, beautiful, devastating, and grave, alive with insistent surprises."—Amy Gerstler on Diane Seuss
Graywolf Press, 9781555977221, 88pp.
Publication Date: October 6, 2015
About the Author
Diane Seuss is the author of two previous poetry collections, It Blows You Hollow and Wolf Lake, White Gown Blown Open, winner of the Juniper Prize for Poetry. Her poems have appeared in Best American Poetry 2014, The Georgia Review, New Orleans Review, Poetry, and elsewhere. She is a writer in residence at Kalamazoo College and lives in Michigan.