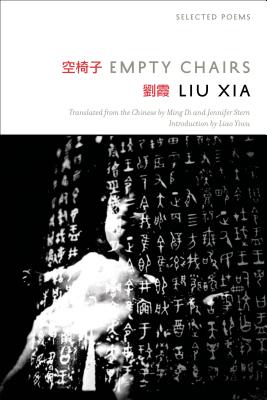 Empty Chairs
Selected Poems
Paperback

* Individual store prices may vary.
Description
The first publication of the poetry of Liu Xia, wife of the imprisoned Nobel Peace Prize recipient Liu Xiaobo

I didn't have a chance
to say a word before you became
a character in the news,
everyone looking up to you
as I was worn down
at the edge of the crowd
just smoking
and watching the sky.

A new myth, maybe, was forming
there, but the sun was so bright
I couldn't see it.
—from "June 2nd, 1989 (for Xiaobo)"
Empty Chairs presents the poetry of Liu Xia for the first time freely in both English translation and in the Chinese original. Selected from thirty years of her work, and including some of her haunting photography, this book creates a portrait of a life lived under duress, a voice in danger of being silenced, and a spirit that is shaken but so far indomitable. Liu Xia's poems are potent, acute moments of inquiry that peel back to expose the fraught complexity of an interior world. They are felt and insightful, colored through with political constraints even as they seep beyond those constraints and toward love.
Praise For Empty Chairs: Selected Poems…
"A testament to the human spirit when that spirit is confined. . . . Bold and vital."—The Washington Post
"The poetry of Liu Xia...employs delicate practical phrases that nonetheless deliver a gut-wrenching punch. . . . Rendered in Ming Di and Jennifer Stern's deft translations, her phrases reveal the ordinary and corporeal effects of harrowing political circumstances."—Boston Review
"Liu Xia . . . lends an intimate voice to the experiences of a life stolen by government surveillance, repression, and house arrest. . . . The translations . . . balance craft and inventiveness with loyalty to the original. . . . Liu kindles hope and companionship, even when all is lost."—Publishers Weekly
"Each poem is a container that bursts with breath like glass. . . . The words are delicately drawn, the perception is elegant, yet silk is stronger than steel and this delicate voice brings an immense capacity for a sense of self in an absurd world. She's able to articulate all the things we cannot hold onto. There's an essential seriousness in each line, even grief, but because of her inventiveness, there's a fine understanding of language's play as well."—Washington Independent Review of Books
"[Empty Chairs is] illuminated by an indomitable interior light that refuses to be extinguished."—Three Percent
"Liu's collection resides in a place of isolation, a place brimming with shadows, specters, and half-issued words. . . . While her poems are deeply personal, they reveal an ever-present awareness of the perils of relentlessly pursuing art in the midst of an authoritarian government. . . . Deprived of full freedom and with her everyday life economized by the state, Liu [Xia] subtly militates against forgetting with each poem."—Words Without Borders
"Liu Xia's Empty Chairs is a brave and important book by one of the world's most foremost dissident voices. Courage and dignity are the primary elements of these songs of rebellion where love conquers the isolation of imprisonment. As such, Liu Xia's poems are a supreme example of the tenacity of the human spirit and should be read again and again."—The Journal
"Liu Xia's nature is to be an unrestrained bird . . . Instead, she became a tree. She can't move her own nest--Liu Xiaobo can't move, so she can't either as a result. She's turned from a bird into a tree, her feathers becoming white and withered. But as a tree she still sings the songs of birds. When a bird is dying, her singing is sorrowful. These are the only songs, the dying songs, of Chinese poetry since June 4, 1989. Escape, Liu Xia, I know you can." —From the introduction by Liao Yiwu, author of For a Song and a Hundred Songs: A Poet's Journey through a Chinese Prison
Graywolf Press, 9781555977252, 224pp.
Publication Date: November 3, 2015
About the Author
Liu Xia is a Chinese poet and artist. English translations of her poetry by Ming Di and Jennifer Stern have been published by PEN America, Chinese PEN, the BBC, The Guardian, the Margins for the Asian American Writers' Workshop, Poetry, the Poetry Society of America, and Words Without Borders. Liu Xia's photographs have appeared in galleries throughout the world. She has been living under strict house arrest since her husband, the poet and activist Liu Xiaobo, was imprisoned in 2009 for "inciting subversion of state power" and then received the Nobel Peace Prize in 2010.
or
Not Currently Available for Direct Purchase