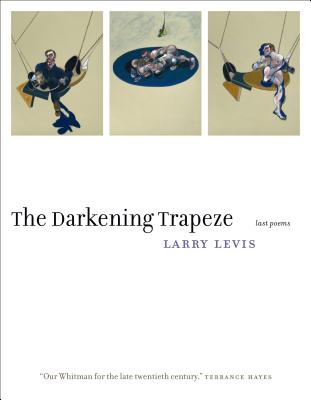 The Darkening Trapeze (Paperback)
Last Poems
Graywolf Press, 9781555977276, 96pp.
Publication Date: January 5, 2016
* Individual store prices may vary.
Description
The empty bar that someone was supposed to swing to him
Did not arrive, & so his outstretched flesh itself became

A darkening trapeze. The two other acrobats were thieves.
--from "Elegy with a Darkening Trapeze Inside It"

The Darkening Trapeze collects the last poems by Larry Levis, written during the extraordinary blaze of his final years when his poetry expanded into the ambitious operatic masterpieces he is known for. Edited and with an afterword by David St. John and published twenty years after Levis's death, this collection contains major unpublished works, including final elegies, brief lyrics, and a coda believed to be the last poem Levis wrote, a heart-wrenching poem about his son. The Darkening Trapeze is an astonishing collection by a poet many consider to be among the greatest of late-twentieth-century American poetry.
About the Author
Larry Levis (1946-1996) was the award-winning author of five poetry collections during his lifetime, including Winter Stars and The Widening Spell of the Leaves, and the posthumous collections Elegy and The Selected Levis.
Praise For The Darkening Trapeze: Last Poems…
"To hold a new collection of poems by Larry Levis is nearly miraculous. The Darkening Trapeze arrived as an immeasurable gift. . . . He has left us with a body of work that aspires to bring us nearer, if only momentarily, to a kind of sublime silence. For though Levis's most achieved poems are challenging and heartbreaking, readers will always know that they have traveled to the brink in the company of a pilgrim who was seeking nothing less than the unknowable itself, the lacuna at the core of being, the the."—Los Angeles Review of Books
"[The Darkening Trapeze] offers an extraordinary look at the never-before-published works of this much-loved poet. Expertly edited by poet David St. John, his longtime friend, the Levis we know and admire . . . is clearly evident here. . . . Riveting, marking the posthumous return of a literary hero."—Publishers Weekly
"A strikingly self-conscious collection, a book whose lyrical depth and sweeping beauty is checked by gossip, unflattering confessions, jokes, and self-deprecation at every turn."—Ploughshares
"The Darkening Trapeze is an invaluable addition to Mr. Levis's oeuvre, but also a critical addition to 20th century American poetry. It does what poetry is supposed to do, which is to enrich our lives by looking at the world around us, capturing that world on the page, and make us better, more grateful human beings."—Pittsburgh Post-Gazette

"There are off-handed profundities and fresh phrasings, perfect vulnerabilities and hymns to the imperfect world. There are true poems."—The Hairsplitter
"The Darkening Trapeze is truly a gift. . . . The poems are staggering in their beauty, wisdom, and captivation."—The Rumpus
"[Larry Levis'] work in The Darkening Trapeze continually discovers new modes of connection, new ways to surprise his readers. . . . His poems open wide and reach outwards. Spiraling out and circling back, they incorporate dialogue, extended scenes, and repeating motifs. . . . Their discoveries are startlingly genuine. Indeed, coming twenty years after his death, this book itself feels like a discovery. An essential addition to his legacy, and a great starting place for new readers, it's easily among his best work."—Pleiades
"Reading The Darkening Trapeze is an absorbing and an oddly reassuring experience. Levis is a marvelous performer, one who can smile and shoot the breeze and then suddenly terrify or astound."—The Smart Set
"As long as poetry is being discussed, Larry Levis will be discussed. He's one of the finest, if not the finest, writers of our time."—Bonnie Hearn Hill
"I can't think of any writer whose body of work has meant more to me as a reader than that which Larry Levis left behind. From the first time I read him, mesmerized by the staggeringly beautiful last lines of 'Slow Child with a Book of Birds,' his voice became a constant companion to me, regardless of whatever distance there might be between myself and where his books sat on my shelf. That voice—stoic, curious, sad, funny, and above all, singularly humane—was one that I had accepted I would not hear again, but was grateful to have heard at all. After reading The Darkening Trapeze, I can only say what a great and unexpected gift it is to hear that voice again."—Kevin Powers, author of The Yellow Birds

"Since his death in 1996, the work of Larry Levis has steadily gathered a kind of literary cult around itself, a passionate crowd of new and old readers. Levis's poetry-philosophical and streetwise, baroque in its textures, syntax, and imagery-earns its charisma. But the deeper reason for the devotion of his readers may be our contemporary starvation for mystery. Levis's poems radiate the conviction that mystery is elemental in the world, and they never reduce that numinous dimension by over-explaining it. The reveries and visions in The Darkening Trapeze will provide readers with a fabulous supply of never-before-published work-a rich, surprising addition to the Levis legacy."—Tony Hoagland
"Larry Levis was a master of lyrical thinking. He was our Whitman for the late twentieth century, a conduit of the surreal and real, the past and present, the sung and unsung flowing in the same narrative current. As in the stunning 'Poem Ending with a Hotel on Fire,' The Darkening Trapeze is both brash and elegiac; its meditative darkness always has a restless flame at its heart. These extraordinary last poems give us one more occasion to celebrate one of contemporary poetry's most unique and luminous voices."—Terrance Hayes
"Who would have imagined we had yet to receive a gift of this magnitude from the poet Larry Levis? Nothing in these pages suggests the broken remains of 'previously uncollected' work so many writers must endure by way of posthumous tribute. In poem after thrilling poem, Levis manifests the deftness and the daring, the pity and the penetration that made him of such consequence to late twentieth-century American poetry and make him, freshly, of such consequence now. Brilliantly edited by David St. John, this book will change the way we read and write and think and feel."—Linda Gregerson
Coverage from NPR