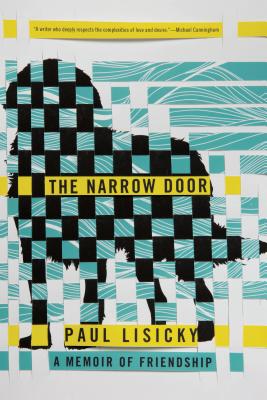 The Narrow Door
A Memoir of Friendship
Paperback

* Individual store prices may vary.
Description
In The Narrow Door, Paul Lisicky creates a compelling collage of scenes and images drawn from two long-term relationships, one with a woman novelist and the other with his ex-husband, a poet. The contours of these relationships shift constantly. Denise and Paul, stretched by the demands of their writing lives, drift apart, and Paul's romance begins to falter. And the world around them is frail: environmental catastrophes like the Deepwater Horizon oil spill, natural disasters like the earthquake in Haiti, and local disturbances make an unsettling backdrop to the pressing concerns of Denise's cancer diagnosis and Paul's impending breakup. Lisicky's compassionate heart and resilience seem all the stronger in the face of such searing losses. His survival--hard-won, unsentimental, authentic--proves that in turning toward loss, we embrace life.
Praise For The Narrow Door: A Memoir of Friendship…
*A Rumpus Book Club Selection*
*One of Buzzfeed's Most Exciting Books of 2016*
"A rare look into the friendships writers form with people they may end up competing with for the same posts, publishers, and prizes—and an even rarer look into the life of a significant writer who lived with and loved another significant writer for 15 years. . . . An elegy, an apologia, and a triumph."—Alexander Chee, The New York Times Book Review
"Mr. Lisicky has a gift for understanding suffering, an added bundle of receptors for detecting loneliness."—The New York Times
"[Paul Lisicky] believes in fearlessly writing in the moment. In doing so, he captures the raw beauty of the daily friction between moments of pleasure and challenge. The immediacy of his work allows for joy as well as gravity."—Guernica
"The work achieves something rare: the prose is stunningly beautiful on the sentence level, shot through with ache and loss, yet at the same time, it's totally unsentimental. The Narrow Door is a poignant and straightforward contemplation of the fluidity of love and trust, and an investigation of what we give each other and why."—Los Angeles Review of Books
"Bravely honest. . . . Brimming with compassion and tenderness, The Narrow Door explores loss, love, and all the often painful facets of modern relationships."—BuzzFeed, "27 Most Exciting New Books of 2016"
"Lisicky manages to sidestep the greatest pitfall of a nontraditional narrative. . . . The beauty of his prose—his acutely attuned voice and sense of rhythm—allows him to bridge scenes that are decades apart, weaving Denise Gess's descent into illness with the turbulence in his personal life, thereby titrating the tension, as well as the grief."—Los Angeles Review of Books
"The story of any great friendship is a bit like the story of being in love, just as the story of a long life might eventually lead to its end. It's Lisicky's radical honesty about all this—life and death, friendship and lost love, ambition and failure—that makes this book so special and at times so unsettling."—Nathan Deuel, Los Angeles Times
"Breathtaking and heartbreaking."—Publishers Weekly
"Lisicky's hat as a poet comes to bear great gifts in this memoir."—The Rumpus
"By the time I finished the first chapter of Paul Lisicky's lyrical new memoir, I was certain this was an essential book."—Peter Geye, Star Tribune (Minneapolis)
"The friendship Lisicky conjures [in The Narrow Door] is a relationship in the fullest sense — intoxicating, brutal, draining and sustaining."—Mattilda Bernstein Sycamore, San Francisco Chronicle
"By turns raw, wry, and meditative, Lisicky offers a painfully honest accounting of his own failures and limitations; ultimately, this is the story of how a heart opens, and the endless, literally death-defying work of keeping it that way." —Kate Tuttle, Boston Globe
"The Narrow Door is literary, smart and poignant, an extended eulogy for a friend and a meditation on friendship."—Shelf Awareness
"When I finished The Narrow Door, I felt not only like a fortunate witness to a beautiful elegy, but personally engaged in ways I'm sure the author never intended. There's a certain type of alchemy at work when the right book comes along at the right time, when our minds as readers turn especially porous to certain ideas and experiences such that the book resonates far beyond the page."—Pasha Malla, The Globe and Mail (Canada)
"Lisicky realized a painful truth. The closer he got to people, the more he had to acknowledge their freedom to die and/or leave him. With empathy and emotional finesse, the author renders the fragility of interpersonal connections, and he offers insight into the complicated nature of the human heart. Honest and compassionate."—Kirkus Reviews
"Intelligent and intimate, fierce and tender, real and raw, Paul Lisicky's The Narrow Door is an unforgettable memoir about love and loss, friendship and forgiveness. It had me in its thrall from page one."—Cheryl Strayed, author of Wild

"The most moving account of love among artists I've ever read. The Narrow Door is astonishing."—Garth Greenwell, author of What Belongs to You
"I love this book so much that I found myself slowing to a crawl as I reached the end, not wanting to part ways quite yet. This is a portrait of a friendship unlike any I've read. In embracing the fluidity of relationships—platonic and romantic, real life and idolatrous, even human and canine—it reminds us that true connection can be as fleeting and precious as true solitude. There is a unique honesty in that revelation, and also a great if surprising comfort."—Megan Daum, author of The Unspeakable
"The Narrow Door is a book about a long friendship, which means it's a book about everything in life: love, hope, longing, death, fallings-out, reconciliation, art, dumb jokes, deep loss. In The Narrow Door, Paul Lisicky proves, again, that he's one of our finest writers on the intricacies of the human heart. Like all of Lisicky's work, it's beautiful and brilliant."—Elizabeth McCracken, author of Thunderstruck
"Paul Lisicky's The Narrow Door circumnavigates the often inscrutable forces that bring us in and out of each other's lives and hearts, while paying welcome homage to the oft-unsung role of friendship in them. While Lisicky bears witness to "the hell of wanting [that] has no cure," his ship always feels buoyant, by virtue of a narrator whose attentiveness to feelings both big and small is marked throughout by honesty and devotion."—Maggie Nelson, author of The Argonauts
"Relentlessly self-revealing, achingly tender in the way he holds his loved ones and the world, Paul Lisicky has written a memoir as raw as Jeff Tweedy fresh from rehab, and just like a Wilco album, packed with tracks, so elegant in their bewilderment and sorrow, you'll want to visit them again and again. This book charmed me, moved me, upended me, indicted me, compelled me, wrecked me, made me want to say the big YES, made me want to be better than I am."—Pam Houston, author of Contents May Have Shifted
"A beautiful, funny, devastating book about love, friendship, and loss that manages to be simultaneously timeless and keenly attuned to our precarious moment. Few things I've read so perfectly capture both the communion and the competitiveness of writers' friendships. The Narrow Door is a miracle of personal narrative, observation, and feeling."—Peter Trachtenberg, author of 7 Tattoos and Another Insane Devotion
Graywolf Press, 9781555977283, 192pp.
Publication Date: January 19, 2016
About the Author
Paul Lisicky is the author of four books, including Famous Builder and The Burning House. He has received fellowships from the NEA and the Michener/Copernicus Society, among others. He teaches in the MFA program at Rutgers University-Camden.
or
Not Currently Available for Direct Purchase