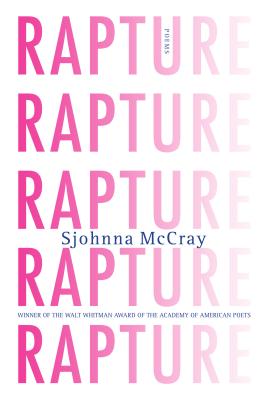 Rapture (Paperback)
Poems
Graywolf Press, 9781555977375, 72pp.
Publication Date: April 5, 2016
* Individual store prices may vary.
Description
Because I can never say anything
plainly. Because I always stutter
politely. Because there's always the chatter

before the kiss.
--from "In Need of Subtitles"
In this award-winning debut, Sjohnna McCray movingly recounts a life born out of wartime to a Korean mother and an American father serving during the Vietnam War. Their troubled histories, and McCray's own, are told with lyric passion and the mythic undercurrents of discovering one's own identity, one's own desires. What emerges is a self- and family portrait of grief and celebration, one that insists on our lives as anything, please, but singular. Rapture is an extraordinary first collection, with poems of rare grace and feeling.
About the Author
Sjohnna McCray has published poems in Black Warrior Review, Callaloo, The Southern Review, and elsewhere. He received his MFA from the University of Virginia. He teaches at Savannah State University and lives in Georgia.
Praise For Rapture: Poems…
"These are arresting, richly corporeal poems about the self as defined by race, family, and sexuality, and forged in rapture."—Booklist
"McCray is at his best when he limns arousal, desire, the body in ecstasy, and the heart in the throes of devotion."—O, The Oprah Magazine
"[Rapture contains] one of the most moving poems in a book this year. . . . This is [McCray's] debut collection, but you wouldn't believe it."—Flavorwire
"Rapture is a journey of identity, one that explores the different—and often desperate—spaces in which the human experience can unfold simultaneously. . . . Touching and lyrical, emotional and relatable."—Bustle
"[McCray] drills deep to get to the truth. . . . He talks without fear. He means what he says. Each line moves up the scale and increases the risk but Sjohnna doesn't back down. He sweetens the ache of courage with craft. I think he has word power. I believe in him."—Washington Independent Review of Books
"Rapture [is] alert to the work of living with the past and present of a family and armed with ecstatic language. . . . This is a deeply psychological book about the body's ecstasies and failings, about the tension between the self that wants to be autonomous and the impulse to love another and give up fantasies of independence. Forgiveness is how the poems acknowledge the world: forgiveness, the act of responding honestly to forces that make love difficult, which paradoxically creates the possibility of a loving future. . . . This is a fine debut indeed."—The Los Angeles Review
"Sjohnna McCray's Rapture poses provocative questions about fathers, sons, and mothers, and puzzles through, in gorgeous language, how we perceive the self. . . . Desire becomes a main metaphor of Rapture, which unspools as a kind of Bildungsroman before the final epiphany of 'Rapture.' "—Kenyon Review
"Soulful, solemn soul-baring that leaves us changed by its wisdom. . . . McCray shepherds us through this fluid and evolving project of discovering identity with compassion and grace."—Rain Taxi
"A stunning glimpse . . . . This is a new kind of primary source in which McCray explores all kinds of origins: parental, familial, personal. . . . McCray refuses to yield in this collection. None of his poems, none of the people in them, are singular. They come together into a collective identity that is Rapture."—Sycamore Review
"With each poem in this very personal collection, McCray digs deeply into his experience to craft an identity that embraces the complexity of his life without denying it."—Shelf Awareness
"[McCray] uses mythic language to explore generational and personal identities, found in cultural and wartime memories, with uncommon elegance."—BookTrib
"Rapture is the well-deserved winner of one of America's most prestigious first-book prizes, the Walt Whitman Award. McCray's two chief subjects in the collection—his father's experiences in Vietnam and his own sexuality—intertwine in fascinating ways."—Santa Barbara Independent
"These poems are beautifully crafted, courageous in their truth-telling, and full of what I think of as lyrical wisdom--the visceral revelations that only music, gesture, and image, working together, can impart. Not only did they stop me in my tracks, but also they changed me as a person. Sjohnna McCray's is an ecstatic and original voice, and he lends it to family, history, race, and desire in ways that are healing and enlarging. Rapture announces a prodigious talent and a huge human heart."—Tracy K. Smith, from her judge's citation for the Walt Whitman Award
"Sjohnna McCray's blunt, rapturous poems make me think of Dinah Washington singing, 'Maybe this world is not so bitter after all.' Despite the debris of his life, time has made Sjohnna McCray tender, too. I will always remember the sweetness on these pages, mixed up with Stygian darkness, like a little hope for humankind."—Henri Cole
"This collection looks to be one of the most accomplished debuts of the year."—Jonathan Sturgeon, Flavorwire