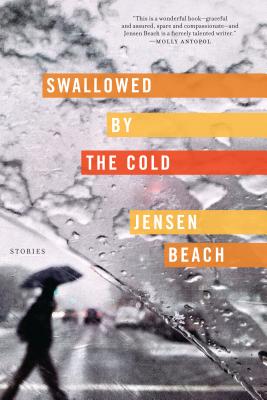 Swallowed by the Cold
Stories
Paperback

* Individual store prices may vary.
Description
The intricate, interlocking stories of Jensen Beach's extraordinarily poised story collection are set in a Swedish village on the Baltic Sea as well as in Stockholm over the course of two eventful years.
In Swallowed by the Cold, people are besieged and haunted by disasters both personal and national: a fatal cycling accident, a drowned mother, a fire on a ferry, a mysterious arson, the assassination of the Swedish foreign minister, and, decades earlier, the Soviet bombing of Stockholm. In these stories, a drunken, lonely woman is convinced that her new neighbor is the daughter of her dead lover; a one-armed tennis player and a motherless girl reckon with death amid a rainstorm; and happening upon a car crash, a young woman is unaccountably drawn to the victim, even as he slides into a coma and her marriage falls into jeopardy.
Again and again, Beach's protagonists find themselves unable to express their innermost feelings to those they are closest to, but at the same time they are drawn to confide in strangers. In its confidence and subtle precision, Beach's prose evokes their reticence but is supple enough to reveal deeper passions and intense longing. Shot through with loss and the regret of missed opportunities, Swallowed by the Cold is a searching and crystalline book by a startlingly talented young writer.
Praise For Swallowed by the Cold: Stories…
"Characters' morally ambiguous actions continue to simultaneously provoke readers' judgment and invite compassion. . . . [Swallowed By the Cold] memorably depicts how selfish humans can be, and how often we're alienated from one another."—Publishers Weekly
"Swallowed by the Cold empathizes with the way we get too caught up in our own messes to notice when our fellow man is, however figuratively, bleeding out alone on a beach."—Daniel Johnson, The Paris Review Staff Picks
"Jensen Beach moves deftly in and around all of his characters' lives, often revealing with stark and startling clarity all the absurdity and beauty present in even the most mundane of daily rhythms."—Electric Literature
"Beach's gifts grab you by the throat. . . . Reprising an ensemble of characters back and forth in time, these linked stories enter us, dreamlike yet unnervingly real, sometimes close to sublime for their deep, fierce insights. Swallowed by the Cold is dark, seductive and worth finding."—San Francisco Chronicle
"Skillful."—Star Tribune (Minneapolis)
"Intricate, riveting. . . . The suspense woven through Swallowed by the Cold is intensified by Beach's exquisite patience and attention to detail. . . . In the face of life's random violence and disquieting volatility, Beach's collection offers an unforgettable affirmation of the interconnectedness of all things."—The Rumpus
"[Jensen Beach's] stark, yet multiply-layered prose explores the deep uneasiness people feel, and communicates a complexity of emotions using an economy of words."—Vermont Public Radio
"Jensen Beach's impressive story collection is one of the year's most rewarding (and unsettling) books."—Largehearted Boy
"Each [story] stands alone as an arresting work of short fiction, yet, read in combination, all of theme expand and intensify as they interlock. . . . This is a shrewdly devised fiction, an intricately plotted work of art."—Seven Days
"Swallowed by the Cold moved me enormously. Jensen Beach renders his characters in a way that is both unsettling and deeply complex, and he imbues the Swedish landscape that surrounds them with a layered personality. This is a wonderful book—graceful and assured, spare and compassionate—and Jensen Beach is a fiercely talented writer."—Molly Antopol
"The shocking accident in the first story of Swallowed by the Cold centers this collection like a knife. Jensen Beach understands the deep uneasiness of men and women, and in his stories lie surprises—mortal surprises, among others—that are revealed in vivid episodes of quiet harm. This book held me fast."—Ron Carlson

"Beneath the charmingly lucid and tranquil surface of these amazing stories lies profound mystery, turmoil, and complexity. Jensen Beach is an exceptional witness, and this is a singular collection. Honestly, fans of contemporary short fiction can't do much better than this."—Chris Bachelder
"Jensen Beach is a master of linguistic restraint, a writer whose precision, empathy, and relentless honesty form the spine of this extraordinary work of fiction. Taken individually, these stories are works of art. It's when the collection is viewed as a whole, however, that an intricate fictional latticework emerges. Each story here is the progenitor of the next, each life therein a quiet catastrophe, each character both victim and witness, bound to every other character in those unknowable ways that bind us all together. This is not just a book, but a world."—Jack Livings, author of The Dog
Graywolf Press, 9781555977382, 176pp.
Publication Date: May 17, 2016
About the Author
Jensen Beach is the author of the collection For Out of the Heart Proceed. His work has appeared in A Public Space, The New Yorker, Ninth Letter, Tin House, and elsewhere. He teaches in the BFA program at Johnson State College and lives in Vermont with his family.
or
Not Currently Available for Direct Purchase