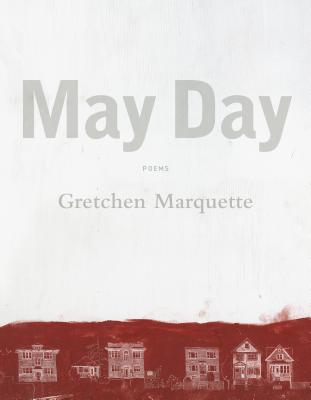 May Day (Paperback)
Poems
Graywolf Press, 9781555977399, 80pp.
Publication Date: May 3, 2016
* Individual store prices may vary.
Description
You arrive at my altar
with no idea
what it means to worship--to adore.
You haven't even learned it:
ecstasy and suffering
make the same face.
--from "The Offering"
May Day is both a distress call and a celebration of the arrival of spring. In this rich and unusually assured first collection, the poet Gretchen Marquette writes of the losses of a brother gone off to war in Afghanistan and Iraq, and a great love--losses that have left the world charged with absence and grief. But there is also the wonder of the natural world: the deer at the edge of the forest, the dog reliably coaxing the poet beyond herself and into the city park where by tradition every May Day is pageantry, a festival of surviving the long winter. "What does it mean to be in love?" one poem asks. "As it turns out, / the second best thing that can happen to you / is a broken heart."
May Day introduces readers to a new poet of depth and power.
About the Author
Gretchen Marquette has published poems in Harper's Magazine, The Paris Review, and Tin House. She lives and teaches in Minneapolis, Minnesota.
Praise For May Day: Poems…
"The poems [in May Day] plumb stories of lost love and anxiety, but each unearths glimpses of life's wonder." —Euan Kerr, MPR
"Lovely, dark, haunted, and haunting. . . . [Marquette's] subjects—childhood memories of a brother and bracing visions of him on military deployment overseas; hungering, fragile love; the very nature of human experience—are so carefully handled, with such resolve and resignation. . . . Readers will remember this book."—Publishers Weekly
"Startlingly original. . . . Marquette's beautiful and macabre images have the feel of a classic fairy tale."—Star Tribune
"Impressive."—Largehearted Boy
"'Why am I so ungainly with love / after all the loving I've done?' asks Gretchen Marquette in this beautiful and disquieting new collection… The spring celebration of May Day becomes—and is simultaneously—the distress cry. It is as if in these pages Marquette has learned to wear 'her heart outside of her body.' The alertness, precision, and vulnerability of these poems are astonishing."—Mary Szybist

"In this somber, well-crafted debut volume, Gretchen Marquette has constructed an arresting study of absence and loss… It is the true sign of a poet that, out of this landscape, Marquette has carved a commanding, deeply felt book."—Lynn Emanuel
"May Day is a book of great delicacy of observation and noticing, but one that interrogates feeling with rigor, intelligence, and a radiant imagination."—Mark Wunderlich
"In this delicate, soulful collection, the countless arresting facts of our universe--the size of galaxies, the nesting habits of cardinals, the cottonwood's serrated leaves—are felt as intimately as the loss of love or worry about a brother gone to war. . . Alternating between narrative prose poems and brief, breathier lines, the book plumbs the depths of love and grief with attention and tenderness."—Mairead Small Staid, Literati Bookstore, Ann Arbor, MI
or
Not Currently Available for Direct Purchase