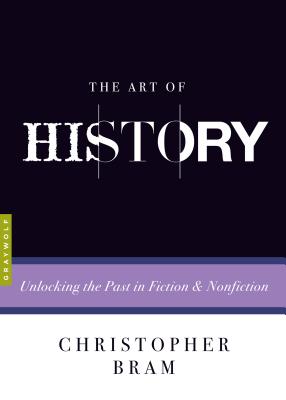 The Art of History
Unlocking the Past in Fiction and Nonfiction (Art of...)
Paperback

* Individual store prices may vary.
Description
One has to look no further than the audiences hungry for the narratives served up by Downton Abbey or Wolf Hall to know that the lure of the past is as seductive as ever. But incorporating historical events and figures into a shapely narrative is no simple task. The acclaimed novelist Christopher Bram examines how writers as disparate as Gabriel García Márquez, David McCullough, Toni Morrison, Leo Tolstoy, and many others have employed history in their work.
Unique among the "Art Of" series, The Art of History engages with both fiction and narrative nonfiction to reveal varied strategies of incorporating and dramatizing historical detail. Bram challenges popular notions about historical narratives as he examines both successful and flawed passages to illustrate how authors from different genres treat subjects that loom large in American history, such as slavery and the Civil War. And he delves deep into the reasons why War and Peace endures as a classic of historical fiction. Bram's keen insight and close reading of a wide array of authors make The Art of History an essential volume for any lover of historical narrative.
Praise For The Art of History: Unlocking the Past in Fiction and Nonfiction (Art of...)…
"Bram's clear command of the subject gives him the authority to dispense concise criticism of the genres in such a short book without it seeming rushed or abbreviated. . . . An excellent introduction with a conversational style that makes Bram's criticism accessible to anyone with even a modest interest in historical storytelling."—PopMatters
"An amiable stroll through selected works of history and historical fiction. . . . Though Bram acknowledges how we can benefit from history, learn from it, and deepen our perspective, it's refreshing that he underscores the pure pleasure of reading and that he takes such delight in it."—Kirkus Reviews
"Exploration, appreciation and instruction combine in this slim, accessible study of literary history and historical literature."—Shelf Awareness
"Christopher Bram's The Art of History is another insightful and informative entry in Graywolf's The Art of... series, one that explores the value in reading books on history and historical fiction."—Largehearted Boy
"Bram is a smart, enthusiastic and well-read guide who illuminates the pleasure of discovering history in books, as well as the various ways authors interpret and re-present truth."—Philadelphia Gay News
"Delightful. . . . A must-have book for anyone looking to hone their historical writing craft, as well as for anyone who loves the genre and wants to immerse themselves in the intricacies of the historical narrative." —Historical Novel Society
Graywolf Press, 9781555977436, 184pp.
Publication Date: July 5, 2016
About the Author
Christopher Bram is the author of nine novels, including Father of Frankenstein, which was made into the filmGods and Monsters. His book on the craft of writing, The Art of History, is forthcoming from Graywolf Press. He lives in New York and teaches at New York University.