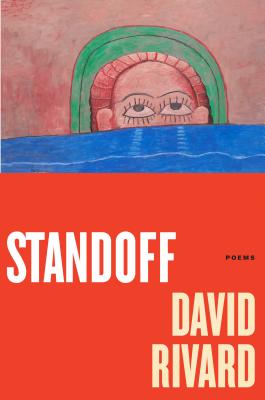 Standoff
Poems
Paperback

* Individual store prices may vary.
Description
I often feel as though I've entered
a standoff between what
happens around me & what's
going on inside--& this life
that goes on & on inside my head
goes on & on & on it seems
almost without me, as
it has since childhood . . .
--from "Standoff"
For three decades, David Rivard has written from deep within the skin of our times. With Standoff, he asks an essential question: In a world of noise, of global anxiety and media distraction, how can we speak to each other with honesty? These poems scan the shifting horizons of our world, all the while swerving elastically through the multitude of selves that live inside our memories and longings--"all those me's that wish to be set free at dawn." The work of these poems is a counterweight to the work of the world. It wants to deepen the mystery we are to ourselves, stretching toward acceptance and tenderness in ways that are hard-won and true, even if fleeting.
Praise For Standoff: Poems…
[Standoff] presents a range of memories and circumstances where the poet stares down mortality and emerges from the skirmishes with his compassion and perceptiveness intact. . . . The poems don't present easy answers; instead they offer an astute guide through everyday experiences."—The Washington Post
"Each poem is alive, nurturing, and rich. . . . Rivard is diverse and eclectic and pretty much master of the surprise. . . . He still manages to come to us with new emotions every time; and a sense of beauty that is forthright and structurally sound."—Washington Independent Review of Books
"Well-crafted, cleanly ringing. . . . Wise, graceful poems for all readers."—Library Journal *Starred Review*
"Rivard possesses a charmingly clever and idiosyncratic facility with his metaphors and turns of phrase."—Publishers Weekly
"Standoff is a demanding work by a mature poet that goes to a place many of us face, but about which few of us speak with humility and candor. In giving us Standoff, Rivard opens for us the possibility of drawing to something more."—Boston Area Small Press and Poetry Scene
"In his superb new collection of poems, Standoff, David Rivard persuades us to recognize those human touchstones that arise as we navigate the wreckage of our present moment. Once again, Rivard proves himself a master of an understated yet powerful and compelling moral compass, just as he is also an acute observer of those disquieting daily nuances seeping into our lives. The ghosts of beloved friends, poets, and family haunt many of these poems, as Rivard considers the constant gravitational pull of mortality, only to posit that experience itself offers us the power to call it, at least for now, a clear—and a hard-won—standoff."—David St. John
Graywolf Press, 9781555977450, 88pp.
Publication Date: August 2, 2016
About the Author
David Rivard is the author of five previous collections, including Otherwise Elsewhere and Wise Poison, winner of the James Laughlin Award. He teaches at the University of New Hampshire and lives in Cambridge, Massachusetts.
or
Not Currently Available for Direct Purchase