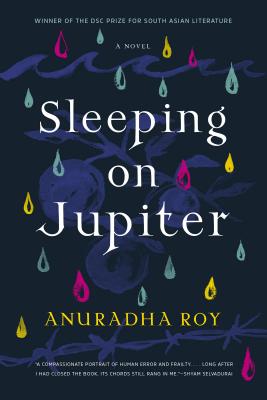 Sleeping on Jupiter
A Novel
Paperback

* Individual store prices may vary.
Other Editions of This Title:
Digital Audiobook (9/15/2016)
Compact Disc (9/16/2016)
MP3 CD (9/16/2016)
Description
Long-listed for the Man Booker Prize, a novel about violence, love, and religion in modern India

On a train bound for the seaside town of Jarmuli, known for its temples, three elderly women meet a young documentary filmmaker named Nomi, whose braided hair, tattoos, and foreign air set her apart. At a brief stop en route, the women witness a sudden assault on Nomi that leaves her stranded as the train pulls away.

Later in Jarmuli, among pilgrims, priests, and ashrams, the women disembark only to find that Nomi has managed to arrive on her own. What is someone like her, clearly not a worshipper, doing in this remote place? Over the next five days, the women live out their long-planned dream of a holiday together; their temple guide pursues a forbidden love; and Nomi is joined by a photographer to scout locations for a documentary. As their lives overlap and collide, Nomi's past comes into focus, and the serene surface of the town is punctured by violence and abuse as Jarmuli is revealed as a place with a long, dark history that transforms all who encounter it. A haunting, vibrant novel that was long-listed for the Man Booker Prize and the DSC Prize for South Asian Literature and short-listed for the Hindu Literary Prize, Anuradha Roy's Sleeping on Jupiter is a brilliantly told story of contemporary India from an internationally acclaimed writer.
Graywolf Press, 9781555977511, 256pp.
Publication Date: September 6, 2016
About the Author
Anuradha Roy is the author of The Folded Earth, which won the Economist Crossword Prize, and An Atlas of Impossible Longing, which was named a best book of the year by The Washington Post and The Seattle Times. She lives in Ranikhet, India.
1. Sleeping on Jupiter alternates between Nomi's memories and the intersecting paths of the characters in Jarmuli. How does this shifting viewpoint and nonlinear structure inform and strengthen the novel?
2. Throughout the novel, Nomi has a profound effect on the people she encounters. How does her physical appearance challenge expectations and conventions? How does her experience as someone who is both of Jarmuli and marked as a foreigner put her in a unique position?
3. The friendship between Gouri, Latika, and Vidya is a mixture of familiarity, judgment, and affection built up over decades. How do the different life experiences of these women shape what this trip means to each of them? How does this trip change them, both as individuals and as a group?
4. Roy depicts violence in different ways throughout the book. How does the portrayal of Suraj's attack against Nomi at the end of the book differ from Nomi's accounts of war coming to her village and of Guruji's abuse at the ashram? Does the quieter narrative of the friends' holiday provide a respite from the moments of violence, or does it accentuate them?
5. How are the lives of Nomi and Gouri deepened by their respective memories? Which character in the novel focuses repeatedly on the positive aspects of forgetting?
6. Can you name three instances in which water plays a key role in the narrative? What does this imagery evoke for Nomi as it occurs at different points in her life?
7. The temple guide Badal's demeanor with clients contrasts sharply with his interactions with Raghu. Do you think one of these personas is real, and one is artificial? Are there any characters in the book who are not hiding anything?
8. Religion, faith, and devotion play a major role in Sleeping on Jupiter. What role does religion have in the lives of the three friends on vacation? What are the points in the novel where faith and devotion occur entirely outside a religious context?
9. The title comes from a passage in which Badal fantasizes about escaping to a distant planet (213–214). Is this fantasy hopeful or devastating? Are there other moments in the novel in which characters look toward the cosmos for connection and a sense of well-being?
or
Not Currently Available for Direct Purchase