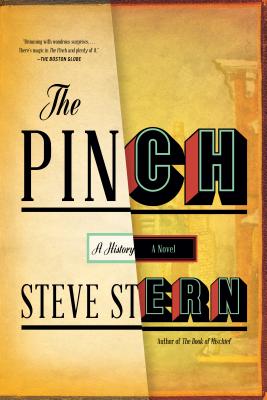 The Pinch (Paperback)
A Novel
Graywolf Press, 9781555977528, 368pp.
Publication Date: September 20, 2016
Other Editions of This Title:
MP3 CD (6/2/2015)
Compact Disc (6/2/2015)
Hardcover (6/2/2015)
* Individual store prices may vary.
Description
Now in paperback and "brimming with wondrous surprises . . . There's magic in The Pinch" (The Boston Globe)
Steve Stern's prodigious imagination finds a wondrous home in the Pinch, a once-thriving Jewish community in Memphis. The Pinch revolves around a single enchanted day containing years, during which the antics of a group of Jewish mystics threaten to ravage the life of general store proprietor Pinchas Pin with miracles, and his nephew Muni's ardor for an alluring tightrope walker collides with his passion for chronicling the wonders of North Main Street. Their stories, gleaned by a hapless bookseller from a fabulist history book, transform the fate of the neighborhood. Now in paperback, The Pinch is a sparkling reminder that Steve Stern is one of our most talented and inimitable storytellers.
"[A] big, rangy, saturated, antic new novel, a Pynchonian tragicomedy . . . Stern, an ebullient maestro of words and mayhem, wonder and conscience, orchestrates a cacophonous, whirling, gritty, tender, time-warping saga that encompasses a cavalcade of horror, stubborn love, cosmic slapstick, burlesque humor, and a scattering of miracles." --Booklist (starred review)
"Weird and wonderful . . . [The Pinch is] a backdrop to Stern's poignant and antic drama, a playground on which his exuberant, larger-than-life characters can run wild . . . The Pinch is composed of . . . perfectly calibrated moments, all of which pulse with a dynamic inventiveness." --Star Tribune (Minneapolis)
About the Author
Steve Stern is the author of several novels and collections of stories, including The Book of Mischief, The Frozen Rabbi, and The Wedding Jester, for which he won the National Jewish Book Award. He teaches at Skidmore College in upstate New York.
Praise For The Pinch: A Novel…
NOW AVAILABLE IN PAPERBACK!
"Stern's gift, seen stronger here than ever before, gives us a weird, wacky, mythologized Memphis. . . . In a pinch about how to live best? A reading of this celebratory novel, or others like it, might serve to put life and time in perspective. Want to try it? Just turn on the Klezmer music and turn the pages: It's work, it's pleasure, it's magic."—Alan Cheuse, NPR
"There's nothing Stern can't imagine. In these pages, blacks, hippies, Jews, Irishmen and Siberian lepers speak with enchanting veracity. . . . The prose can be breathtaking. . . . Above all, Stern is so funny."
—The New York Times Book Review
"Brimming with wondrous surprises. . . . There's magic in The Pinch and plenty of it."—The Boston Globe
"Call [Stern] the Bard of Jewish Memphis. . . . Stern's powers of invention are endless, and the yarns that comprise his 'history' of the Pinch are by turns charming, amusing, touching, devastating."
—The Jewish Week
"Weird and wonderful. . . . [The Pinch is] a backdrop to Stern's poignant and antic drama, a playground on which his exuberant, larger-than-life characters can run wild. . . . The Pinch is composed of . . . perfectly calibrated moments, all of which pulse with a dynamic inventiveness."—Star Tribune (Minneapolis)
"The Pinch—for many years in the early 20th century a predominantly Jewish section of Memphis—has found its Whitman and its Faulkner in Stern, who's written a stylistically effusive, verbally extravagant novel. . . . Audacious, hilarious, unabashed fiction."—Kirkus, starred review
"Steve Stern is one of the best American fiction writers you've never heard of."—Outcryer
"An impressive literary conjurer, Stern twists and turns his story every which way. It dazzles as it befuddles, keeping readers off-balance in this multilayered, Alice in Wonderland history of families and the Pinch. . . . Richly rewarding."—Shelf Awareness
"For this gifted author . . . there are plenty of stylistic markers: convoluted but masterly storytelling, eye for the tiniest but telling detail, raucous good humor, and an imagination often spilling over into mysticism. All of that in addition to the resilience of a people, which Stern captures down and across the ages."—Memphis Flyer
"Crafted to blur the boundaries between what's real and what's not, this fascinating tale depicts a fanciful past that's both weird and enchanting."—Foreword Reviews
"Dazzling. . . . The Pinch is a rich, stylistically virtuosic, often riotously funny tribute to the history of the Jews in the twentieth-century American South. And, as in Faulkner's Yoknapatawpha, there are strong hints in Steve Stern's Pinch of something universal and transcendent."—Chapter 16
"Stern's rich and rampant imagination seeps into every page. . . . Will provoke thought long after the final page—Publishers Weekly