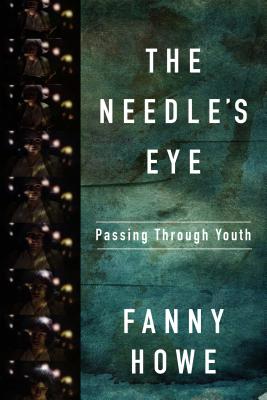 The Needle's Eye
Passing through Youth
Paperback

* Individual store prices may vary.
Description
A meditation on time, violence, and chance by "one of America's most dazzling poets" (O, The Oprah Magazine)
Fanny Howe's The Needle's Eye: Passing through Youth is a sequence of essays, short tales, and lyrics that are intertwined by an inner visual logic. The book contains filmic images that subvert the usual narrative chronology; it is focused on the theme of youth, doomed or saved. A fourteenth-century folktale of two boys who set out to find happiness, the story of Francis and Clare with their revolutionary visions, the Tsarnaev brothers of Boston, the poet George Oppen and the philosopher Simone Weil, two strangers who loved but remain strange, and the wild-child Brigid of Ireland: all these emerge "from multiple directions, but always finally from the eye at the end." As the philosopher Richard Kearney writes, "Howe's ruminations and aesthetics are those of the fragmentary, but are unified by world thinkers like Arendt, Weil, Agamben, and Yeats." The Needle's Eye is a brilliant and deeply felt exploration of faith and terror, coincidence and perception, by a literary artist of profound moral intelligence, "recognized as one of the country's least compromising yet most readable experimentalist writers" (The Boston Globe).
Praise For The Needle's Eye: Passing through Youth…
"This haunting and highbrow collection of poem, essay, and folktale meditates on youth, doomed or redeemed."—O, The Oprah Magazine
"What I have always admired about Howe's work is its furious resistance against traditional form and how, like every great artist, she brings herself to an indelible pattern of literary thinking and feeling that most resembles her entire being. It's not just intellectually rigorous and passionate sentence making I'm talking about here (and, of course, it is all of that, too), but a unrelenting belief in the power of being a voice in the wilderness—a voice that takes energy and gives it to subjects like poverty and the disenfranchisement in the world, who gets to speak and who doesn't, spiritual adventurism, and an allegiance to fairy tales. She is, I think, an American mystic."—The Brooklyn Rail
"[Fanny Howe's] experimental tales, mixing poetry and prose, offer little miracles of meaning growing from the darkest detritus of our planet. If there are epiphanies here, they are matches struck in the dark, wonders shining through wounds, intimacies of the banal."—Richard Kearney, Los Angeles Review of Books
"[The Needle's Eye] possesses a liquid quality: fluid and elemental, substantial but not strictly or permanently shaped, like a river, maybe, or better yet like mercury. . . . The pleasures of this book are, like many of their subjects, mystical and itinerant, ricocheting and nonlinear."—Kathleen Rooney, Los Angeles Review of Books
"[Howe] seamlessly braid[s] lyric and essayistic modes. . . . Moving from literary invocation. . . to lush, filmic description. . . Howe attempts—and often brilliantly, obliquely manages—to capture those qualities of youth that age inevitably dulls. . . . Her encompassing knowledge. . . and empathic vision will make readers believe her pronouncement: 'History is the top god of the secular world.'"—Publishers Weekly
"An allusive and elusive collection of meditations on being and becoming, rites of passage, boys and the men they become. . . . A slim volume that roams across continents, genres, and centuries to convey that which is so difficult to express."—Kirkus Reviews
"Howe is a prolific and renowned poet and novelist. . . . [The Needle's Eye] is an unclassifiable amalgam of essay, aphorism, quotation, narrative, and verse. . . . [A] strange, provoking book."—Booklist
"The Needle's Eye, this little miracle, is a memoir of association. In it the young aren't so much young as molten; then Howe's own very young soul begins to unfurl itself into the collective unfinished time of youth when we are all traveler: part saint, part lover, part animal and 'terrorist.' As a writer she offers nothing less than a handful of the seeds of everything we will ever become."—Eileen Myles
Graywolf Press, 9781555977566, 160pp.
Publication Date: November 1, 2016
About the Author
Fanny Howe's previous book of poetry, Second Childhood, was a finalist for the National Book Award, and her fiction was recently honored as a finalist for the Man Booker International Prize. She lives in Massachusetts.
or
Not Currently Available for Direct Purchase