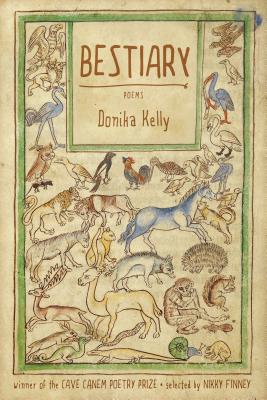 Bestiary
Poems
Paperback

* Individual store prices may vary.
Description
Donika Kelly's fierce debut collection, longlisted for the 2016 National Book Award and winner of the 2015 Cave Canem Poetry Prize

I thought myself lion and serpent. Thought
myself body enough for two, for we.
Found comfort in never being lonely.

What burst from my back, from my bones, what lived
along the ridge from crown to crown, from mane
to forked tongue beneath the skin. What clamor

we made in the birthing. What hiss and rumble
at the splitting, at the horns and beard,
at the glottal bleat. What bridges our back.

What strong neck, what bright eye. What menagerie
are we. What we've made of ourselves.

--from "Love Poem: Chimera"

Across this remarkable first book are encounters with animals, legendary beasts, and mythological monsters--half human and half something else. Donika Kelly's Bestiary is a catalogue of creatures--from the whale and ostrich to the pegasus and chimera to the centaur and griffin. Among them too are poems of love, self-discovery, and travel, from "Out West" to "Back East." Lurking in the middle of this powerful and multifaceted collection is a wrenching sequence that wonders just who or what is the real monster inside this life of survival and reflection. Selected and with an introduction by the National Book Award winner Nikky Finney, Bestiary questions what makes us human, what makes us whole.
Praise For Bestiary: Poems…
"Striking. . . . Kelly is a descendant of Sylvia Plath by way of the wintry Louise Glück — her poems are animated by roiling, mostlydark emotion, but they're spare, composed and often quite short. . . . The fantastical creatures in Bestiary are almost all hybrids— mermaids, minotaurs, griffins — as opposed to mere monsters, and their in-betweenness calls attention equally to the danger ofdissolution and the possibility of unity. Kelly is drawn to both outcomes, and her uncertainty gives her writing its peculiar magnetism."—The New York Times Book Review

"[An] astounding debut. . . . The poems employ language that sinks its teeth in at vulnerable moments. . . . Kelly's creatures howl and whimper as she imparts emotional truths."—Publishers Weekly, starred review

"Magic possesses this book, the kind that transforms objects and ideas and the knowledge we thought we knew, so thoroughly that Kelly seems to speak a new language."—Ploughshares

"Spend only a minute or two in Donika Kelly's poetry, and you'll almost begin to feel your body moving along with the rhythm of her writing. Her lines pound, and declare, and expose and challenge — and often explore the gendered experiences of our world."—Bustle

"Kelly's rich, devastating, interior landscapes map the reader across a persona's mutation through emotional stages. . . . In Bestiary memory has legs, wings and fins, and cannot be drowned."—The Wilds

"The poems in Kelly's Bestiary are incredibly precise, tight without feeling constrained, with a looseness that almost defies such a density and precision."—Rob McLennan's Blog

"What a gorgeous book of poems. The love poems, in particular, are striking with unexpected ideas and imagery coalescing into poetry about this thing called love. . . . This one, I savored."—Roxane Gay, Goodreads

"Bestiary is an act of transformation. . . . But it is a true act, also, because it acknowledges that a human will hide to be seen, and look back. These poems—among the best being written by any young poet in America—look back."—Shane McCrae

"Donika Kelly whistles and crows her book into a psalm of pure resolve. And in the end, no mythology remains. Everything is singed and true. . . . Bestiary's lesson is complicated and also simple. Love can be hunted down."—Nikky Finney, from her introduction
Graywolf Press, 9781555977580, 80pp.
Publication Date: October 11, 2016
About the Author
Donika Kelly is a poet and a scholar, and is currently a lecturer in the Gender, Sexuality, and Women's Studies Program at the University of California, Davis. Her poems have appeared in Hayden's Ferry Review, Indiana Review, and West Branch.