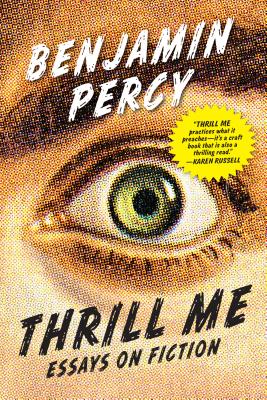 Thrill Me
Essays on Fiction
Paperback

* Individual store prices may vary.
Description
Bold new essays on how to craft a thrilling read--in any genre--from the bestselling author of The Dead Lands

Anyone familiar with the meteoric rise of Benjamin Percy's career will surely have noticed a certain shift: After writing two short-story collections and a literary novel, he delivered the werewolf thriller Red Moon and the postapocalyptic epic The Dead Lands. Now, in his first book of nonfiction, Percy challenges the notion that literary and genre fiction are somehow mutually exclusive. The title essay is an ode to the kinds of books that make many readers fall in love with fiction: science fiction, fantasy, mysteries, horror, from J.R.R. Tolkien to Anne Rice, Ursula K. Le Guin to Stephen King. Percy's own academic experience banished many of these writers in the name of what is "literary" and what is "genre." Then he discovered Michael Chabon, Aimee Bender, Cormac McCarthy, Margaret Atwood, and others who employ techniques of genre fiction while remaining literary writers. In fifteen essays on the craft of fiction, Percy looks to disparate sources such as Jaws, Blood Meridian, and The Girl with the Dragon Tattoo to discover how contemporary writers engage issues of plot, suspense, momentum, and the speculative, as well as character, setting, and dialogue. An urgent and entertaining missive on craft, Thrill Me brims with Percy's distinctive blend of anecdotes, advice, and close reading, all in the service of one dictum: Thrill the reader.
Praise For Thrill Me: Essays on Fiction…
"[A] lively, helpful guide. . . . [Percy] provides precise advice concerning basics like suspense, setting, and style. . . . His evocative personal anecdotes invigorate even familiar material. . . . In each essay we glimpse an industrious Percy at the daily grind of writing, rereading and editing his fiction. . . . . Beyond craft or theory, and perhaps more helpful than any advice, this book serves as a reminder that writing is hard work."—The New York Times Book Review

"[Benjamin Percy] peppers his observations of today's literary scene with homey, witty anecdotes, and he couches his analysis in no-nonsense wisdom. . . . Not only does he frame the ins and outs of the writing process with warm, wry reminiscences drawn from his own life, he refuses to lapse into stereotypical preciousness or pretentiousness. He talks bluntly and amiably about how stories work and why they matter, an approach that doesn't take a fellow writer to appreciate."—NPR Books

"[Benjamin Percy] demonstrates he's one of contemporary fiction's sharper critical minds, an author with a rare talent for explaining his craft. . . . Thrill Me is packed with concise, practicable counsel."—Star Tribune (Minneapolis)

"[Thrill Me] is a fine choice for readers and writers looking for a holistic take on writing that spans genres and styles."—Tor.com

"Percy dives in head first, and his enthusiasm, in conjunction with his eye for substance and style and his skillful explication, prove a heady mix. . . . Thrill Me is comprehensive in its scope, touching on most of the important pieces of storycraft from stylistic choices to character development . . . with character and vigor, and with a joyful populist tone."—Electric Literature

"Expertly balanced, extensively researched, and written in a vibrant, demanding style that can offer you a flower as easily as punch you in the gut. . . . Everyone can learn from [Benjamin] Percy's essays."—Kenyon Review

"Thrill Me turns the interior, plodding process of writing into a heart-pounding read, and imparts some excellent lessons along the way."—Washington Independent Review of Books

"Thrill Me offers a concise, lucid anatomy of the bones that support narratives ranging from Jaws to Blood Meridian."—Locus Magazine

"Percy is a master wordsmith and he delivers his messages with the panache and style of the grizzled veteran he is, both as teacher and author, engaging you so intensely that you don't even realize you're learning something, having become so involved in the telling."—Hellnotes

"Percy's essays skillfully dissect the structure, mechanics, and concrete details of what makes good writing sparkle."—Publishers Weekly

"Now we all have the opportunity to learn from Percy, whose genre-busting, electrifying fiction is opening doors for a new generation of writers. . . . This book also reads like a sly memoir, with the killer ratio of brilliant mind to generous heart. Warmly personal and deviously scholarly, Thrill Me is terrific."—Karen Russell

"The magnificent Benjamin Percy has written a warm, personal and deeply considered book on the nature of storytelling, genre and fiction that I recommend unreservedly. It laughs and snarls and sparks fire in the mind. Masterful."—Warren Ellis
Graywolf Press, 9781555977597, 160pp.
Publication Date: October 18, 2016
About the Author
Benjamin Percy is the author of three novels, most recently The Dead Lands, as well as two books of short stories. His honors include an NEA Fellowship, the Whiting Writers' Award, two Pushcart Prizes, and the Plimpton Prize.