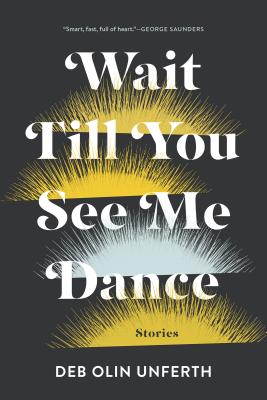 Wait Till You See Me Dance
Stories
Paperback

* Individual store prices may vary.
Description
"Deb Olin Unferth's stories are so smart, fast, full of heart, and distinctive in voice—each an intense little thought-system going out earnestly in search of strange new truths. What an important and exciting talent."—George Saunders
For more than ten years, Deb Olin Unferth has been publishing startlingly askew, wickedly comic, cutting-edge fiction in magazines such as Granta, Harper's Magazine, McSweeney's, NOON, and The Paris Review. Her stories are revered by some of the best American writers of our day, but until now there has been no stand-alone collection of her short fiction.
Wait Till You See Me Dance consists of several extraordinary longer stories as well as a selection of intoxicating very short stories. In the chilling "The First Full Thought of Her Life," a shooter gets in position while a young girl climbs a sand dune. In "Voltaire Night," students compete to tell a story about the worst thing that ever happened to them. In "Stay Where You Are," two oblivious travelers in Central America are kidnapped by a gunman they assume to be an insurgent—but the gunman has his own problems.
An Unferth story lures you in with a voice that seems amiable and lighthearted, but it swerves in sudden and surprising ways that reveal, in terrifying clarity, the rage, despair, and profound mournfulness that have taken up residence at the heart of the American dream. These stories often take place in an exaggerated or heightened reality, a quality that is reminiscent of the work of Donald Barthelme, Lorrie Moore, and George Saunders, but in Unferth's unforgettable collection she carves out territory that is entirely her own.
Praise For Wait Till You See Me Dance: Stories…
"This assemblage of down-and-out moments is delivered with a wit and concision reminiscent of Lydia Davis and Diane Williams, a wry intelligence and keen irony that don't prevent Unferth's prose from offering deep emotional intimacy. . . . Unferth's book is rich with surprises, small and large. . . . Again and again in these pages, Unferth swerves from the mundane to the extraordinary, from biting to soaringly celebratory, often in a single sentence."—New York Times Book Review
"[Unferth's] absurd and tender story collection is full of sentences like clear glass doors, and you, reader, are the bird. . . . The way she writes [her characters] is reminiscent of the unsentimental, often absurd, compassion of George Saunders. . . . The multiplicity of feeling is wonderful; it's like she's swirling all these different colors of paint together but stops while it's all still just thinly marbled together."—NPR
"Reminiscent of Lydia Davis, many of the stories in Unferth's whip-smart collection clock in at just a few pages (or less), their brevity part of their caustic charm. The longer stories take up matters of life and death with a bracing attention to the seeming randomness of both states."—San Francisco Chronicle
"One of the most important voices in fiction's long-awaited collection of short fiction is a fascinating must-read."—Newsweek
"Worth it for the title story alone, Unferth's collection certifies her as a virtuoso minimalist and an heir to Diane Williams and Lydia Davis."—New York Magazine
"The prose is spare, and her stories often grin while they expose painful truths so deep in her characters that we are often reminded of the blush of self-awareness. . . . Unferth's spell is in her absolute confidence and her sublime endings. You lean forward in her stories as the narrative and jeopardy build, but you trust her to get you there."—Los Angeles Review of Books
"Unferth has an irrepressible comic sensibility and her sense of humor shines throughout Wait Till You See Me Dance."—Santa Barbara Independent
"Unferth is a master of misdirection, leading the reader in one way, only to pull the rug out by radically shifting the perspective of the characters, the reader, or both. . . . Expertly, Unferth constructs situations whose strangeness and intensity robs her characters of rational thought, yet she forces her readers to see these moments for what they are, petty and trivial moments in lives often all too short and painful. . . . Wait Till You See Me Dance is a resounding call for empathy and it doesn't hurt that it's clever and hilarious as well."—PopMatters
"[Wait Till You See Me Dance is] written with precision, deadpan humor, and a sharp but generous observation of human foibles."—Poets & Writers

"Unferth is a master of comic darkness punctuated by a glimmer of hope."—Electric Literature
"Wait Till You See Me Dance is as delightfully witty as it is emotionally insightful. . . . The human spirit of the twenty-first century is captured with this blend of humorous spunk and impassioned observation. Deb Olin Unferth's deft use of prose results in smart, rich, and unforgettable stories."—Chicago Review of Books
"Unferth displays a smart and snappy application of the short-short form in this volume of 39 stories. . . . What makes this collection most entertaining, besides the obvious mastery of humor, is Unferth's knack for meshing unique and often relatable experiences with a highly observant, endearing narrator."—Zyzzyva
"It's a delight to clatter about in Unferth's stories, finding bits of insight and little truths at every turn. . . . There isn't, in fact, a story in Wait Till You See Me Dance that isn't executed with . . . painstaking care, wit and strangeness. . . . A self-assured collection from a seasoned voice."—The Culture Trip
"Deb Olin Unferth deals in turns of phrase and turns of luck. . . . [Wait Till You See Me Dance] is a limber collection with the dexterity and precision to launch in most any direction."—Hilary Leichter, Electric Literature
"Wait Till You See Me Dance is filled with sharp, masterfully told stories that perfectly balance darkness and hope."—Largehearted Boy
"Meticulously crafted and interlaced with relentless humor, the collection—containing an impressive thirty-nine stories ranging from a single sentence to twenty-four pages—offers a high-powered union of irony and absurdity that rejects any comfortable, easy landing. When it's least expected, these stories strike with gross and subtle tragedy."—KGB Lit Mag
"Fans of Lorrie Moore and George Saunders will love Unferth's first collection of stories. . . . These 39 tales are profound, acerbic, and surprising, and most are nothing short of amazing."—Book Riot
"[Unferth is] a wild talent. . . . Wait Till You See Me Dance confirms that the short story . . . is her best vessel. . . . Unferth's neatest trick is to bloody the line between the metaphorical and the literal."—Bookforum
"Wait Till You See Me Dance is not just a technical achievement, it is a human one. Under Unferth's guise, the characters become not so much fabrications, but a kaleidoscope of the writer herself. To our benefit, Unferth's heart is all over these stories; she's right there on the page."—Full Stop
"A stunning debut collection. . . . 39 poignant, sharp-edged stories that cut right to the bone of the human psyche with precision and grace. . . . Prickly dilemmas, physical and existential, abound in these allegorical stories, each terrifically mundane and told with an exquisite restraint that drolly captures the inherent hope of humanity. . . . Chock-full of emotional insight and comic verve, Unferth's beguiling stories are not to be missed."—Kirkus Reviews, starred review
"Unferth's tales expose life's underlying darkness, while offering hard-won moments of clarity that cut straight to the heart."—Booklist
"This book is an astonishment—strange, brainy, and loaded with feeling. Deb Olin Unferth shows, with brilliant force, the startling vitality of the short story. She is a master."—Ben Marcus
"Deb Olin Unferth's stories are wild, funny, and wonderful."—Geoff Dyer
"Wait Till You See Me Dance delivers on the promise of surprise in its title: Thirty-nine tap-dance sharp, hilarious stories take up people with hearts askew and right them. Disgruntled mothers, daughters, adjunct professors, speak in a voice 'with a tarp of sad earnestness' so as to win over the reader every time."—Chirstine Schutt, author of Prosperous Friends
Graywolf Press, 9781555977689, 200pp.
Publication Date: March 21, 2017
About the Author
Deb Olin Unferth is the author of the story collection Minor Robberies and the novel Vacation, winner of the 2009 Cabell First Novelist Award and a New York Times Book Review Critics' Choice. Her work has been featured in Harper's Magazine, McSweeney's, The Believer, and the Boston Review. She has received two Pushcart Prizes and a 2009 Creative Capital grant for Innovative Literature and was a Harper's Bazaar Editors' Choice: Name to Know in 2011. She teaches at Wesleyan University and currently lives in New York.
or
Not Currently Available for Direct Purchase