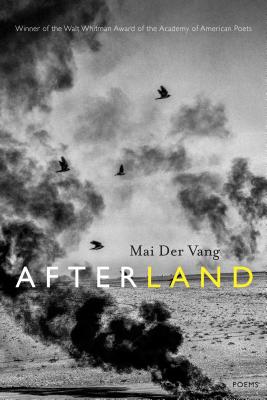 Afterland
Poems
Paperback

* Individual store prices may vary.
Description
Longlisted for the National Book Award for Poetry

The 2016 winner of the Walt Whitman Award of the Academy of American Poets, selected by Carolyn Forché

When I make the crossing, you must not be taken no matter what
the current gives. When we reach the camp,

there will be thousands like us.
If I make it onto the plane, you must follow me to the roads
and waiting pastures of America.

We will not ride the water today on the shoulders of buffalo
as we used to many years ago, nor will we forage
for the sweetest mangoes.

I am refugee. You are too. Cry, but do not weep.

—from "Transmigration"

Afterland is a powerful, essential collection of poetry that recounts with devastating detail the Hmong exodus from Laos and the fate of thousands of refugees seeking asylum. Mai Der Vang is telling the story of her own family, and by doing so, she also provides an essential history of the Hmong culture's ongoing resilience in exile. Many of these poems are written in the voices of those fleeing unbearable violence after U.S. forces recruited Hmong fighters in Laos in the Secret War against communism, only to abandon them after that war went awry. That history is little known or understood, but the three hundred thousand Hmong now living in the United States are living proof of its aftermath. With poems of extraordinary force and grace, Afterland holds an original place in American poetry and lands with a sense of humanity saved, of outrage, of a deep tradition broken by war and ocean but still intact, remembered, and lived.
Praise For Afterland: Poems…
WINNER OF THE 2016 WALT WHITMAN AWARD OF THE ACADEMY OF AMERICAN POETS, SELECTED BY CAROLYN FORCHÉ

"[Afterland] reminds us what a distinctive instrument the human imagination is, no matter what tune it plays. There is a story in this book, and an important one. . . . Vang writes strikingly, often chillingly visual poems, their images projected one at a time, like slides in a lecture, or perhaps in a trial. . . . Afterland works its wonders with an intentionally rationed vocabulary, its counters combined and recombined in poem after poem: stars, water, hair, bones, fire. . . . The style creates an atmosphere of impending marvels, and many of Vang's poems perform, in words, the transformations that they describe . . . . [ Afterland] is among the most satisfying de´buts by an American poet in some time."—The New Yorker

"Vang, a young poet of Hmong descent, succeeds in capsulizing her ancestors' war-torn identity and consequent diaspora. We now know that traumas are genetically heritable—they're not isolated instances but cascades of generational grief. What can't be erased can be overwritten, but only if the pen is bold enough. Vang's certainly is."—Jeffery Gleaves, The Paris Review

"Afterland's voice seems to transmigrate, riding the trance of memory from one image to the next. . . . Vang's work moves in the realms of ecstatic appeal where meaning is revealed cumulatively. Her ambient revelations read more like incantations. . . . She teeters and ultimately tumbles headlong into the realms of memory and dream, expertly crafting fine and elegant passages on her way."—Los Angeles Review of Books

"Line after line flow[s] like a satin ribbon burning at each end with terrible truths. . . . Unrelentingly stunning language. . . . After reading, nothing will ever be the same. This is a blazing book."—Washington Independent Review of Books

"Mai Der Vang's glitteringly fragmented, endlessly ramifying verse in Afterland does not yield easy answers, but its depiction of history as a gaping mouth whose exhalations condense on the undersurface of the floor of the present moment is a chilling and necessary lesson for our times."—The Rumpus

"Mai Der Vang showcases her moving work in this powerful collection of poems. . . . She sheds light on this little-known part of history and how its legacy is present even in the United States today."—Real Simple

"Every reader will benefit from the richness of Vang's exquisite language and construction of poetic landscape."—Minnesota Public Radio

"Mai Der Vang gives fiery, poetic voice to a secret war and a dispersed people in her powerful poetry collection Afterland. . . . A visually rich and heartrending poetry collection."—Shelf Awareness

"Mai Der Vang's voice is uniquely mature for a debut collection, with undeniable authority over her language. . . . These poems of the dark primary voice lurking in hearts everywhere, waiting as witness for the inevitable violence, and the inevitable hope. The language will haunt you, the broken images will attach themselves to the back of your mind with their sharp, crooked edges."—Frontier Poetry

"Through striking diction and intelligent verse, Afterland has earned its place as a distinct, prominent addition to the contemporary Southeast Asian American poetic canon."—diaCRITICS

"An impressive collection, a luminous portrayal of loss and survival, and filled to the brim with blistering imagery."—Rosemary and Reading Glasses

"Vang's collection interweaves profoundly personal recollections with unflinching glimpses into the circumstances of refugees past. . . . Amid bullets and bees, cyanide and stars, humpbacks and harvests, Vang imbues her imagery not only with loss but also with the remarkable resilience and crystalline spirituality of Hmong lore and language. "Ask me to build our temples / So rooted, so stone, we won't ever die out," Vang writes. With this luminous, indelible volume, she's already built one."—Booklist, starred review

"I am astounded at how this poet accomplishes these tellings of war, of the Hmong peoples, of escape, exile, of never-leaving, of always-arriving—of retracing the life-particles of the dead in various forms of disappearance and presence. In a language of 'torn jackets' and fruit, of insects and mothers, of humpbacks and shamans, Mai Der Vang comes back at us as the 'carved edge of a claw.' The mastery of image, the leap, the dislodging of our perceptions, fluid as the 'humming of rain against a woman's neck.' A major, almost impossible, groundbreaking collection."—Juan Felipe Herrera, US Poet Laureate

"Each poem in Mai Der Vang's Afterland hones a spiritual and social truth as she delivers the lament of her people—the Hmong—in this groundbreaking collection. The poet's ancestors speak to us. But silence also belongs to these telling songs that expose us to the bare evidence of war, and one knows through true feeling exactly what this poet means when she says, 'Ants are spies of the dead.' Afterland speaks to us now; her voice summons across borders, revealing us secrets of Laos that underscore today's political circumstance: 'I am a refugee. You are too. Cry, but not weep. // We walk out the door.' Mai Der Vang's poems are simultaneously imagistic but straightforward as the speaker 'indexes geography,' and she's not afraid of the magic that can happen when tradition converges with the experimental: 'Every snowflake a small city / Falling on the eyelash.' Afterland proves to us that there isn't any shorthand for passion."—Yusef Komunyakaa

"Afterland has haunted me. I keep returning to read these poems aloud, hearing in them a language at once atavistic, contemporary, and profoundly spiritual. Vang confronts the Secret War in Laos, the flight of the Hmong people, and their survival. . . . Here is deep attention, prismatic intelligence, and fearless truth."—Carolyn Forché
Graywolf Press, 9781555977702, 96pp.
Publication Date: April 4, 2017
About the Author
Mai Der Vang is an editorial member of the Hmong American Writers' Circle and coeditor of How Do I Begin: A Hmong American Literary Anthology. Her essays have appeared in The New York Times, San Francisco Chronicle, and The Washington Post.