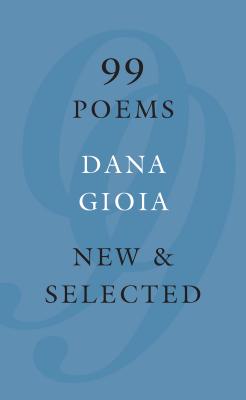 99 Poems
New & Selected
Paperback

* Individual store prices may vary.
Other Editions of This Title:
Hardcover (3/1/2016)
Description
Now in paperback, a major career retrospective by the California Poet Laureate, Dana Gioia

So much of what we live goes on inside—
The diaries of grief, the tongue-tied aches
Of unacknowledged love are no less real
For having passed unsaid. What we conceal
Is always more than what we dare confide.
Think of the letters that we write our dead.

—from "Unsaid"

Dana Gioia has long been celebrated as a poet of sharp intelligence and brooding emotion with an ingenious command of his craft. 99 Poems: New & Selected gathers for the first time work from across his career, including many remarkable new poems. Gioia has not arranged this selection chronologically but instead has organized it by theme in seven sections: Mystery, Place, Remembrance, Imagination, Stories, Songs, and Love. The result is a book that reveals and renews the pleasures, consolations, and sense of wonder that poetry bestows.
Praise For 99 Poems: New & Selected…
"99 Poems: New & Selected is one of the most anticipated collections of 2016, and it does not disappoint. . . . The book is both a career retrospective and a companion of sorts to Gioia's 1991 essay and 1992 book, Can Poetry Matter? There, he challenged readers and writers to think critically about the role and the value of the genre. Here, he shows how poems resonate. . . . No matter what the topic—mystery, place remembrance, imagination, stories, songs, love—or the form, these polished pieces are vibrant and inviting."—The Washington Post

"A force for poetry here . . . and everywhere, Gioia is richly deserving of a life's look."—The Philadelphia Inquirer

"99 Poems: New & Selected serves to reenforce Gioia's reputation as one of America's best living poets. Gioia writes in both metered and free verse and has a respect for form that gives his verse a somewhat classic feel. And yet there is also a heartfelt simplicity that keeps his work warm and accessible."—The Christian Science Monitor

"A gifted poet of rhythm and reason, Gioia's civic and critical pedigree is impressive. . . . This new and selected collection marks his return to verse."—The Millions

"The first thing to know about Dana Gioia . . . is the richness and range of his poetry. Thoughtfully embroidered with literary allusions, wit and natural imagery, it's alternately prayerful and playful, and occasionally Chandler-esque."—Pasadena Weekly

"In a culture obsessed with quantity and novelty, Gioia stands out for his commitment to quality. . . . Like Bach's music, Gioia's poetry is sublime enough to hold the attention of even the most distractible readers. And once he has their attention, he teaches them to name and care for their places, their neighbors, and their eternal souls."—Books & Culture

"Virtually [every poem] here resounds, like the work of another elegantly musical poet whose corpus bulks little larger than Gioia's—A. E. Housman."—Booklist *Starred Review*

"Readers searching for classically styled poetry that is unflinchingly sincere and honest will find what they need in the voice of this master poet."—Publishers Weekly

"[Gioia] offer[s] intellectual insight coupled with a becoming sincerity. . . . 99 Poems is well worth reading."—The Weekly Standard

"99 Poems is an important collection by an important poet."—The Claremont Review

"Gioia, in the mechanism of service, has always raised the bar of poetry with his intellectual brand of firepower. . . . [99 Poems] includes the truest personal narrative we've had to date. . . . This book is a marriage of values: writing done exceedingly well; and a heart deeper and stronger than ever. Gioia has earned his stay in poetry's future."—Washington Independent Review of Books

"99 Poems is challenging, engaging, and a pleasure to read. This is poetry that opens to us the full range of the human experience; that takes us out of ourselves, yet leads us to new insights into our own lives; that leaves us more capable of accepting the truth."—The Christian Review

"Gioia's poetry reminds us again and again that the world is a mystery where the things of God wait, hidden inside the heart of the world."—Catholic World Report

"These lines are a statement about beautiful poetry written in beautiful poetry, and are also a strong argument for Gioia's place as one of the finest poets of his era. There is something to admire in virtually every poem in this book, and individual readers will find their own favorites that they will remember and return to."—Able Muse

"Gioia's 99 Poems: New and Selected can serve as a perfect introduction to his poetic work as a whole, attesting to the range and sophistications of his forms and themes. . . . Gioia is a master, rare in this day and age, of the narrative poem."—Italian Americana

"Dana Gioia [is] a poet set apart from exiguous mainstream formlessness by elastic ease in all the forms."—Cynthia Ozick

"Brought to you by the indefatigable Graywolf Press, 99 Poems features one of the best poems I've read so far this year, 'Pentecost.'"—Brady Kamphenkel, Common Good Books
Graywolf Press, 9781555977719, 208pp.
Publication Date: April 4, 2017
About the Author
Dana Gioia is an award-winning poet, critic, and librettist. From 2003 to 2009, he served as the chairman of the National Endowment for the Arts, and he currently lectures at the University of Southern California.